CreateStudio is new video animation software for the next generation. It's loved by a newbie as well as by pros based on its benefits and features flexibility.
You may be looking for CreateStudio alternatives because CreateStudio doesn't have your desired features.
But the good news is, CreateStudio is rolling out new features almost every month, and most of them are free.
6 Benefits of CreateStudio
It's fun working with CreateStudio. Here are the top benefits if CreateStudio
CreateStudio is simple and easy to use
The user interface is newbie-friendly
Creates fantastic animated videos easily
Compatible for both Windows and Mac users
More than one user can access the platform at a time. Cloud-based
Easy to use tools for video animations.
Anyway
Why should you try CreateStudio Alternatives?
The monthly subscription for All Access Pass is quite expensive for individuals.
Some of the CreateStudio similar software work entirely offline. You do not need an internet connection to access your project.
Some of the CreateStudio Alternatives and Competitors have no extra charges to access various features.
Before selecting a Create Studio alternatives video animation software, let's learn the secret tips to choosing the right animation software.
How to choose a video animation software
As an animation creator, you need to consider certain factors when choosing video animation software.
Here are the top considerations to make when choosing software to use in your animation creation task.
Will meet your requirement?
Choose software that will meet your animation creation requirement. Good software should be able to solve all your problems as far as animation creation is concerned.
For example, if you are looking to create 3D animation, you need 3D animation software.
Software Price
Choose pocket-friendly software. Some software is paid monthly, some annually; if you can get to purchase the license once for a life, that would be better.
Free trial or money-back guarantee
The trial period allows you to try the basic features of the software before purchase. Choose software that has an extended trial period to give you time to check all the necessary features.
System Requirement
As a video creator, you need software that meets your system requirement. This will enable the system to perform the task and create animation videos without delays.
If you choose software that is heavier than your system, your video creation process will drag.
Customer support
Customer support is significant to software users. Good software should provide 24/7 support to its users.
The platform should have tutorials and a customer support portal to answer customer queries. Choose a platform that has excellent customer support.
Note, not all the software listed below contains all the above. But they will contain most of these features.
So, today I am going to speak about the best alternatives to CreateStudio.
So, let's start.
6 Best Free & Paid CreateStudio Alternatives / Competitors Animation Software
CreateStudio Alternatives are either free or paid.
Let's start by discussing some of the best CreateStudio competitors paid and later conclude by free.
Best Paid CreateStudio Alternatives and Competitors in May 2021
These Paid CreateStudio Alternatives and CreateStudio Competitors are purchased before use. The alternatives have either monthly or yearly payments.
Let see the best Paid CreateStudio Alternatives and Competitors in May 2021.
1. Vyond – (#1 One of the best CreateStudio Alternative)
Vyond is one of the best CreateStudio alternatives. Vyond company was founded in 2007. The mission of the company was to give power to everybody to be able to create animated videos.
Since 2007 Vyond has helped over 2000 organizations, businesses, and individuals to create their videos quickly. The company has over 12 million users globally.
Vyond enables both skilled and unskilled video creators to make their videos. The platform provides features that allow you to create dynamic and powerful media.
With these features, you can move texts and images to build characters and animations that attract audiences. In 2020 Vyond created over 80 video templates.
Benefits of choosing Vyond
With the simple to use tools, Vyond lets you create characters to fit any context. Here are the benefits of why you should choose Vyond.
Easy to use features
You can import your assets
Easy to use 2D animation software
Rich library of templates to jump-start your video creation journey
User-friendly interface
Most Important Vyond Features and their Benefits
With Vyond Studio, you can combine the pre-built library of assets with your content to create dynamic, true-to-life videos.
Here are the six most critical Vyond features and their benefits.
Automatic Lip-Sync: Mouths sync to audio automatically. You don't need to take time trying to align the audio to your character's lips. Vyond does it all for you.
Limitless customization: You can use the available templates as much as you want. Mix and match styles o create amazing video animations.
Premade templates: Vyond provides hundreds of premade templates to jump-start your video creation journey. You can easily customize the templates to suit your business need.
Version history: Vyond automatically saves your projects in the version history section, makes a mistake, and you can quickly check at each saved version of your video. The version history enables you to track changes or create a video based on the previous version.
Expanded timeline: The expanded view of your timeline allows you to employ effects to your videos easily. The view also enables you to make changes to your timeline.
Global Editing: This enables you to swap an assert that appears in multiple scenes of your videos. It saves you time.
Why choose Vyond over CreateStudio?
In terms of customer support, Vyond provides 24/7 live customer support. Every day is a business day.
Vyond has the most animated graphics library that any other animation creation software. Finally, you can create longer videos using Vyond.
---
Toonly was created by the same company that created Doodly software. The company reviewed the customer feedbacks on Doodly video maker to create a more intuitive and easier to use software for animation creation.
Toonly is the perfect cartoon video maker for people with little or no experience in video creation. It allows for better animations, and you can sync animations to happen at the same time.
The platform works to see more people create their animations without coding or video creation skills.
Benefits of choosing Toonly
Though Toonly pricing is a bit steeper, the platform offers a lot for its customers. The software is incredibly intuitive and straightforward to use.
Here are the benefits of choosing Toonly.
Very easy to use
Toonly allows you to import your images.
You have complete control over animations
30 days money-back guarantee
Most Important Toonly Features and their Benefits
Toonly offers a significant number of features that helps small enterprise and young video creators create amazing video animations.
Here are the 5 Most Important Toonly features and their benefits.
Free music tracks: Toonly offers several royalty-free audio music tracks
Massive library of animations and characters: Toonly offers over 750 characters and over 50 backgrounds to use in your video creation.
Voice over features: You can record your voice directly to Toonly, and it will automatically synchronize with a single mouse click.
Unlimited high-quality export: With Toonly, you can export unlimited high-quality animated explainer videos in various sizes and formats.
Easy character animation: You can animate characters with a single click of a computer mouse.
Why choose Toonly over CreateStudio?
Toonly is simple and easy to master. You don't need a lot of time to get used to it. Toonly also provides live chat support on their website.
You can send your queries through the live chat, and you will have an immediate response. Finally, Toonly offers you 30 days money-back guarantee upon purchase.
Types of videos you can create on Toonly
Explainer videos
Facebook ads
Social media videos
Sales videos
Presentation and training videos
Logo Animation
Intro Video and outro videos
Toonly Pricing
Standard plan: Costs $39 per month for a monthly plan and $20 per month billed annually for a yearly plan.
Enterprise plan: Costs $49 per month for a monthly plan and $40 per month billed annually for a yearly plan.
System Requirement for Toonly
Toonly runs on both Mac or Windows operating systems.
Windows 7 or newer version
2GB RAM
Active internet connection
---
VideoScribe was created in 2012 by a UK company called Sparkol. The company's mission is to enable everyone to share their stories quickly, easily, and affordably through videos.
VideoScribe is used to create whiteboard animations. Two years after its launch, the platform had more than 250,000 users globally.
Today, thousands of users have registered on the platform, including marketers, design agencies, businesses, charities, and educators – even professional video/motion graphics content creators.
VideoScribe has already been used by organizations like BBC, World Bank Group, The University of British Columbia, and the NYC Department of Education.
Benefits of choosing VideoScribe
If you are looking for Whiteboard animated video software, then check VideoScribe. The platform allows you to be creative in telling your story. Here are the benefits of choosing VideoScribe.
Varied pricing schemes.
Rich in features
Elaborated workflow of animation making
Cross-platform. Works well in both Windows and Mac computers
Most Important VideoScribe Features and their Benefits
VideoScribe is an application used to create professional-looking explainer videos and high-quality whiteboard animations. Here are the five most critical VideoScribe features and their benefits.
Cloud Storage: VideoScribe lets you save your projects online and access them whenever you want.
Voice Over Features: The platform allows you to record your voice directly into the project.
Image Library: VideoScribe has a massive library of stock images that you can use to make your whiteboard videos look amazing.
Work Offline: The platform works entirely offline. All you need to do is purchase the license key, download the software and install it on your system.
Import Music & Fonts: You can import your music and fonts to use on the platform.
Why choose VideoScribe over CreateStudio?
VideoScribe provides 24/7 customer support to its users. The software has a separate customer support portal that answers all the queries by users.
You can also contact the support by phone at +44 (0)117 332 0999 or by email. The platform responds to your questions within 24 hours.
---
VideoMakerFX is software that lets you create animated and whiteboard videos. The software was first launched in 2013, and it allowed small businesses and individuals to create professional-looking videos.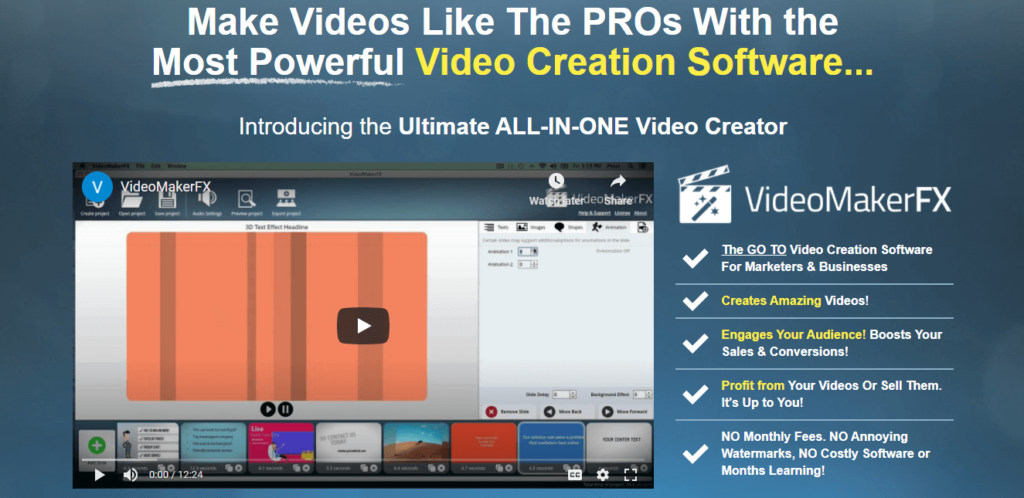 Peter Roszak, the creator, wanted software that was easy to use with minimal or no experience.
VideoMakerFX is one of the most accessible video creation software to use. The software comes with customizable themes, fonts, and animations.
Users can create product sales, tutorials, or entertainment videos using this software.
Benefits of choosing VideoMakerFX
Top marketers know the incredible power of video marketing. VideoMakerFX is a marketing video maker. It is easy to use when creating top marketing videos.
Here are some of the benefits of why you should choose VideoMakerFX
VideoMakerFX is compatible with Windows and Mac.
The software is affordable.
You can render and export your project faster.
Most Important VideoMakerFX Features and their Benefits
The best thing about VideoMakerFX is that it is easy to use. The user interface may look a bit scary, but you will realize that all the interface tools are essential once you start using it.
You will only employ the drag and drop technique to create amazing animations. Here are the 4 Most Important VideoMakerFX Features and their Benefits.
Beautiful backgrounds and instant scenes: VideoMakerFX is rich in backgrounds and scenes that you can combine to match your branding style.
Animation effects: You can apply various effects to your characters and images to make them more appealing.
Graphic library: The software provides a massive library of royalty-free images and graphics which you can customize to suit your business need.
Music Tracks: VideoMakerFX provides 20 royalty-free music tracks and can-do direct recording on the software
Types of video you can create on VideoMakerFX
Animation videos
Whiteboard videos
Kinetic text.
Logo intros and outro.
Corporate presentations.
Photo showcases.
Lower thirds, etc.
VideoMakerFX Pricing
VideoMakerFX pricing starts at $27.00 per user. The software is purchased as a one-time payment.
System Requirement for VideoMakerFX
VideoMakerFX works on both Windows and Mac operating systems. Although the software works on any machine, it is essential to use a high-performing computer.
Render and previewing may be slower in old computers.
Why choose VideoMakerFX over CreateStudio?
VideoMakerFX is easier to use. The software provides various slide templates for creating promotional videos as well as presentation and whiteboard videos.
The platform is cheap, and you get lifetime use upon purchase. VideoMakerFX has 24/7 customer support for its users.
Viddyoze is Bonus Alternative to CreateStudio
Viddyoze is web-based in-video animation software. The platform was launched in September 2015 to help many people create faster, better video content.
Since 2015 the platform has helped small enterprises and individuals create marketing and personal video animations.
Viddyoze has over 1 million users globally. Some of the top organizations that have used Viddyoze include; Sonny, Philips, Verizon, DHL express, and Vodafone.
The platform allows you to easily create videos related to your products and embed them right on your websites or social media for advertisements.
It provides video tools for social media.
Best Free CreateStudio Alternatives and Competitors in May 2021
The next set of CreateStudio Competitors we discuss are free to use. This software is entirely free; however, videos will have watermarks. You must upgrade for some fee to remove the watermark.
Animaker is a cloud-based platform used to create animated marketing videos. Animaker uses the drag and drop technique to create several templates and stock footages for non-skilled users.
Animaker provides several video-making tools to create and animate videos online. It is an online video maker.
Animaker was launched in 2014, and since then, over 7 million users have registered on the platform.
Some of the top organizations that have used the platform include Amazon, Nokia, Groupe Renault, HP, and Dell.
Benefits of choosing Animaker
Animaker uses HTML5 to create marketing and social media videos. It is one of the top social media video makers.
Like CreateStudio, Animaker also creates awesome Doodle videos. Here are the benefits of choosing Animaker.
Cloud-based.
Free version.
User-friendly interface.
Uses HTML5 engine and Adobe Flash.
Most Important Animaker Features and their Benefits
Animaker contains a most extensive library for animations globally. Online content creators use Animaker to create various types of videos.
Here are the four most crucial Animaker features and their benefits.
2D character builder: This feature lets you create a truly custom character. Animaker provides over ten tools to let you create unique 2D explainer videos.
Smart auto lip-sync: Animaker automatically aligns your characters to the voiceovers.
HTML5 powers Animaker: Animaker performs seamlessly on optimized browsers.
Extensive collection of Video Asset: Animaker is the world's most extensive collection of animated characters.
Why choose Animaker over CreateStudio?
Animaker offers a free version. You can get to use Animaker free for as long as you want.
However, to get more features, it is essential to upgrade to paid versions. The user interface of Animaker s newbie friendly with an easy drag and drop technique to create animated videos.
Finally, Animaker gives you high-quality videos in 4k that are very impressive.
---
Renderforest is a free online animation video maker. The platform was launched in 2013, and since then, a considerable number of users have registered.
Renderforest is an all-in-one platform for creating high-quality videos, logos, graphics, mock-ups, and websites quickly.
Renderforest provides the most advanced marketing tools for creating videos, icons, and logos for businesses without using much effort.
Benefits of choosing Renderforest
Renderforest allows small enterprises and individuals to create professional-looking videos. The platform combines video creation with logo and web design. Here are the top benefits of choosing Renderforest.
Cloud-based
Huge video template library
User-friendly interface
All in one branding platform
Most Important Renderforest Features and their Benefits.
Renderforest offers you're the best free tools to create animated videos online. Here are the 4 Most Important Renderforest Features and their Benefits.
Easy-to-use interface: Renderforest offers a user interface that is newbie-friendly and easy to use.
All in one branding platform: Renderforest provides the best branding tool to create animated videos, logo animations, icons, graphics, and websites on one platform.
A vast library of video templates: Renderforest provides over 500 templates in various categories.
Website templates: Using the templates, you get to create a website that suits your brand needs.
Why choose Renderforest over CreateStudio?
Renderforest offers a free version. You can use the free version of the platform and upgrade only when you want. The platform is easy to use and newbie-friendly.
Renderforest is an all-one branding platform. You can create mock-ups, animated videos, logos, icons, and websites on the same platform.
Conclusion – Over to You
It is with no doubt that CreateStudio is a good software for creating animated videos. You can create multiple types of videos, including; 3D animation videos, explainer videos, and text animation videos.
However, it is also important to note that some of the CreateStudio alternatives provide high valued features that every video creator needs to try out from the above review.
Check out the above CreateStudio review on the top CreateStudio alternatives to see if there are any that you can try out in your next animation video.