With the rise in the number of viewers, video content marketing has gradually taken a leap in the market.
There has been a huge growth in its popularity in the last few years. The reason for such a leap is due to the improvement in the data connection along with studies proving that video is one of the simplest ways of engaging more clients and growing brand awareness.
Arguably this is one of the most profitable strategies compared to others. If you don't believe it is, consider having a look at these numbers.
54% of online users prefer watching videos than reading
As expected by the current scenario, almost the average number of people spend 100 minutes in their day watching online video
87% of companies found that have got more customers with the use of video contents on the social media platforms
88% of the businesses have said that using videos ensures getting more ROI
Despite such a huge leap that video marketing has to offer, there are again some companies who have not yet started utilizing this marketing strategy. Some marketers believe that producing case studies, blogs, and white papers is easier, however, the reality is video content making is going to give far more than other marketing approaches.
Apparently some marketers tend to step back as they are not accustomed to making videos for their marketing. No denial, that this is actually very hard but "where there is a will there's a way."
To make it easier for you, today we will have a look at a full guide to enhance the video marketing for businesses.
What do you need to create engaging video content?
Guess what! I talked about the statistics of the video content in the market, but how to create a video?
This is one of the prime reasons why many marketers take their step back from creating a promotional video for the business or products. Either they do not have in-depth knowledge or they aren't a savvy videographer.
Apparently, you are here to find solutions to your queries with video content creation and I am happy to help!
So let us find out the simplest yet effective way to create engaging videos. We will take a quick look at some of my favorite tools and resources which work like wonder.
1) Video Editing Software
Whether it is for beginners or professionals, there are always a plethora of advantages of having the best video editing software. Whether it is about editing any audio, color correction, adding the caption, transition, graphics, and much more, there are no limitations with video editing software.
You don't have to be tech-savvy to use video editing software. The user interface is designed in such a way that you can easily delete a section, produce a stream, insert effects, music, change speed, style, and much more without the need for taking any courses.
2) Screen Recorder
Well, if you want to educate the viewers about something in a different way, a screen recorder can be an apt addition. This is especially a good choice if you want to show something by doing it yourself. With the screen recorder, you can save a lot of time.
All you need is to download it from the market (available in plenty), install it, make yourself ready, switch it on, and start recording and stop. Besides if you want to pause in between to make things right, you can also do that. Later you can add your voice. I choose to add voice instead of writing as audiovisuals get much more engagement.
3) Video Assets
I know what you are thinking right now!
Video assets are a necessity when it comes to spicing up any project. Perhaps, stock footage is something that you are familiar with, but video assets can be profitable as they are available in different types.
Compared to the stock videos, assets tend to be versatile. The excellent thing about them is they are free to be customized by making use of effects on them.
If you are thinking about how I personalize them, then have a look at the following section.
Designing some appealing video templates require a professional designer. Chances are higher, that not all of you are capable of designing a great template, like me. Does that mean I have given up making videos using a good-looking template?
No! I have rather started using the video templates available. It helps me to get faster results in an easy and fun way without putting much effort into it. Consider taking advantage of the thousands of premade video templates for your video making.
Free Music and Sound Effects
Will you watch a video with no sound or audio? No! This gets boring. Both audio and visual together makes a great video and if you are in search of including sound effects, you have the freedom to do it.
There are free sound effects and music available on different platforms that you can integrate to create a stunning video. Even if you choose to include your own voice, using sound effects helps to improve the engagement. Remember these are royalty-free!
There is no secret about the fact that making an animation program requires knowledge, skills, and training. Not everyone can make animation, and probably people like you and me are on top of the list. So, how do I use animations in my videos? Well, I use readymade animations.
Yes! As simple as that! There are many notable names of animation makers available in the market that can provide you with multiple options. Take advantage of the animation software and create an engaging educational video.
Stock Photos and Video Footage
Again, as we all know, the authenticity of any video tends to increase when you add some photos or video footage to it. Creating or designing photos or video footage is not possible for everyone.
This is where you can make use of the stock photos and video footage available on the internet. Thousands of choices are available for people from different genres thereby improving the chances of getting just the type of photos you are looking for.
Remember I said about adding voice to the video? Well, how to include your voice in any video? No doubt you will need an audio tool. These audio tools help you to include voice wherever you want.
If you want to include voice in some sections, the audio tools can do that and if you wish to include it throughout, you can also choose it.
Well, video assets tend to be the right choice for the people out there who want to personalize their videos.
With the tools available in the market, some for free and others in exchange for a subscription fee can help you create a memorable and engaging video.
However, immediately after this, you might be thinking of free and paid video editing tools.
So with respect to your concerns, we will jump to finding some of the best video editing tools video content creation in Windows and Mac.
10+ Free and Paid Video Editing Software for Windows and Mac
Since Windows and Mac are the two most common Operating Systems used throughout the world, we will focus on these two. The software that I will mention here needs to be downloaded and installed, unlike the web-based software.
So, let's take a quick look at the top 10 Video Editing Software for PC in my list:
Doodly is definitely the first name in my list as it is a Video Editing Software for PC that has made my designation almost similar to a videographer.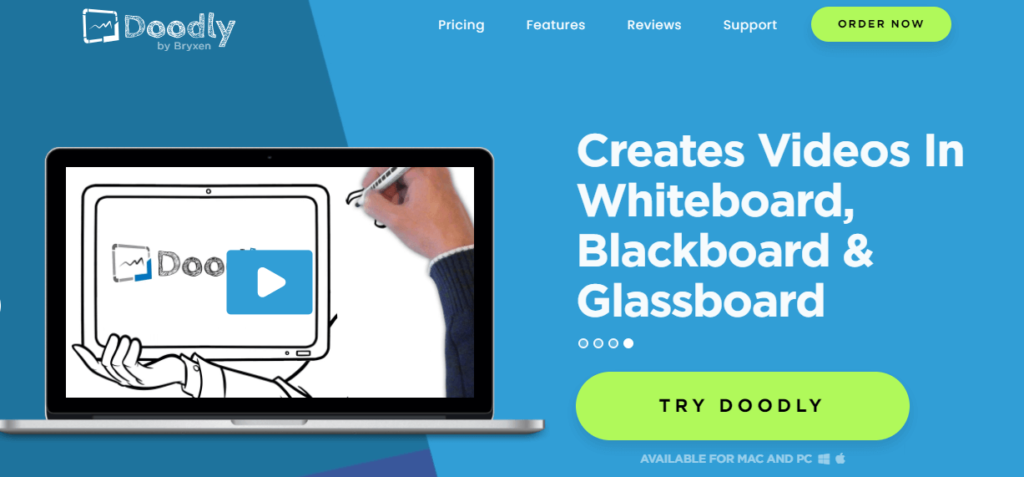 Wondering how?
The tons of features that one can get access to in this software make it a remarkable choice for video content creation. This is very first and certainly the only doodle video creation software.
This allows people who have the knowledge and even who are not savvy about creating video make doodle videos. Doodly eliminates the need for paying the huge fees and also cuts the needs of professional videographers to create the doodle videos.
Beyond that, you can easily create videos in a few minutes which is not only appealing but looks professional from every aspect. You can create many blackboards, glass boards, green boards, and whiteboards doodle videos.
All you have to do is select the doodle image, drag the canvas and the software will draw the image.
That's it! And you have created a doodle video.
Yes! It's that easy!
This is the very second choice of mine. Well, with this Video Editing Software for PC, you will be able to create many training videos without any limits. Perhaps, this software gives you the opportunity to express yourself in several ways. The many effects available gives you the chance to create a refined look.
Using the simple green-screen effect, you can do anything that is beyond basic, remove the noise with the perfect sound, create 4K videos, and make everything just perfect.
With Filmora9 you can add perfection to your creativity.
VideoScribe
VideoScribe is another amazing software that can polish your videography skill. To use this, you do not require having the professional skills or take any courses as this software has a simple interface to help people create the best video in the simplest way.
You can select images, type your text, add music or you can use your voice and leave the rest to the software. In just a few minutes, you can create an informative and engaging video. So, instead of paying hundreds of dollars, you can now produce any videos in the most reasonable and fast manner.
VSDC
For the small business that does not want to invest in a videographer, VSDC can be a great choice as it is considered one of the best Business video editors. This free video software enables you to edit the video content and create anything you want.
With this software, you can provide professional videos for explaining your product or service without the need for any professional skills and knowledge.
This again makes it very easy to apply the effects, change the effect, along with put music in its background. Some of the most common features include multi-color chroma key, and hardware acceleration makes it a real timesaving tool.
Lightworks
Lightworks is another amazing automated video editing tool that has made its way amid the crowd of many. Undoubtedly this software stands out of the crowd with tons of amazing features. The need for including creativity in your video will be fulfilled by the use of this software.
The simple user-interface offers easy trimming and editing, real-time use of video FX and audio, export video from YouTube, and a lot more. There are endless features available in this software that you can get benefited from. So, just create any video with any effects and any sound to make it engaging with Lightworks.
Shotcut
This is a top-notch video editor that will offer great features but would not cost you a fortune to own it. The open-source app comprises different tools that can help you to go extra miles.
With the smart interface, the users find it pretty easy to work with the tool. Importing files, creating multiple audio tracks, trimming the clips, numerous audio and video filters that can be customized makes this tool an easy one to use.
The tool has been designed in such a way that it makes understanding the advanced effects a simple one.
Movavi
Whether you are a professional in an IT job or a student. Movavi can be a great choice for everyone. This amazing automated video editing tool helps you to create presentations and videos, record tutorials, make screencasts, convert files, and a lot more.
This software certainly makes everything a lot simpler. To inspire your creativity, this software allows you to customize the effects, filters, and texts.
You can also move, order, and cut the video, make slideshow by adding music, record audio using a microphone, and a lot more. Even the student who wants to make an extraordinary presentation can be benefitted from this quality software.
VideoStudio
VideoStudio is again a great video editing tool that was developed by Corelthe Canadian Software Company. With the plentiful features, easy user-interface, and easy controls, VideoStudio offers a great experience to people.
You can easily create your video for your professional purpose using your creativity. The wide features provide you with the options to choose, availability of the effects, templates, and transition adds to its efficiency. Lastly, this software is very easy to use and hence becomes a great choice.
VideoPad
VideoPad is one of the best video editing programs that can create both appealing and professional videos within a few minutes. This tool is made for everyone whether you are a professional or an individual or business, this video editor can be a lot helpful for people.
This software comes with more than 50 transitions and visual effects that help to add that extra effect on your videos or movies. This is probably the fastest video maker available in the market.
Besides, the drag and drop features available ensures easy editing of the videos. Do anything and everything on your videos with the VideoPad software.
Vegas Pro
Vegas Pro is a video editing software that every professional are in search of to create some of the outstanding videos. Whether you wish to modify or create TV shows, audio presentations, movies, and music videos, this extraordinary tool fulfills your wish with the range of features stuffed in it.
You can easily apply the many effects, color grading, crossfade, timeline editing, compositing tools, 4K support, audio editing, and a lot more with this software.
It definitely worked for me and I suppose it would not fail to satisfy you even without any technical knowledge. However, if you want to check its functionality, you have the option to use the free trial before purchasing.
10+ Free and Paid Web-Based Video Editing Tools
As I have mentioned above the best online video editor for the different operating systems that need to be installed, here let's take a tour of the other web-based software.
Talking about web-based software, the biggest advantage of this software I believe is you can create your videos online without eating up space on your computer.
So if you are going to search, let me make it seamless by including the top 10 web-based tools available both free and paid versions.
This is a web-based online video editor that can help you create both long and short videos. Abhi Dwivedi, the creator of this software aims to make video creation easier and seamless than ever with this web-based software.
Whethetheseu want to create it for your service or product marketing or you want to share something in social media, this software can become handy for professionals and individuals.
You can create any type of stunning videos making use of the background music present in plenty in the music library, use images from the ImageLibrary, and use any template you wish to, including animations, down, edit, and a lot more.
Besides, you don't have to be a tech person to access the software because of its easy interface. This is a fantastic choice for you.
Magisto
This is a great online video editor solely designed to help marketers create a video in the simplest manner. Its smart features ensure transforming any pictures or videos into a professional one.
With a wide array of features like editing styles, uploading photos, creating long movies, unlimited download of HD quality movies, add captions and logos, rearrange and edit the scenes, use your unique business style and also use commercially licensed music.
In just 3 simple steps, you can create your marketing videos. Without even having proper knowledge and skill, you can get the ability to create any video for your professional use.
VidBullet
Since the time Video has become an integral part of marketing, marketers are in search of an easier option. VidBullet is certainly one of them as this software helps to create some of the stunning marketing videos. You do not require any editing skills and can easily create videos by spending only 3 minutes.
Chris Munchthe creator of this software along with Jay Cruiz after working for 10 years have come up with this amazing software that is built to help marketers solve their problems with video creation.
You can select your template, fill the boxes, choose images for each box, choose audio, and finally submit to complete. That's it! You have your video done and ready in a few minutes.
FlexClip
This is a handy and easy to use online video editor best for making some of the best videos which are both enticing and compact. The simple user experience and design become a great choice for users. You will not require to spend days or weeks, as within a few minutes this software is capable of creating a stunning video.
It also has the royalty-free music and video that one can use in their video along with numerous templates. The smooth and crisp interface makes it pleasing and easy. So, if all these days you were backing out as you cannot invest time and effort on creating a stunning video, then use FlexClip.
Kapwing
Kapwing is another great product for the content creators. Originally this product was used as the meme-generator which people used for creating funny memes.
The features added to these tools make it a fantastic photo and video editing tool. It can be the best choice for the teachers, students, marketers, these a lot more people.
The user-friendly web-based software comes with readymade templates that one can use for its purpose. This all-rounder platform has made video editing and creation easier than ever.
Besides, it is FREE and which makes it the very first choice for the people. It's inspiring and amazing! Try it!
Wevideo
Wevideo is another video creation and editing software that can be accessed by anyone and everyone. Whether you are using a mobile device or a desktop, it is up to you.
This is, therefore, one of the greatest options available for people who are in search of a video creating software for their individual or professional purpose.
The web-based software comes with stock clips and images, color correcting ability, a complete cloud-based tool that can be accessed everywhere, export the work, and several other features.
Do anything with your video to create a stunning piece for your professional purpose.
Hippovideo
If you are in search of the amazing video marketing platform, Hippo video can be a great choice. This software has the ability to get more customers by editing, sharing, and creating the video content.
Not necessarily you would require someone who has skills and proficiency in videography as HippoVideo can do it all for you.
With this software, you can add emoji, and texts along with modifying the videos as well. You can also blur the areas or the objects that you feel are unnecessary. You can create the strategic marketing campaigns with the use of call to actions, forms, and URL links.
Use this software for the effortless creation of jaw-dropping and engaging videos. This can be a great choice for the professionals, so use them today!
Wave.video
If you want to engage more customers using the video content, consider using Wave.video today. This web-based tool can be the best part of the professionals. You will be able to edit the video templates, customize them as per your needs, edit and publish to become a booming name in the market.
You can do anything with this software like include animation, include media from the huge library, get numerous privacy options, use templates, and give voice-over, and a lot more. In short, you can create a video that conveys your thoughts and engages more customers.
Adobe Spark
Adobe Spark lets your business talk on a digital platform. If you want to come closer to your audience and get inside their brain cells, you need to add a compelling video.
With this web-based software, you don't have to put much effort. This software can be a great inclusion for the marketers, bloggers as well as students who want to add creativity in their marketing strategies.
You can create social graphics even when you have zero knowledge of graphic design. The customizable tools help you to include texts, logos, filters, animations, voices, and a lot more. Even you can add your signature to make it even more authentic.
YouTube Video Editor
No more YouTube Video editors are limited to arranging the clips, trimming videos, add basic transitions, or music, it is a lot more.
You can now be able to add the video effects into the videos and create more than one video similarly. Its simplicity makes it quick and simple to use.
If you are associating simple with unworthy features then you are in some misconception.
You can do a lot with this video editor like enhance the video, use the entire library of royalty-free music, use texts, filters, and a lot more.
Currently, YouTube Video Editor is still being processed to add more advanced features. Therefore, expect to see more features in no time soon.
Free and Paid Video Editing Tools for iPhone & Android
Previously I have mentioned the video editing tools that will require a desktop or a laptop. So here I will mention the paid and free video editors that have similar functionality but can be operated on both Android and iPhones.
These are some of the best software according to me that can be a lot helpful for those last hour work. So let us take a tour of these software.
KineMaster
This is a professional and fully loaded video editing app for both Android and iOS devices. The tons of features aid users create a quality video that can convey the message and engage more viewers.
You can create multilayers of texts, audio, images, videos and a lot more. You have the freedom to adjust the lighting like the brightness, hue, themes, and much more to make it more appealing.
Other than these, you can record real-time videos and audios, immediately share it with the world with the social media sharing buttons, use the many animation styles and include transition effects to make the video attractive to the viewers
iMovie
If you are in search of a video editing tool for your iOS and macOS, you can try iMovie. This Video Maker for iPhone is capable of transforming videos and photos into a storytelling movie. You can even include your studio logo to complete the movie and make it authentic.
You don't have to be technically savvy because the easy UI makes it workable for anyone. More than this, you can add cast names, credit rolls and logos to the videos. Effects and enhancements including themes, music sound effects make the app worth using. Once you complete creating a fantastic video, you can share it on social media, AirDrop, video sharing channels and on iCloud.
FilmoraGo
If you are in search of a decent yet powerful video editing tool to easily edit videos on your smartphone, you have FilmoraGo.
This Android Video Editor is an amazing application made by Wondershare which is a Hong Kong based organization powerful to make any kind of videos.
It has a simple and clean interface making it seamless for everyone willing to create a video. There won't be any kind of advertisements or force advertisements popping up in the middle of your work.
They have several other advanced features including reverse playing, speeding up and slowing down, several text filters, titles, transitions, and overlays. Besides, the audio mixer helps to add music in the background. You can export HD quality to make it even more engaging to the viewers.
LifeLapse
If you are in search of an app that can create stop motion videos, LifeLapse can be of great benefit. You can make use of the ghosted image in the app while taking the clips to design your story clip to clip.
This app can save a lot of time, headache and money. And, no more you have to be skilled in PhotoShop as LifeLapse can do it all.
It has been stocked with tons of camera features like 1 shot timer, exposure lock, custom grids, mini video clips, white balance look and a lot more.
Coming to its editor, you can edit the timeline, use the royalty-free music, adjust the speed, include sound effects, import music, and edit the color, use filters and a lot more to do. LifeLapse provides life to the brands.
Videoshop
If you are looking for a video editing app to personalize your video and easily share them on social media with your friends, you have Videoshop. With the tons of features included in this app, you can easily create any video in no time without having any professional knowledge on video editing.
Some of the most common features integrated in this video editing app comprises integrating any music from the Apple music store.
You can use sound effects, trim the videos, use slow-motion effects, input subtitles, merge multiple clips into one, use filters, include animated titles, and create your personalized storytelling video.