With the rise in the number of viewers, video content marketing has gradually taken a leap in the market. There has been a huge growth in its popularity in the last few years.
The reason for such a leap is due to the improvement in the data connection along with studies proving that video is one of the simplest ways of engaging more clients and growing brand awareness.
Arguably this is one of the most profitable strategies compared to others. If you don't believe it is, considers having a look at these numbers.
54% of online users prefer watching videos to reading
As expected by the current scenario, almost the average number of people spend 100 minutes in their day watching online video
87% of companies found that have got more customers with the use of video content on the social media platforms
88% of the businesses have said that using videos ensures getting more ROI
Despite such a huge leap that video marketing has to offer, there are again some companies that have not yet started utilizing this marketing strategy.
Some marketers believe that producing case studies, blogs, and white papers is easier, however, the reality is video content making is going to give far more than other marketing approaches.
Apparently, some marketers tend to step back as they are not accustomed to making videos for their marketing.
No denying, that this is actually very hard but "where there is a will there is a way."
To make it easier for you, today we will have a look at a full guide to enhancing video marketing for businesses.
What do you need to create engaging video content?
Guess what! I talked about the statistics of the video content in the market, but how to create a video?
This is one of the prime reasons why many marketers take a step back from creating a promotional video for their business or products. Either they do not have in-depth knowledge or they aren't savvy videographers.
Apparently, you are here to find solutions to your queries with video content creation and I am happy to help!
So let us find out the simplest yet most effective way to create engaging videos. We will take a quick look at some of my favorite tools and resources which work like Wonder.
1) Video Editing Software
Whether it is for beginners or professionals, there are always a plethora of advantages to having the best video editing software.
Whether it is about editing any audio, color correction, adding a caption, transition, graphics, and much more, there are no limitations with video editing software.
You don't have to be tech-savvy to use video editing software. The user interface is designed in such a way that you can easily delete a section, produce a stream, insert effects, and music, change speed, style, and much more without the need for taking any courses.
2) Screen Recorder
Well, if you want to educate the viewers about something in a different way, a screen recorder can be an apt addition. This is especially a good choice if you want to show something by doing it yourself. With the screen recorder, you can save a lot of time.
All you need is to download it from the market (available in plenty), install it, make yourself ready, switch it on, and start recording and stopping.
Besides if you want to pause in between to make things right, you can also do that. Later you can add your voice. I choose to add voice instead of writing as audiovisuals get much more engagement.
Video assets are a necessity when it comes to spicing up any project. Perhaps, stock footage is something that you are familiar with, but video assets can be profitable as they are available in different types.
Compared to stock videos, assets tend to be versatile. The excellent thing about them is they are free to be customized by making use of effects on them. If you are thinking about how I personalize them, then have a look at the following section.
Video Templates
Designing some appealing video templates requires a professional designer. Chances are higher, that not all of you are capable of designing a great template, like me. Does that mean I have given up making videos using a good-looking template?
No! I have rather started using the video templates available. It helps me to get faster results in an easy and fun way without putting much effort into it. Consider taking advantage of the thousands of premade video templates for your video-making.
Free Music and Sound Effects
Will you watch a video with no sound or audio? No! This gets boring. Both audio and visual together make a great video and if you are in search of including sound effects, you have the freedom to do it.
There are free sound effects and music available on different platforms that you can integrate to create a stunning video. Even if you choose to include your own voice, using sound effects helps to improve engagement. Remember these are royalty-free!
Readymade Animations
There is no secret about the fact that making an animation program requires knowledge, skills, and training. Not everyone can make animation, and probably people like you and me are on top of the list. So, how do I use animations in my videos?
Well, I use ready-made animations. Yes! As simple as that! There are many notable names of animation makers available in the market that can provide you with multiple options. Take advantage of the animation software and create an engaging educational video.
Stock Photos and Video Footage
Again, as we all know, the authenticity of any video tends to increase when you add some photos or video footage to it. Creating or designing photos or video footage is not possible for everyone.
This is where you can make use of the stock photos and video footage available on the internet. Thousands of choices are available for people from different genres thereby improving the chances of getting just the type of photos you are looking for.
Audio Tool
Remember what I said about adding voice to the video? Well, how to include your voice in any video? No doubt you will need an audio tool. These audio tools help you to include voice wherever you want.
If you want to include voice in some sections, the audio tools can do that and if you wish to include it throughout, you can also choose it. Well, video assets tend to be the right choice for the people out there who want to personalize their videos.
The tools available in the market, some for free and others in exchange for a subscription fee can help you create a memorable and engaging video. However, immediately after this, you might be thinking of free and paid video editing tools.
So with respect to your concerns, we will jump to finding some of the best video editing tools for video content creation in Windows and Mac.
3 Free and Paid Video Editing Software for Windows and Mac
Since Windows and Mac are the two most common Operating Systems used throughout the world, we will focus on these two. The software that I will mention here needs to be downloaded and installed, unlike web-based software.
So, let's take a quick look at the top 10 video editing software for PC in my list:
This is my second choice of mine. Well, with this Video Editing Software for PC, you will be able to create many training videos without any limits. Perhaps, this software allows you to express yourself in several ways. The many effects available give you the chance to create a refined look.
Using the simple green-screen effect, you can do anything that is beyond basic, remove the noise with the perfect sound, create 4K videos, and make everything just perfect.
With Filmora, you can add perfection to your creativity.
---
2. VSDC Free Video Editor
For the small business that does not want to invest in a videographer, VSDC can be a great choice as it is considered one of the best Business video editors. This free video software enables you to edit the video content and create anything you want.
With this software, you can provide professional videos explaining your product or service without the need for any professional skills and knowledge.
This again makes it very easy to apply the effects, change the effect, and put music in the video background. Some of the most common features include a multi-color chroma key, and hardware acceleration makes it a real timesaving tool.
---
3. Movavi
Whether you are a professional in an IT job or a student. Movavi can be a great choice for everyone. This amazing automated video editing tool helps you to create presentations and videos, record tutorials, make screencasts, convert files, and a lot more.
This software certainly makes everything a lot simpler. To inspire your creativity, this software allows you to customize the effects, filters, and texts.
You can also move, order, and cut the video, make a slideshow by adding music, record audio using a microphone, and a lot more. Even the student who wants to make an extraordinary presentation can be benefitted from this quality software.
Best Video Creation Software
1. Doodly
Doodly is definitely the first name on my list as it is a video editing software for PC that has made my designation almost similar to a videographer.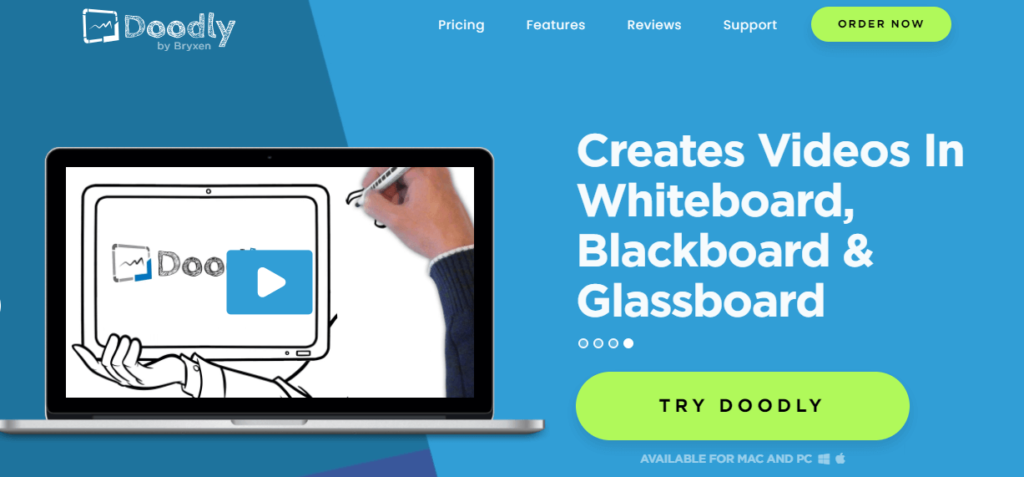 Wondering how?
The tons of features that one can get access to in this software make it a remarkable choice for video content creation. This is the very first and certainly the only doodle video creation software.
This allows people who know and even those who are not savvy about creating videos to make doodle videos. Doodly eliminates the need for paying huge fees and also cuts the need for professional video creators to create doodle videos.
Beyond that, you can easily create videos in a few minutes which is not only appealing but looks professional in every aspect. You can create many blackboards, glass boards, green boards, and whiteboards doodle videos.
All you have to do is select the doodle image, drag the canvas and the software will draw the image.
That's it! And you have created a doodle video.
Yes! It's that easy!
---
VideoScribe is another amazing software that can polish your videography skill. To use this, you do not require to have professional skills or take any courses as this software has a simple interface to help people create the best video in the simplest way.
You can select images, type your text, add music or you can use your voice and leave the rest to the software. In just a few minutes, you can create an informative and engaging video. So, instead of paying hundreds of dollars, you can now produce any videos in the most reasonable and fast manner.
Other video editing software worth a mention are CreateStudio, Offeo, and InVideo.
Free and Paid Web-Based Video Editing Tools
As I have mentioned above the best online video editor for the different operating systems that need to be installed, here let's take a tour of the other web-based software.
Talking about web-based software, the biggest advantage of this software I believe is you can create your videos online without eating up space on your computer.
So if you are going to search, let me make it seamless by including the top 10 web-based tools available both free and paid versions.
1. WeVideo
WeVideo is another video creation and editing software that can be accessed by anyone and everyone. Whether you are using a mobile device or a desktop, it is up to you.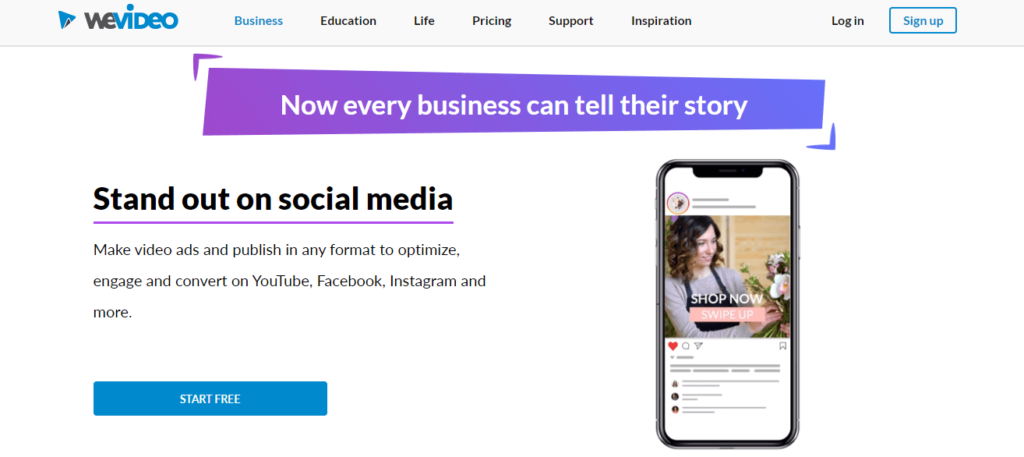 This is, therefore, one of the greatest options available for people who are in search of video-creating software for their individual or professional purpose like social media, websites, and more.
The web-based software comes with stock clips and images, color correcting ability, a complete cloud-based tool that can be accessed everywhere, export the work, and several other features.
Do anything with your video to create a stunning piece for your professional purpose.
---
2. Wave.video
If you want to engage more customers using the video content, consider using Wave.video today. This web-based tool can be the best part for professionals.
You will be able to edit the video templates, customize them as per your needs, edit, and publish to become a booming name in the market.
You can do anything with this software like include animation, include media from the huge library, get numerous privacy options, use templates, give voice-overs, and a lot more.
In short, you can create a video that conveys your thoughts and engages more customers.
---
5. YouTube Video Editor
No more YouTube Video editors are limited to arranging the clips, trimming videos, or adding basic transitions or music, it is a lot more.
You can now be able to add video effects to the videos and create more than one video similarly. Its simplicity makes it quick and simple to use.
If you are associating simplicity with unworthy features then you are in some misconception.
You can do a lot with this video editor like enhance the video, use the entire library of royalty-free music, use texts, filters, and a lot more.
Currently, YouTube Video Editor is still being processed to add more advanced features. Therefore, expect to see more features in no time soon.
Free and Paid Video Editing Tools for iPhone & Android
Previously I have mentioned the video editing tools that will require a desktop or a laptop. So here I will mention the paid and free video editors that have similar functionality but can be operated on both Android and iPhones.
These are some of the best software according to me that can be a lot helpful for those last hour's work. So let us take a tour of this software.
KineMaster
This is a professional and fully loaded video editing app for both Android and iOS devices. The tons of features aid users create a quality video that can convey the message and engage more viewers.
You can create multilayers of text, audio, images, videos, and a lot more. You have the freedom to adjust the lighting like the brightness, hue, themes, and much more to make it more appealing.
Other than these, you can record real-time videos and audio, immediately share them with the world with the social media sharing buttons, use the many animation styles, and include transition effects to make the video attractive to the viewers
iMovie
If you are in search of a video editing tool for your iOS and macOS, you can try iMovie. This Video Maker for iPhone is capable of transforming videos and photos into a storytelling movie. You can even include your studio logo to complete the movie and make it authentic.
You don't have to be technically savvy because the easy UI makes it workable for anyone. More than this, you can add cast names, credit rolls, and logos to the videos. Effects and enhancements including themes, and music sound effects make the app worth using.
Once you complete creating a fantastic video, you can share it on social media, AirDrop, video-sharing channels, and iCloud.
FilmoraGo
If you are in search of a decent yet powerful video editing tool to easily edit videos on your smartphone, you have FilmoraGo.
This Android Video Editor is an amazing application made by Wondershare which is a Hong Kong-based organization powerful to make any kind of video.
It has a simple and clean interface making it seamless for everyone willing to create a video. There won't be any kind of advertisements or force advertisements popping up in the middle of your work.
They have several other advanced features including reverse playing, speeding up and slowing down, several text filters, titles, transitions, and overlays.
Besides, the audio mixer helps to add music to the background. You can export HD quality to make it even more engaging to the viewers.
LifeLapse
If you are in search of an app that can create stop-motion videos, LifeLapse can be of great benefit. You can make use of the ghosted image in the app while taking the clips to design your story clip to clip.
This app can save a lot of time, headaches, and money. And, no more do you have to be skilled in PhotoShop as LifeLapse can do it all.
It has been stocked with tons of camera features like 1 shot timer, exposure lock, custom grids, mini video clips, a white balance look, and a lot more.
Coming to its editor, you can edit the timeline, use royalty-free music, adjust the speed, including sound effects, import music, edit the color, use filters, and a lot more. LifeLapse provides life to the brands.
2) Best Screen Recording Tools
Now that I have mentioned some of the best tools for both Android and iPhones, for laptops with Mac and Windows, and also for web-based video editing tools, it's time to check the screen recording tools.
This is especially needed by people who want to create "how-to videos". If you want to show how to do a video on your genre, you will require screen recording tools.
These tools that I will mention below are included with some great features that seem valuable for the creators. So let's take a glance.
OBS Studio
OBS Studio is a known open-source solution for people. This is a powerful screen recorder along with a streaming tool available for free, especially for gamers and other creators. The results obtained are highly professional making them great for your professional background.
Not only OBS studio has the ability to record from your website with the microphone comes with features that can incorporate several footages, add existing images and videos, capture a portion of the screen, and so on.
If you make a mistake, you have the freedom to go back and edit the mistakes easily to get a high-standard professional video.
---
DVDVideoSoft's Free Screen Video Recorder
If you want a professional class video use the Screen video recorder. This app has an unmatched ability to capture along with doing several other things as well. This compact and full-screen recorder is also used to capture the screen.
This screen recorder has been developed in a way that it can capture and record the activities on the screen which includes the objects, windows, menus, and rectangular and full-screen views. You can also save the captured file and print them if you want.
---
Screencast-O-Matic
Video creation is the latest marketing tool. In such a scenario, Screencast-O-Matic is a great video creation tool that comes at an affordable price. The easy interface of this screen recorder along with a video editor, this software makes everyone a professional video creator.

You can create videos within minutes as with this app screen recording becomes a lot easier. You can also import the video, mix clips, and enhance the video.
Besides, if you want to add images and texts, use the auto-captions, import music, and use transition and animation, this all-in-one tool helps you do everything.
3) Video Assets Source
To create a fantastic video on your own, you would require knowing and finding the resources. Several things are required to create an engaging video. If you are not able to find them, have a look at the following section.
Note that these are the sources that have worked wonders for me. Hopefully, you will find it equally effective in your video-creating process.
3.1 Stock Photos and Video Footage
Is it possible to create a video without including videos and photos? An easy no, but what if you are just like me? I really am not into designing a fantastic image because I simply cannot.
Should I stop creating videos? No! Why should you? Instead, start making use of stock photos and videos.
These are created with the intention to help people like you and me. We can use these images and videos to create a fantastic storytelling video.
Pexels
This is a name for the people who are looking for fresh photographs to be used in their videos. Photographers from different parts of the world upload their captured pictures that can be useful for you to create your video.
With this software, you don't have to get into copyright conflicts and keep creating your video.
You can get huge photo content on this platform. Life becomes a lot easier with Pexels. High-quality images available in large sizes can be used by people from different genres. Being a free service, this is definitely a safe bet.
Pixabay
In case you have not heard of Pixabay before, you should start using it if you are looking for high-quality photos. This is perhaps the known free platform for stock photos.
Pixabay has over 1.7 million stock videos and photos which makes it pretty clear to know the reason behind its unmatched reputation.
This is an easy-to-use platform. All you need is to make the search writing your genre and it will offer you endless choices. Once you have found your match just download it in your chosen size. Consider registering to download photos with higher resolution.
Unsplash
Unsplash is another great resource for stock photos. This is a destination for designers and marketers to create a video using the photos of their choice. The unlimited library of photos gave us several options to select and create a video.
It has a huge mix of photos from different genres namely emotions, people, abstract, architecture, and much more. Besides, the great design of the software makes it easy to navigate and find your photo.
Life of Pix
Life of Pix is another amazing source of stock photos and videos. You can get access to the uncountable free videos and photos that can be useful for your project.
Besides, the high resolution of the images makes it an even better choice.
With this software, you have the freedom to create a portfolio of your own, personalize the photos, follow your chosen photographer, and have a great chance to make a selection of stunning pictures.
3.2 Free Music and Sound Effects
Now that you have known about the stock videos and photo resources available in the market, it's time to look for sound effects and music.
By incorporating a sound or proper music, a video will never look and sound appealing to the viewers.
When you include the right music with your video, you can find visible engagement, as audiovisuals are more engaging than just audio or visuals.
So let us check the best platform to get free music and sound effects for your videos.
YouTube Audio Library
YouTube is a brand in itself and when you hear it, you don't need to check for other authentication. Perhaps, it was the same for me as well and so I chose this platform as the best one for finding the sound effects and music for free.
The YouTube Library has uncountable free music available in its stock along with some unique sound effects. You can use this platform to create any kind of video and include multiple sound effects to make it intriguing to the viewers.
3.3 Audio Tool
When you are creating an informational video, you need to make sure that you include your voice with voice-over software to educate the viewers. This cannot be done until you have access to a nice and advanced audio tool.
To help you make the right choice and create a fantastic video, here I have mentioned a few applications that can transform text into speech and create an informational video. Keep reading.
As the market is known to be more immersed in quality videos, digital marketers these days are more into creating videos for their marketing.
More than just putting some pictures and creating stunning videos, putting a voice can become very helpful and educational. Speechelo in such scenarios can be the apt choice to give life to the video. You can use Speechelo alternatives but Speechelo is very affordable.
With Speechelo which is a legit TTS software, you can easily convert texts to speech and make them sound more human. This software has a human-like voice which becomes great for your video. Moreover, being one of the best cloud-based tools, it does not take much time to install.
Audacity
If you want to start recording music or creating videos and podcasts, Audacity makes it easier for you. This voice recording tool is an open-source and free audio editor that has been in the market for years. This is an apt choice for any kind of audio work.
You edit any new sound, create different formats and rates, convert them together, and use the other sound effects options. Other than this, frequency analysis, equalizer, and mixer make it a great choice for video marketers.
Adobe Audition
Adobe Audition is a great choice for editing your audio. The user-friendliness of the interface makes it pretty easy to record. You can use basic effects like compression and noise gates. You can use this software for voice-overs, interviews, product demos, and much more.
The great interface makes even the complex procedure much easier. It has a huge set of tools that makes it an ideal choice.
4) Tools for Live Streaming
Live streaming is becoming increasingly popular these days. It has become helpful for businesses to reach customers who are not in their geographical locations. Live streaming has cut the limitations and helped businesses to expand their reach and get more conversions.
With the increased demand for live streaming, several tools have come into the market to ease live streaming and help your business grow. However, since the live-streaming market continues to grow, choosing the best one has become a tough one.
So here I will mention some of the best tools available in the market for live streaming. I find these tools to be very effective in their respective genre and so hoping the same for you.
OBS Studio
OBS Studio is known as a great program that offers some outstanding features. As we have known free software does not have a depth of features that ensures smooth broadcast, but OBS Studio is certainly out of the box. Even when it is 100% free, the features offer distinct online broadcasting.
The clean interface ensures maintaining ease of use. Its easy interface helps the user to add specific window images, capture cards, and sources. The noteworthy features of this software lie in its simplicity of adding multiple sources.
The high-quality video capture makes them a great choice for businesses.
---
Wirecast
If you want to transform the computer into a television studio, Wirecast can be a great choice. This software allows you to do several other things at the same time. To be real, you will be able to do everything that a news network can.
Wirecast allows having multiple people, mixing live feeds, connecting people through Skype, multiple scenes mixing, and special titling. The list of features will continue growing. Its easy interface ensures switching from media files and multiple cameras. With this, you can stream live from the laptop without any hassle.
---
XSplit
XSplit is another app for YouTubers and businesses who want to start a live-streaming video. This is also a recording studio with multiple features incorporated to make the app apt for businesses and individuals.
The software is pretty easy to use and is known for its reliability. This is one of the best the market currently has. Being using this software for months now, I would not step back to say that it can do its best.
It provides you with an opportunity to change the background into anything. You can download this today to enjoy the many benefits.
5) Webinar Software
When it comes to enhancing the B2B marketing strategy, a lot of strategies are changing. Webinar marketing is the trending one that offers great rewards.
Especially in the condition where COVID-19 has forced businesses to move into a virtual environment with the sales and events team, webinar software is a necessity for them.
This again needs to know about the Webinar Software. Even when there are a lot of choices available in the market, here I will mention some of the best names available in the market that I personally feel can be great for your professional use.
So let us take a look at some of the software:
Webinarjam
If you are looking for a great webinar hosting platform, Webinar Jam is a great choice. It has been observed that almost 30000 users are currently using this and expected to rise in the upcoming days.
This is an online marketing tool that has tons of amazing features like direct YouTube live streaming, creating webinar rooms that are password-protected, making customizable templates, advanced analytics, data tracking, inviting co-presenters, and a lot more.
It is great if you are offering a training course. This can be a great webinar platform that can offer you unmatched customer engagement.
ClickMeeting
ClickMeeting is another software offering unmatched video conferencing service, especially for businesses that generally host live webinars.
Starting from creating surveys to conducting polls to rebranding webinars, this software allows you to control everything that is required to engage with other people.
It also comes with other features like private chats, screen sharing, chat-to-text translator, video and audio recorder, multi-user account, and webinar statistics.
Therefore, if you are willing to conduct a webinar but do not have great software, you must download the ClickMeeting software today.
WebinarNinja
WebinarNinja is another amazing platform offering all-in-one features. Being a platform that has an easy user interface, it can be used pretty easily by anyone. This is fully conversion-centric making marketing, teaching, and selling seamless through a webinar.
The software has been developed in a way that it can easily be optimized for results. This software helps you focus on the core, instead of tech to help you get what you want.
It includes landing pages, slide templates, and email sequences. This is a platform that can help businesses reach more users and clients.
FAQs
1) How to Select Video Editing Software?
There is no doubt that there are several video editing software available in the market. Undoubtedly the above-mentioned are the best that I have witnessed to date, if you want to know the best way to select a video editing software, consider checking the following things to make the best choice.
While you are choosing video editing software, make sure that you check the details about its system requirements. By the term system requirements, I mean checking the RAM, SSD, and space it will require for installation.
If you are looking for smooth functioning of the system, consider checking these requirements prior to installing the software.
However, if you have a PC or laptop with a higher configuration, you can stay assured that most of this video editing software will run seamlessly and let your work with it.
While buying software, you need to check if there are restrictions on its usage. You can check their system installation plan which might specify its maximum use in 2 or 3 computers etc. Make sure you get the proper information before you buy.
This is especially a need for the businesses or individuals that have a team to work with and everyone requires access to the software. In order to ensure that everyone can make use of it, consider checking if there are any restrictions as such or not.
There are several video editing softwares available and I have mentioned above that offer a user-based plan. When I mention, "User-based plan", I mean that there is software that offers plans for one user, commercial users, and much more.
As it is pretty clear that one user means if only you are using the software, the single-user plan can be a beneficial choice whereas, for businesses, a commercial plan would offer far more advantages.
Therefore make sure you choose as per the number of users.
You definitely need to check their post-buying support service. Make sure that the helpline number and the customer care executive available are fully knowledgeable and capable to take care of problems that might arise during its use.
If a software company is not great at offering support services, it is recommended not to choose them. Even high-end software faces issues that require technicians.
Therefore, if some software is guaranteeing you that there are no bugs or issues and no support service, it is recommended to skip and look for other software.
Security GDPR/CCPA Compliance
With the cloud being highly revolutionized, there are several cloud-based tools available in the market. This again means that all your data is getting stored in their cloud.
In case someone mishandles, it can result in hampering your projects.
Therefore make sure about the security system. If the cloud-based software complies with the GDPR/CCPA compliance, you can be sure that your data is stored and secure. Do not fall for words, instead check the written documents.
Even when these video editing tools seem easy because of the easy user interface, the chances are always there that some people might require training on its use. If certain circumstances arise, would the company be liable to offer training to the seeker?
However, if not training, would they provide their training video to their customers in their time of need? This you definitely need to know to acquire an instant solution to your queries about the software.
Export Video Format Options
This is nothing new that videos are available in several formats like MP4, MOV, WMV, and so on. However, the needs vary from one person to another.
Therefore when you are downloading video editing software, consider checking if they offer the format of the video that you require.
Check out whether the video editing software offers green screen features or not. This is undeniably a great addition for people who want to add amazing pictures to the background of their shooting.
A green screen is often known to have more impact as one can add anything that they wish to because of the green screen features. This invariably has a great impact on the engagement making it a great choice for the professionals.
Sound quality is another basic requirement in terms of video. If you are making a video, you will certainly include your voice, music, or sound effects. In case the sound quality is intolerable, quite commonly it will result in a huge bounce rate.
Hence it is always recommended to check the sound quality of the video editor.
You can find the videos available on their website. Play them, and listen to their sound quality. Only if the quality meets your expectation, I would recommend you to go further. Even if you have 1% uncertainty with its sound quality, consider backing off immediately.
Lastly, the biggest and most effective weapon for buyers is checking the reviews. Once you have done everything, consider checking the reviews. As the reviews come directly from the horse's mouth, you can get a pretty good idea about the video editing software.
2) What is the basic System Requirement for Video Editing Software?
If you are someone who is completely into video editing, you need to know that when you are running video editing software, you will require a minimum system requirement. Some of the basic needs of a system include:
A 64-bit multicore Intel processor
1920×1080
8 GB RAM is a minimum need
10GB Hard Disk
GPU Card
3) Best ways to tell stunning stories in a simple video
Whiteboard Animations: If you want to make videos to educate students about potential customers, whiteboard animations are a great choice. You can create videos on the whiteboard and explore tons of features.
These kinds of videos have the background in white along with a cartoon hand moving to sketch the illustrations. This also has a voice illustrating the entire video.
GreenBoard Animations: Greenboard animation video is a procedure that makes use of the drawings and then narrates to make the animated presentations in the greenboard background. The entire process begins with the topic along with content creation to creating animations.
GlassBoard Animations: If you are looking for a video to endorse your product, glassboard animations can be a great choice.
This generally has a transparent background to create a detailed look. This is an amazing marketing tool that can increase the brand name and increase sales.
BlackBoard Animations: Blackboard animations are another type of video that helps to create fast-moving animations. You will find the same explainer videos created with moving handwriting the texts and creating pictures.
This looks the same as the blackboard we have seen in our school working for explaining the videos.
4) Why should you leverage the Video Content opportunity?
Video contents have a huge ability to grab attention. As 83% of marketers say that video content has improved the ROI of businesses.
Videos can become the biggest asset for businesses and in order to ensure more ROI, consider making frequent videos.
Leveraging video content can offer great advantages to businesses in several ways like increased ROI, more engagement, and more reliability.
5) Types of Engaging Video Content
With the rise in video content, there have been different types of video content available in the market.
If you are willing to make video content of some type, then you should have an idea about the types of video content that you can make.
No more, any of these types of video content ensures unmatched customer engagement with your brand.
– Vlog (YouTuber)
Blogs are something that we have heard, but Vlogs are definitely a lot better. It is really very easy to make an easy and short vlog using your smartphone or webcam and then share it with the world.
When we hear about Vlogs, it automatically makes it pretty clear that YouTube is the best place for creating Vlogs and can be a great choice for businesses.
– Interview
The interview is another type of video content that you can make. Just like a vlog, when you are making such interview videos, the basic guideline is not to make it feel and sound scripted.
There is a need for making the other person talk and slowly glide towards the trends, and hot topics. This can be a great medium to acquire unmatched engagement.
– Webinar
If you want to educate the viewers, webinars can be a great choice. This is a great tool in modern marketing strategies. People who are willing to learn to attend the webinars to learn about any specific thing.
If you are new, you can take webinars as live events for free. Your webinar can grab more attention if you host a FAQ section review something or do a discussion.
– Animation
If you want to create a fun marketing video, animated videos can be a fantastic way. Not only can it ensure more engagement to the business but also can help viewers to get a better understanding of the offering. Small businesses should start leveraging this budget-friendly way of video content market.
– Live Streaming
Live stream videos have been utilized by many channels due to their immense ability to draw attention from viewers. Whether it is about a product, a game, or breaking news, a live stream tends to draw attention much more than any other video content.
– Presentation
We all have known about presentation for a long time now and its efficacy in educating people. If you are willing to create a simple video to present at an event, the presentation can be a great way to convey your thoughts to the viewers.
– Tutorial (eLearning Market)
You can create tutorial videos which the YouTube stars have been doing. If you have knowledge about someone and you want to let potential viewers know about it, start the tutorials. This way, you can become a YouTube star and an influencer. It is the best for today's eLearning market.
– Product Review
Product reviews are another great way of creating videos. Viewers find product reviews as one of the most used videos on the digital platform.
While buying a product from an online platform, they would like to seek knowledge about its quality and product reviews can offer the right way to let people get knowledge about the product.
– Video Testimonial
Testimonials are undoubtedly the best way to understand the product or service a company offers.
However, when it is a video testimonial coming out directly from the clients and people can find it in a video, it tends to increase the reliability in them. They start believing them and might become a great leader.
6) Desktop application vs. Online Video Editing Software – Which is best?
One of the biggest questions most frequently asked by people is which one to choose – online video editing software or a desktop application?
I would offer an unbiased answer as I don't feel one is better than another. Both desktop applications and online video software have their own set of advantages and importance.
If your machine does not have the specifications to install the software, you can opt for the online software and get your job done.
However, if you feel that you want dedicated software and your system has the capability to install and run the software, you can choose to download it.
In my option, this is completely based on your choice and needs.
7) Best Tool for Video Content Marketing to grab the attention
Once you have created a video and want it to reach the eyes of the viewers, you certainly have to work on its marketing. Without promotion, your work hard is in vain.
So in order to let your hard work thrive and do what it is intended for, you have many options for video promotional tools available.
Wrapping up
Congratulations if you have made it so far. I know the blog has been very lengthy, but my intention was to offer you complete knowledge of video marketing tools.
I hope I was able to cover almost everything about video content tools and provide you with relevant information.
This comprehensive information in video editing software will certainly guide you in your video editing procedure.
Don't forget to leave your comments below. Also, feel free to mention other video editing tools that I might have missed.