Music is a universal language and it is used for various purposes. Today I will help you understand the importance of music in videos.
Music plays an important role in our lives. It helps to create an ambiance without saying a word. If you go back in time, you will notice music influenced various fields. For example, the infamous Charlie Chaplin videos come with music instead of dialogue.
With the help of music, he is able to help viewers understand the kind of emotions he wants to interpret. This is proof that music evokes emotions. Similarly, you can convey everything to your viewers by adding the right music to your personal or marketing video.
Even today, when it comes to creating social media marketing videos for Instagram, Facebook, or YouTube, music is there. This music can make a video go viral on video sharing platforms.
Whether you want to create marketing videos or you want to create a wedding video, music is an integral part. Every video includes music either in the background or in the mainframe.
If you are mostly into creating videos, music is the best companion for you.
Why does a video need music?
A simple answer to your question is that music evokes emotions. This is the reason why music is a crucial part of every video. Whether it is in post-production or you want to decide before creating a video, it is important that you choose music that helps viewers to understand and Pay attention to your brand.
Even when music is a critical component of video, many beginners tend to overlook its importance and create videos by choosing any song they like. Remember that if you want to improve the quality and success of your video, you require choosing music that elicits emotions according to your brand.
Every experienced video editor understands the importance of music and enhances their video performances by using videos effectively that help people communicate with the brand.
As you can get thousands of pieces of music, it can be intimidating to choose music according to your video. However, it is something that you must pre-plan to give Life to your imagination.
Even a silent film by Charlie Chaplin has never failed to make us understand the kind of emotions in every second he wants viewers to feel through the background music. Even Hollywood understands the need for music and which is why every movie has a music video.
7 Key Importance of Music in Videos
If you are a beginner, you must be thinking about why music is so important in videos. So following are some of the major reasons why videos always have music…
Music triggers memories
The reason why we can immediately feel the emotion that the creators want us to feel is that it helps us to immediately take us to the past. Music has this amazing ability to trigger your memories.
When you listen to a certain kind of music, it triggers the brain cells and helps to memorize everything associated with the music that happened in your past.
When brands are able to create certain videos that have great music, which gives nostalgic moments to customers, it is something that customers can relate to. This will have a positive impact on brand image, and people are more likely to prefer them.
Music Captures Attention
Think of the last time when you heard a piece of music that immediately stopped you. While scrolling through different music, there is one music that captures your attention.
While listening to the music, you preferred to watch the entire video. The same can happen with your viewers when you choose Music properly.
Depending on the kind of video you are creating, you have to choose music appropriately. Make sure that you correctly import according to the video scenes you have created.
When you add music that is relevant to your video and has great sound, there are chances that the audience will immediately get intrigued by it.
Music communicates or represents your brand
When you choose a certain kind of music for every brand or video you create, it represents you. Whether you are an organization or a group or an individual, certain tracks are associated with certain personalities. However, if you want to create a brand video, you have to make sure that you maintain consistency in music throughout.
Yes, music has the ability to create a brand and make it unique. Every time when people listen to that specific music, they will remind of your brand.
Music helps to convert messages
Music is not just something that will help you to create a beautiful piece, but the prime reason to add music is it has a great impact on creating emotions. The type of video that you choose to create and making the right use of sound will help your audience to feel exactly what you want them to feel.
Even a video without a single word can have the power to depict and portray emotion through the use of correct music. A silent movie with subtle music in its background is one of the greatest examples. It will make you happy and excited according to your needs.
No dialogue is required
One of the best things about music is that you will be able to tell stories just by playing the correct music in the background. It is extremely effective in several instances. The dramatic noises that you play in the background can create an instant effect on your audience.
Even if you have thought of eating a quiet movie without any dialogue, but can trigger certain kinds of emotions, all you need is to choose music properly.
Even with minimum dialogues, the subtle sound and proper use of clips can help your viewers to understand your story. It is simple to tell a story to the world even without telling anything.
Music triggers your emotions
Music has the ability to trigger emotion. So, you initially have to decide on the message that you want to convey to the audience while choosing a piece of music. Whether your video is happy, horror, or sad, you have to choose music accordingly.
Depending on your music, it will change the entire tone of your video. If you imagine one of the famous comic movies or romantic series, you will immediately understand how music was instantly able to make you feel the terror inside you.
The same goes for romantic movies and any other genres. Music can create an instant effect in humans and impart the emotions that you want to invoke.
Music adds the right amount of excitement
When it comes to creating a video, you need to add different kinds of emotions. This will require you to use the right sound effects. You must know that choosing sound effects properly can immediately transform a regular video into something exciting.
Whether it is about a horror movie moment or something comic, using sound effects properly can seamlessly convert it into an exciting scene.
Even if you have chosen stock music for the video, makes it interesting. All you need is to choose the right kind of music with proper sound effects to be able to create the correct story that you want. You have to make sure that the music matches with on-screen movements.
Do's & Don'ts While Choosing the Right Music
Now that you have got an idea about how important music is in a video, you're likely to go ahead and choose the right music.
However, there are some important factors that require paying attention to while choosing music. So here we will take a look at those important factors.
Determine the video's mood
When it comes to using the right music on your video, marketers often make mistakes by not planning it in advance. Even when it comes to writing a simple story, you need to put the right music to improve engagement. Certain scenes require sound in the background to create momentum.
So, if you want to improve viewer retention, it is only possible if you think of the music in advance. Depending on the mood of the video, you require choosing music.
There can be different kinds of moods, including entertaining, dramatic, mysterious, playful, funny, romantic, and others. You need to understand the kind of video you are willing to create and use music that would create such a mood.
Know your target audience
When deciding on music for your video content, you need to initially understand your target audience. Depending on the product or services you want to sell, you need to make an analysis of the targeted market.
This is mainly done to find out the specific gender, age groups, and their preferences. Besides, if you are willing to create a professional story for corporates or a different set of people, you need to keep your audience in mind.
Just because you have already created a playlist with all your favorite music like everyone, adding them to your marketing Videos is not a valuable choice. Depending on the age groups and their preferences, you need to choose Music along with paying attention to the video mood.
For example, if you're creating a professional video, do not use comic background music. Rather, use sophisticated background music with the right amount of editing to make it look professional.
Don't mix too many different music styles
When you start searching for music, you will find too many varieties in terms of Joner. It can also be said for the style. However, if you are creating a short video clip and you pick up multiple music styles, it becomes inappropriate for your video.
You have to choose a style according to the mood and kind of audience. You are targeting and making sure to maintain consistency throughout the video. Adding too many styles will lead to making it haphazard and unable to understand the type of emotion you want to convey.
Have a budget and respect ownership
When you are using royalty-free music or stock music from any video editing software, it is important for you to respect the ownership. Generally, royalty-free music can be used everywhere without any issues.
However, if you decide to use different music taken from somewhere else, you have to make sure to respect the ownership. Add the courtesy to your video and acknowledge the original composer.
Apart from this, you need to create a budget when choosing music for your video. There are chances where you might need to buy as not every platform will allow you to use any music.
In such cases, you require buying certain music that you want to add to your video. Creating a budget in advance will be helpful to maintain your expense and create a great video.
Customize music for the audience
When you create a video, music is an essential part. However, the music that you choose strongly depends on your audience. You have to keep in mind the targeted audience for whom you are creating the marketing video. For example, if you're making a video for children about their toys, you need to choose music accordingly.
Customizing the music in your video according to your audience can greatly influence them. If you choose the wrong music, it will not become appropriate and might lead to bouncing back.
So if you want to increase sales and improve your revenue on the marketing video, you require understanding and customizing music as per the audience. You have to make sure that the audience for whom you're creating a video is entertained and thoroughly keeps on watching the video.
High-quality sounds convince the customers!
Quality always matters more than quantity. No matter how many videos you create, if it does not include high-quality music or graphics, it will lead to bouncing back. So it is important for you to pay attention and look for high-quality music for your video.
These days, people mostly use high-end smartphones and headphones. If you're not able to match their said quality, they will simply move away from your video.
So always look for high-quality sounds if you have the plan to use royalty, free music. High-quality music sounds good in the years and can make it convincing to the audience.
Coordinate music and content
You have to make sure that the music coordinates perfectly with the content. Just because you have chosen great music does not mean that it will hit the viewers properly until you appropriately. Coordinate it in the video.
You have to make sure that you place the music properly into different scenes so that the viewers remain entertained. Coordinating the music with the content is an essential part of your strategy.
Make sure you choose the video editing software for seamlessly coordinating music with the content. Take each scene individually to work when including music.
Music should be background noise, not a distraction
The next, most important thing that many new marketers forget to understand is that music needs to be in the background if there is a Voiceover. However, when you're creating a music video that is a different story.
When it comes to marketing videos where you want to advertise your services or product, make sure that music plays in the background and does not become a distraction.
The voice or the message you want to convey needs to be in the foreground with subtle music on the back. This is the right way of creating video through the use of music.
Add the trending music in videos to go viral on social media
So, you decide to create marketing videos? Great! You can share your video on social media platforms to promote your product, service or just to showcase your talent. However, do you know what the basic mantra of getting viral on social media is?
All you need is to make the right choice of music. Look for trending music and try creating a video based on your services and product by making sure that it is suitable for your business.
Using trending music provides you the opportunity to go viral on social media platforms. However, you need to make sure that the music you are choosing is appropriate for your specific purpose.
What is the background music in the video?
Background music is very common in every video. Nowadays, whenever you check a video made by a professional, you will find them using high-quality background music.
However, always keep in mind that background music needs to be played in the background and not in the foreground. It is important for you to realize that this sound should be continuously playing in the background without interfering with the dialogue in the video.
One of the best examples that I can provide you is to go back to the silent movie era. At those times, there were no dialogues, but it was only the music and sound effects that evoked emotions like sadness, excitement, enthusiasm, and others. Everything was done through music.
What is stock music?
Stop music or sometimes referred to as royalty-free music, production, music, or library music. These are often recorded forms that can be used in different videos or other creative mediums.
Generally, stock music is those that are created with the sole intention to use for a project. The music available in the stock music library majorly does not require seeking permission for use all you need is to have permission to use the stock library.
Where can you get royalty free music for your video projects?
If you are looking for royalty free music that you can use for your video project, especially for creating marketing videos, you can choose different stock websites. Here, we will take a look at the three best stock sites which have a great number of stock music and other video assets.
Envato Elements is an unlimited subscription service where one can avail of different digital assets. This has been specially created to meet the requirements of marketers, designers, agencies, and professionals who require digital assets on a regular basis.
When it comes to music, the Audio Jungle is the largest library with more than 66K royalty, free audio, and audio templates.
Filmstock is the next best resource library where you can get hold of a huge number of resources like effects, transitions, audio, elements, and titles. You can simply download these resources and use them in your video to create a polished-looking video.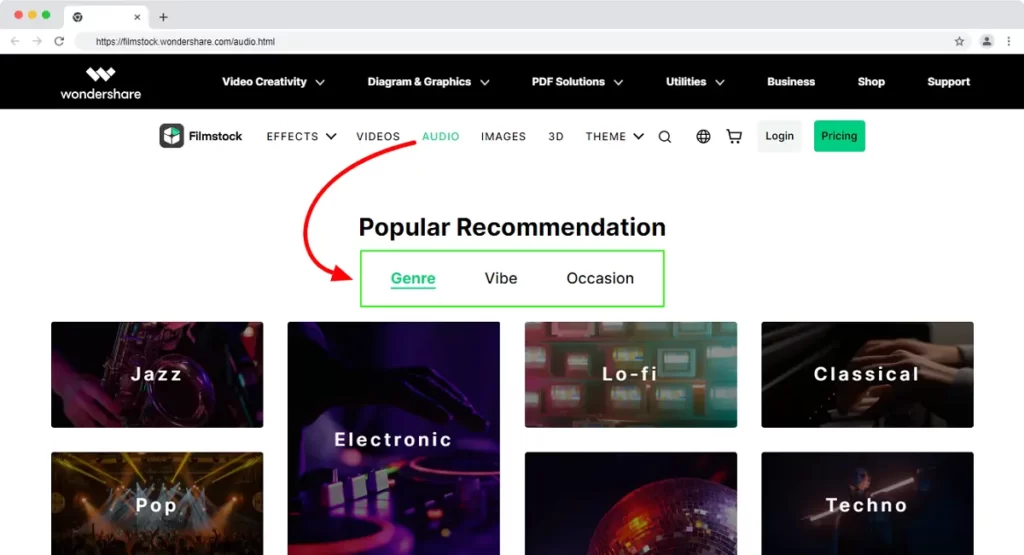 It is a product of Wondershare, where you can get thousands of audio available to use.
Twinkle is the next amazing library where you can get hold of sound effects, royalty-free music, and VFX that you usually require for creating videos. This is an all-in-one premium audio suite specially created for video creators.
The best part about it is that royalty-free music can be used anywhere, even on YouTube, without facing any license issues.
Adobe Stock is one of the largest libraries that source its resources from the top artists of the world. This software provides you the freedom to use music tracks without facing any issues.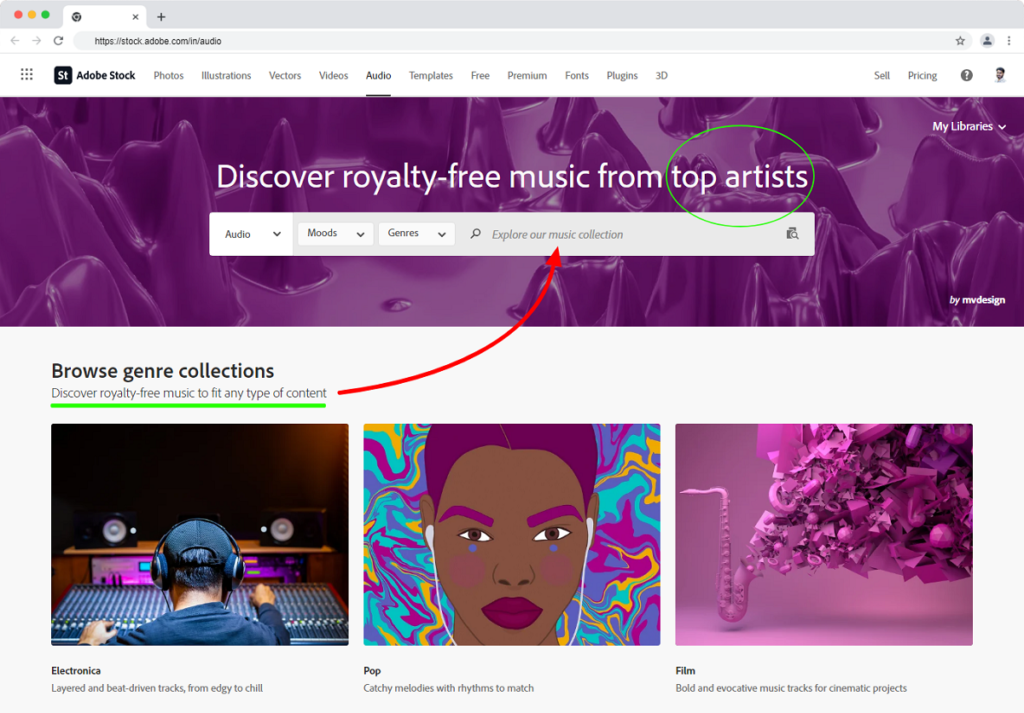 It has been used by famous broadcasters, corporate brands, filmmakers, YouTubers, and so on. This is one of the best libraries where you can find music being differentiated into different musical genres to help you choose easily.
Things you should know before using music or sounds in your videos. Before you start creating your video content, it is important for you to understand the different kinds of music and their charges. You can explore Adobe Stock for free as it offers a free trial for 30 days.
Licensed music means you own the copyright of the sound. Therefore, whenever someone else wants to use your music piece, you can charge a royalty fee. Similarly, using licensed music requires you to pay a minimal charge asked by the copyright holder before using it on your videos.
What is royalty free music?
Royalty-free music is the sound which means that you will not be responsible for paying the royalty fee when you use Music. As you are using the services provided by the royalty-free media company, it remains the responsibility of the company to pay for the song.
What is free stock music?
Free stock music is generally provided by companies or media brands offering thousands of other digital assets. These are generally available for free as you are paying to use the service of the software as a whole. Yes, you can use this in your video.
If you are a new creator and you are willing to create a video for your personal purpose, make sure that you choose the music precisely and must use the disclaimer.
Using disclaimers will help you to stay away from unnecessary issues. Generally, free-stock music becomes the best choice for new creators, but there are many where you might be asked to pay a fee.
Download 10 Free Music
Now I am going to tell you the source from where you can download free music. Adobe Stock, which we have already talked about previously, is one of those brands offering digital assets. Visit the Adobe Stock website and download 10 free music.