Adobe has around 56 products available as of 2023 and Adobe Stock is one of them. If you don't know anything about this stock media website, read this full Adobe Stock review first and then decide if it's right for your creative projects or not.
Adobe Stock is a premium stock media library that can be a lifesaver for graphic designers, video creators, and businesses. You will find all types of creative assets on Adobe Stock as per your imagination to create high-quality images, videos, and presentations.
It is greatly beneficial for you if you are using Illustrator, Premiere Pro, and Photoshop from the Adobe Creative Cloud. As it has a gigantic image library and a range of other assets, it gives the flexibility that every creator looks for.
Adobe Stock Quick Facts
It is directly available with the Adobe CC platform.
It gives access to templates, 3D files, images, vectors, audio tracks, and much more.
It can be an ideal inclusion for creative minds like video editors, designers, and others.
It offers a convenient royalty-free license that can be extended.
It has a free trial for a month and allows you to download up to 25 free assets.
It has a diverse range of pricing models with different packages.
While these are just some quick facts about Adobe Stock, to find more detail make sure you stick to the Adobe Stock review.
To Whom Do I Recommend Adobe Stock?
Undeniably you will find a lot of negative reviews associated with this product, which makes it inevitable to know before you proceed. Remember that this tool has been exceptionally developed with the sole intention of helping designers.
If you have regular requirements or even if it is about a month, Adobe Stock has a solution for everyone. However, the price can be on the expensive side, which is quite justified due to the name and endless features.
Following are the professionals who can thoroughly take advantage of this tool.
Adobe Creative Cloud User
If you are already using Adobe CC (Creative Cloud) or planning to use it, you can find it valuable to get Adobe Stock. It can be integrated with the Creative Cloud platform, thereby helping creators enjoy seamless workflow, use stock photos, and do a lot more.
The stock of HD images at the fingertips makes it accessible for CC users to instantly get the job done without looking here and there.
Video Production Companies
Running video production companies and making promotional video content for clients?
Then you must have Adobe Premiere Pro video editing software and you can benefit from Adobe Stock. It has over 100 million HD images which makes it essentially the one-stop destination for your needs.
As video production companies are always in need of high-quality images, audio, and videos for video content production, choosing their annual subscription packages will be the right decision. You also get a free trial period of 30 days, meaning you can understand if your video production unit is benefiting from this stock website or not.
Graphic Designers
As a graphic designer, you will be able to increase the workflow with access to a huge range of stock elements. This Adobe Stock site was developed for website owners, artists, and graphic designers. Depending on your needs you can choose a pricing model and use high-definition images for your purpose.
Most importantly you can connect Adobe Stock to your Adobe Photoshop which is a must-have graphic design and image editing software to save time.
Choosing a royalty-free license can be valuable for most projects as you can get HD photos. Additionally, other valuable elements like fonts, music, templates, vector graphics, and 3D visuals are available for further use.
You can choose monthly subscription models which are available in a range of packages. However, monthly packages do not have a free trial.
Pro Freelancer
If you are a freelancer and work on various creative projects, you can choose this tool as it will provide you with all types of creative assets you might need.
Being a freelancer, you might not have the same amount of projects throughout the year. So choosing monthly subscriptions for 3 months can be ideal for you.
You get access to high-resolution stock images and videos. Later you always have the freedom to extend your subscriptions depending on your project needs.
Well, Anyone who needs vectors, photos, audio tracks, illustrations, templates, 3D models, and other elements can choose Adobe Stock. This stock image site has endless choices for buyers.
Depending on your needs, you can choose a package. Adobe Stock offers flexible pricing to all creative people around the world.
Overview of Adobe Stock Review in September 2023
Adobe Stock
Adobe Stock is a platform that gives access to millions of high-quality, royalty-free assets for creative projects to designers, marketers, and video professionals. Assets types include photos, videos, illustrations, vectors, templates, fonts, motion graphics templates, audio tracks, and more.
Summary of Adobe Stock Review 2023
Adobe Stock is a must-have stock site for creators who use Adobe Creative Cloud applications like Photoshop, Illustrator, or Premiere Pro. Adobe Stock has a royalty-free license option with very affordable pricing.

Adobe Stock is the best choice for every Adobe Creative Cloud and creator who needs stock resources. You can use them for personal or commercial projects to resale with an extended license.
What is Adobe Stock?
Adobe Stock is a platform where various stock resources (photos, music, videos, icons, vectors) are available and this is an extraordinary tool for professionals. If you need HD images for your magazines or websites and stock videos for video projects, then you will benefit from this stock site.
If you want economical and fast access to a huge range of b-roll stock footage, images, 3D templates, and other elements, Adobe Stock is the ultimate destination that can do justice. Even when the editors and graphic designers make use of stock items most of the time, the process is not easy in most cases.
This Adobe Stock outshines its competitors. Adobe is already prominent in the market and after several testing and checking other reviewers, I can say that it has been helpful for me and hence can be similarly advantageous for you.
Well, just like any other product or service, not everything is great. The customer support has been disappointing in my case which they generally connect through phone, live chat, and email. The worst part is they remain unavailable during weekends when creative minds are most active completing their extra projects.
Leaving aside their customer support drawback, as Adobe works with some of the professional photographers around the world, they can offer high-quality audio, video, and images to creative people. They genuinely stock some amazing images and elements.
So, I can assure you that, whatever your topic is, every time you will find sufficient stock media on that niche or topic.
Available Stock Resources on Adobe Stock
Adobe Stock has more than 200 Million image stocks. It is a gigantic collection of everything that any creative person would want. Its primary aim is to become the one-stop solution for every creative head who wants to create compelling photos and videos.
Royalty-free Stock Photos, Images, and Pictures
It has a wide collection of images that you can choose according to your needs. You can easily curate the images as per your requirements. With the whole long list available to sort images, it becomes easy to find your requirements from the huge list of options.
Free Vectors
Vectors become quite a need when you create images or videos from scratch. Irrespective of your needs, you can get 277,393 vectors for free. This will lead you to create anything that you want without any limitations. Besides, the ability to sort images makes things even easier.
Videos
We all know the importance of videos. If you want realistic and HD-quality videos for your purpose, you can check the Video section. With the wide range of categories included in this stock site like Travel, Nature, Background, people and lifestyle, aerial, and Business, you will find it very easy to curate your needs.
3D Assets
If you are especially creating a 3D image or video, you would need a high-quality 3D image. As Adobe has been in this genre for years now, it understands the need for 3D images. Thankfully, their huge stock of 3D images will not limit your thoughts and help you to easily choose and create a video.
Templates
When you don't have much time to create templates from scratch, you can land on the templates section of Adobe Stock. They have some extraordinary templates that can also be a great choice if you want to create a stunning YouTube Intro.
Besides, you can also use them as video outro and save valuable time. As these are professionally created, you can stay assured that your YouTube videos will look as stunning as they would always do.
Adobe Stock Pricing
This is the most important section to check the Adobe stock pricing. Thankfully, it has been developed paying attention to the different pricing requirements.
It is available in monthly and annual subscriptions for active creators who require various stock assets regularly, credit packs who would want some specific assets in times of requirement, and the freemium plan.
I find it incredibly helpful for people with different needs.
Adobe Stock is one of those amazing tools that offer the highest free trial period. It has a 30-day trial period where you can easily download 10 to 40 standard stock media assets like photos, videos, templates, 3-D assets, and music.
You can be sure that the app will not charge anything extra. I have tried their free version and I can confirm that you will be able to try most of their assets.
Adobe Stock Annual Subscriptions
If you are an organization or a company and need stock assets regularly to create marketing videos or presentations, choosing the annual subscription would become cheaper. Adobe Annual subscription starts from $29.99 to $199.99 per month. With the yearly subscription, you will be able to unlock 750 standard assets and each asset costing around $.26 to $2.99.
You can choose an annual subscription from 40, 25, and 10 assets with a free trial period. This means that irrespective of the type of assets you choose, you will be able to use that many assets without paying a penny for the initial 30 days. It is far cheaper compared to monthly subscriptions.
| Assets on Annual Plan | Annual Pricing Plan | Free Trial Availability |
| --- | --- | --- |
| 750 assets / 25 HD videos | $199.99 / month | No free trial |
| 40 assets / 6 HD videos | $79.99 / month | Free trial |
| 25 assets / 3 HD videos | $49.99 / month | Free trial |
| 10 assets | $79.99 / month | Free trial |
Adobe Stock Monthly Subscriptions
Adobe's monthly subscription is again one of their most popular pricing models. It can be a great choice for you if you are into the freelancing business and working on various projects. Monthly subscriptions are however more expensive than the annual subscription but are mostly suggested for people who worked on fewer projects.
It starts from $29.99 and can range to $249.99 per month. These are available in different sizes of downloading 3 to 750 numbers of assets every month. However, the Adobe Stock monthly subscription does not include any free trial.
| Assets on Monthly Plan | Monthly Pricing Plan | Free Trial Availability |
| --- | --- | --- |
| 750 assets or 25 HD videos | $249.99 / month | No free trial |
| 40 assets or 6 HD videos | $99.99 / month | No free trial |
| 25 assets or 3 HD videos | $69.99 / month | No free trial |
| 10 | $49.99 / month | No free trial |
| 3 | $29.99 / month | No free trial |
Adobe Stock Credit Packs
Credit packs are one of the unique pricing models of Adobe stock. This credit pack is one of the best choices for people who require to create content on demand. If you don't want to purchase monthly or annual packages, but you require some of their assets, it is better to go for their credit packs as it is cheaper and will let you get access to their assets.
| Number of credit | Price |
| --- | --- |
| 150 | $1,200.00 |
| 80 | $669.99 |
| 40 | $359.99 |
| 16 | $149.99 |
| 5 | $49.95 |
Standard images would require 1 credit.
HD videos required 8 credits.
Standard templates and 3D assets require 1 credit
4K videos require 20 credits
Premium images require 12+ credits
Editorials require 12+ credits.
Adobe Stock Buying Guide
You need to make a proper analysis before buying Adobe stock. Whether you have to create 4K or HD quality videos and photos, understanding the pricing structure that would work for your requirement is extremely necessary before making a decision.
What do you want to create?
You initially have to decide on what is the major purpose of choosing Adobe stock. Whether you want to create videos or photos, this stock site will be extremely helpful.
However, if you are not yet sure whether you require Adobe stock or it is apt for your choice, you should go for the free trial available for 30 days before deciding. However, if you need high-quality videos and photos, Adobe stock can fulfill your requirements.
What resolution do you choose?
The next important thing is to understand the resolution you need. If you require HD photos and videos, you can go for their monthly subscription or annual subscription depending on your requirements. However, if you work on a project basis, you should choose the credit option to be able to fulfill your needs without making a big investment.
For how long do you need?
The last but one of the most important aspects that will help you to decide whether you need to choose the credit pack or monthly or annual subscription. First, understand and consider how long you need or if you are working on fewer projects.
If you are an organization or a mid-size company, and creating high-quality pictures and videos back to back, nothing can be better than choosing an annual subscription.
However, if you are a freelancer who is working on a project for the next 3 to 4 months, you can choose monthly subscriptions. Lastly, if you work on demand, it is better, if you choose the credit packs according to your requirements.
As Creator Why You Need Adobe Stock
Being a creator, you constantly need to use your imagination. It requires you to be exposed to a wide range of creative assets so that you can put them together and create the ultimate video or images. Adobe stock put an end to your needs as it has everything that you need to give an image to your imagination.
Huge Assets Availability
Adobe Stock has a huge range of asset availability. Whether you need HD or 4K, quality, images, videos, vector, graphics, or royalty-free music, this site probably gives you everything you need. With more than 200 million assets. In this online tool, you get the opportunity to create anything and everything you imagine.
Premade Templates
If you are willing to create a video and don't want to walk from scratch, premade templates can become handy. With Adobe stock, you can find several premade templates that can be used for different purposes. These templates can be used for different purposes by different companies from different industries. It has also categorized its templates into different categories to help you find and create.
Quality Videos, Images
The best part about using Adobe Stock is that you can find high-quality images and videos on this stock website. As people are looking forward to using high-end photos and videos like 4K and HD resolution for creating videos and photos, this website can serve your requirements and never compromise on quality.
Searching Made Easy
With the latest searching feature included in Adobe stock, no longer you need to browse but just search and download your requirements. With the new searching ability offered by this stock website, all you need is to type and then make your needs available.
User-friendly Interface
Last but never least, users do not have much time to invest in learning the software or online tool. Keeping this in mind, Adobe Stock has been designed with a simple user interface. It does not require you much time to understand the site and get what you need. Besides, the availability of the search option now makes it even better to get what you need.
How can you find the right assets for your creative projects?
Finding assets have become all the way easier in Adobe stock, especially after the availability of the search option. Let us take a look at it.
If you are creating a video for a major social cause like Global Warming for your client, let me show you how to find the right asset for your video.
1) Click on All and take the cursor on Images.
2) Write the "Global Warming" term in the search bar that you are willing to use on your video project. You will immediately find the list of options associated with Global Warming images. Choose anything you need. Here I am choosing, "Iceberg global warming"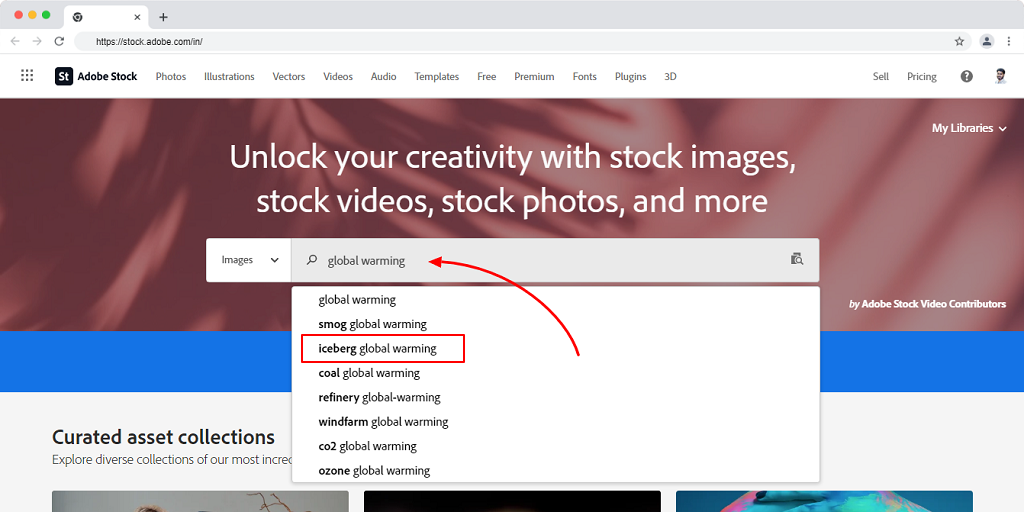 3) You will be instantly taken to the next window with multiple image options.
4) If you want more specific images related to Iceberg Global Warming, you can choose the Filter option and can filter accordingly to get curated images.
5) As I filtered to "Square", it showed me the Polar bear on the ice floe and I selected it to download. Once you are satisfied, you can download images in the same process.
You can do the same thing for downloading other assets.
Adobe Stock Pros and Cons
Adobe Stock is a great inclusion in every creator's system. This stock site has multiple advantages and also some drawbacks. So here we will find out some of the major advantages and drawbacks of this stock photo site.
Adobe Stock Pros
Searching images has become a lot easier
Adobe Stock has made a great effort for creators to help them find what they need in a few steps. With the searching ability provided and several other filtering options, creators now can easily find the right element for their content in a few simple steps.
The left sidebar has been included with several filters, which makes the entire process easy for anyone. As observed by Photutorial, 19% of customers like the image search option on Adobe stock.
Save time by integrating with Creative Cloud
Graphic designers are mostly aware of the Adobe Creative Cloud, and how they need all the other Adobe apps like Illustrator Premiere Pro and Photoshop in their daily life.
Integration of this Adobe Stock on their Creative Cloud account will help creators save time. Also, easily get their hands on the best asset they require in their daily life for creating different kinds of images and videos.
Here one can get templates, videos, 3-D acids, and images they need for their job.
The credit option is very good
For people who are not solely into graphic designing might not require the tool daily. Therefore, they can choose easily from their credit packs available in different types to get what they require. This way you only pay for what you need and when you require.
Unlimited variety of creative assets
Most customers choose Adobe stock due to its quality and variety of stock creative assets. As mentioned by Photutorial, 85% of customers on Adobe Stock like it because of the variety of stock photos.
Adobe Stock is one of those few stock websites where you can find more than 200 million images in the finest resolution. They have the largest image database created for people who needs access to high-quality pictures.
Largest free trial
Even when most tools and stock image websites offer free trials, there are very few in the competition offering a 30-day free trial. This is available for 40, 25, and 10 free stock images, especially when you subscribe to the annual plans.
So the first month is completely free of cost and one can get access to a range of assets.
Varieties of subscription
As Adobe understands the different needs of different creators, they have multiple varieties of subscriptions available for everyone. Different subscriptions are available at different price levels and offer access to different ranges of assets.
So depending on your work and requirement, you can choose a subscription and complete your daily job. 14% of people feel the subscriptions are great and worth the money.
Easy to use and simple integration
A large number of Adobe Stock users (45% of users) loved its integration feature with Adobe Creative Cloud as it saves them money and time to find stock images and other resources. And 7% of people using Adobe Stock like its easy user interface.
Adobe Stock Cons
Just like any other tools and stock sites available in the market has some drawbacks, similar to Adobe Stock. However, there are only some cons.
The variety of music is not up to the mark
While we understand that it is a stock photo site, Adobe Stock site has also offered a variety of music tracks. However, I'm not happy with it for my use case. Even the customers have complained regarding the poor track quality.
Almost 8% of the overall customers have complained about not having enough sound effects and audio files.
Need to improve customer support
This is one of the biggest complaints regarding Adobe stock which is very true. 21% of the customers have complained regarding their bad customer service where they are not ready to help or they do not reply. However, hopefully, this popular brand will take care of it soon.
No available tutorial
Not all people are indeed tech-savvy and hence tutorials become a great way to help people find images. Almost 17% of customers according to Photutorial have complained about it.
Expensive premium images
Premium images are the most commonly chosen assets by the creators. It has a great impact on the overall content quality. This has a lot to do with the performance of websites, blogs, and campaigns.
However, premium images in Adobe stock are very expensive which costs somewhere between $96 to $119. About 32% of customers in Adobe Stock claim that the premium images are certainly a lot more expensive.
Adobe Stock Support
Adobe Stock is one of the big names in the market that has outperformed every single aspect for creators. However, when it comes to customer support service, Adobe Stock is behind.
I am a big follower of Adobe Stock but I feel that the Adobe stock support needs to be improved. On personally contacting customer support through phone, chat, and email service, I was a bit disappointed.
As we all know that entrepreneurs mostly work on weekends, and the customer support of Adobe Stock does not work on 'weekends" which makes it a big disappointment for people.
Besides, when using live chat, it uses an AI assistant for answering barely correct questions.
After much hassle, when you finally get connected to a real human, they are not friendly to help you through the problem.
I believe that Adobe Stock needs to work on improving its customer service support.
Adobe Stock Licensing
License is another aspect of Adobe Stock that has been categorized into three categories.
The standard license is the royalty-free license. It has a limit of 500,000 copies, but it provides unlimited Web views. It is more like a worldwide license. While buying credits ($8.00–$9.99/image) or subscriptions ($0.26–$9.99/image) users can gain a standard license.
Enhanced license: It is more like the former one, but it has something more. With an enhanced license, you get no limits on copies and prints. Users can get enhanced licenses by loading stock footage using credit and premium assets. The price of this Enhanced license is $0.26–$9.99 with an Adobe Stock subscription and $8.00–$119.88 with credits.
Extended license: It is more like the extended version of the prior fashion. The only reason for an extended license is to give you the right to resale assets. This license is not included in any subscription plan. So, you can buy it with $79.99 as credit whenever you need it.
Adobe Stock FAQs
Is Adobe Stock safe to use?
Yes. It is a safe choice for creators who want to use high-quality assets for that creation.
Why is Adobe Stock better than any other site?
Adobe Stock is one of the stock sites that has more than 200M images and other assets for creators. It is one of those few stock sites that offers 30 days of free trial on the annual plans.
As it is made keeping the diverse needs, there is a varying range of packages for different professionals with varying needs.
Can students use Adobe Stock for free?
Adobe Stock offers a trial version for everyone for 30 days with the annual subscription plan (except for 750 assets).
However, there are no such educational discounts mentioned for students on Adobe Stock. But you can get a good 63% discount on Adobe CC.
Is Adobe Stock better than Shutterstock?
While both of these stock image sites offer a royalty-free license, Adobe Stock wins the battle due to its flexibility.
However, Shutterstock has a straightforward buying procedure. On the other hand, the number of assets and their varieties are more in Adobe stock which again makes it a clear winner.
Is Adobe Stock Worth the Money or Not?
Yes. It has a huge number of assets that creators can find within the site. However, some users have complained about being overpriced.
I feel that there is a need for people to understand and then choose a plan. Despite all complaints about Adobe Stock, I feel Adobe Stock is worth every penny.
If you are thinking of other potential stock image sites offering you a huge range of options for assets and you want to crosscheck whether you are choosing the right stock image site at the right price, the following are some of the best alternatives to check and determine.
Envato Elements is a service provided to designers and any creators like you where you can get access to the digital library. Additionally, it includes WordPress themes and plugins, graphics, fonts, templates, photos, illustrations, videos, and several other assets that can be used for your content.
It has more than 2000,000 assets that you can download to use. It has simple subscription packages to help you choose. However, it offers only 7 days of free trial option.
Filmstock is another stock assets site that offers creators access to a broad range of digital assets. One of the differentiating facets of Filmstock is that it comprises original video effects which are not available anywhere else. It has more than 10 million assets and the pricing starts from only $27.49 / month which is billed annually.
Shutterstock
Shutterstock is known as one of the renowned stock websites that has a huge collection of assets. It has 433+ million assets. It also offers 30 days of free trial and has been reasonably priced, it can be the right choice for medium to large businesses.
Additionally, it has a range of packages that people can choose according to their needs.
What to Consider Before signup for Adobe Stock Subscription?
It is very important to analyze before you go ahead to purchase. As most users have complained of being overly priced, it is suggested to choose accordingly. So make sure that you decide analytically and make the right investment.
Do you need it regularly?
You must go ahead to buy Adobe Stock's annual subscription only when you are someone who regularly needs it. For example, if you are a business that only works on creating photos and videos, an annual subscription to Adobe Stock can be the best partner.
On the other hand, if You Are a freelancer, who works through projects on demand, the annual subscription might be a hefty investment. In such cases, you can choose monthly or go for credit packs according to your number of projects and monthly requirements.
Do you have projects in your hands?
Adobe Stock can become a huge investment if you don't use it. So it is recommended to go for the annual subscriptions when you already have projects in hand. Based on the number of requirements that you might have, you can choose the plans.
If you are a freelancer, a monthly package would be an ideal choice for the project, which you can extend later when you get more projects.
What kind of projects do you have?
Depending on the kind of project you are taking on, you need to decide and use it. If you don't need high-quality images or many digital assets, Adobe Stock is not the right choice for you. It is mostly created for graphic designers and creators who work on creating high-quality images and videos.
Do you have a team?
If you have a team, Adobe Stock can be a great choice. It has a separate plan curated for teams and not for individuals. The subscription for teams differ from individual subscription and will let all the team members create together by collaborating. It can be a great choice for a company with multiple members working on the same project.
Adobe Stock Review Verdict
According to me, Adobe stock is one of the best stock image websites available in the market. It has more than 200 million images and other assets that become a great choice for all the creative minds out there.
Even when it is slightly more expensive than Shutterstock, its on-demand plans make Adobe stock much more flexible than its competitors.
However, customer support can still be a problem, but I am hoping to see some improvement in the coming days.
I would always suggest choosing Adobe Stock after analyzing your requirements. With the flexible plans provided by this stock site, you must go for the right package and not regret the letter.
If you carefully read this Adobe Stock review, I hope you get a complete overview of the Adobe Stock website. In case, you still have queries about Adobe Stock or feel confused with other things. Please feel free to comment below or contact me on Messenger, or WhatsApp.
---
Adobe Stock
Adobe Stock is a platform that gives access to millions of high-quality, royalty-free assets for creative projects to designers, marketers, and video professionals. Assets types include photos, videos, illustrations, vectors, templates, fonts, motion graphics templates, audio tracks, and more.
Product Brand: Adobe
Product Currency: USD
Product Price: 49.99
Price Valid Until: 2023-08-31
Product In-Stock: InStock
Pros
Unlimited variety of creative assets
Save time by integrating with Creative Cloud
The credit option is very good
Cons
Need to improve customer support