Adobe Stock offers 3 legit ways to download up to 40 free images without any legal or ethical concerns. You can consider free Adobe Stock images for your creative project or presentation, whether you are a designer, marketer, or simply in need of stock photos.
In this guide, I will explain how to get free pictures from Adobe Stock in legitimate ways. So, if you are ready to enhance your creative projects without straining your budget or conscience, read on to explore the ways to get high-quality free stock images.
3 Legit Ways to Download Free Adobe Stock Images
If you are looking to enhance your creative projects with high-quality images from Adobe Stock without spending a dime, you are in luck. I will walk you through three legitimate ways you can download free Adobe Stock images without the watermark. They are…
Adobe Stock free assets collection
Using Adobe Stock free trial
By creating a free Adobe ID
Now that I have listed the three legal ways you can have access to Adobe Stock images for free, it is time to describe each way in detail.
1) Download from Adobe Stock Free Assets Collection
I bet you do not know that Adobe Stock has a special collection of free visuals. This collection is for those just starting out or looking to save money. There are 513,748 images, 80,901 videos, 3,600 templates, 1,200 3D models, and other media assets that you can use for free.
All these free assets have a Standard license that lets you use them in lots of projects. Even if you stop using Adobe Stock, you can keep using what you downloaded. The Standard License for images lets you put them on the web, on phones, and on social media as much as you want.
All you need to do is go to Adobe Stock's website and browse through their dedicated free collection. You will find a diverse array of visuals to choose from, whether you need photos or breath-taking videos.
Below I have presented a list of visuals you can have access to:
513,748 Free Images or Photos: Whether you are a designer, marketer, content creator, or freelancer, Adobe Stock free images can enhance your creative project.
Adobe Stock's free collection included over 513,748 high-quality images, curated to cater to a wide range of creative needs and projects. Whether you need photos, illustrations, or vectors – Adobe's free stock asset collection has got you covered.
Free Vectors: With thousands of vectors spanning various categories such as illustrations, icons, and logos, you have ample options to choose from.
The free vector collection has high-quality graphics with a diverse selection of styles and themes. This allows you to find vectors that suit your specific design needs, whether you are working on a graphic presentation or video project.
80,901 Free Videos: The Adobe free video collection encompasses a wide array of categories. This means that you can find videos suitable for a range of projects. Whether you need free videos of nature, lifestyle, technology, or traveling, you are in luck.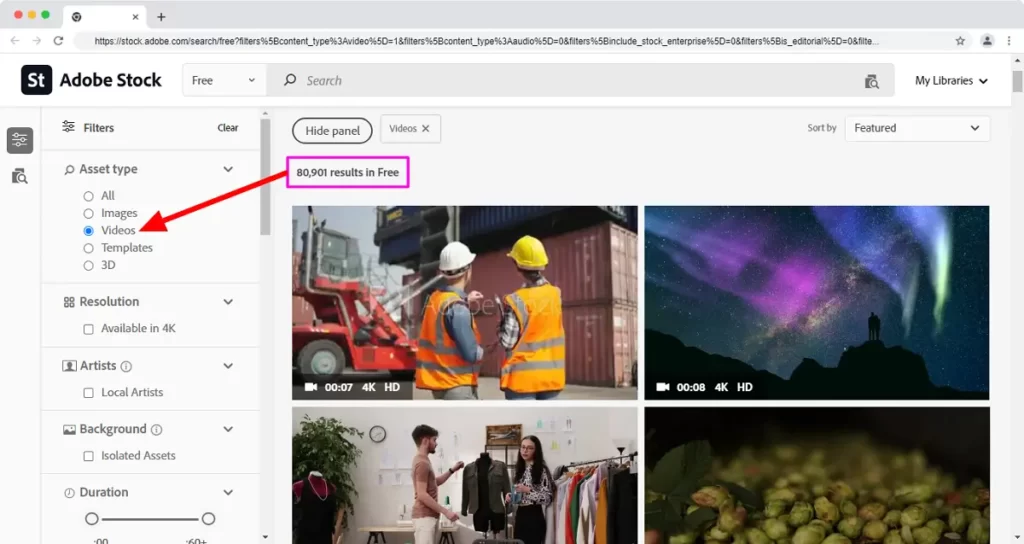 The videos are available in the Adobe Stock free collection are in high-definition (HD). They are ideal for presentations. You will also find videos in higher resolutions like 4K, which offer even more detail and clarity.
Design Templates: Adobe Stock's design templates cover a wide range of categories. They include templates for flyers, brochures, business cards, posters, website layouts, banners, social media graphics, presentations, app interfaces, wireframes, and user experience designs.
They also include templates for books, magazines, newsletters, slideshows, and whatnot. The quality of templates is high as they are created by skilled designers.
3D Assets: You can search for thousands of royalty-free 3D assets for your next project. Whether you are looking for realistic architectural models or imaginative character designs, the high-quality, professional-grade 3D assets will meet your unique needs.
Motion Graphics Templates: Adobe Stock's collection offers a huge range of options for different video and animation projects. From thousands of high-quality intro & outro templates, social media templates, and logo animations to transitions & effects, there are numerous categories you can choose from.
2) Using Adobe Stock Free Trial
Another way to get your hands on Adobe Stock assets without spending is by trying out Adobe Stock's 30-day free trial. This trial gives you the chance to download up to 40 Standard assets for free.
To start your trial, you will need Adobe ID, and they might ask for your credit card details. If you cancel the trial before it ends, you will not be charged a single penny.
Even if you decide not to continue after the trial, the 40 Adobe Stock assets you have picked are yours to keep. And, if you find the trial useful and want to keep the subscription going, you can just let it be. From the second month onwards, the charges will start automatically.
3) By Creating a Free Adobe ID
Creating a free Adobe ID is yet another way to access complimentary Adobe Stock images. By registering for an Adobe ID, you will have access to a selection of free assets, including images, templates, and more.
This method is especially useful if you do not want to commit to a paid subscription but still want to benefit from Adobe Stock's offerings.
Tips to Download 40 Free Adobe Stock Images
If you are looking to download free images from the Adobe Stock site, consider taking part in the Adobe Stock trial which allows you to download images and other creative assets for free. Below I have discussed the steps for downloading free images for you:
Open Adobe Stock Website: Click here to visit the Adobe Stock website to claim the free trial or look for any ongoing promotions.
Access the Free Trial: You will land on the free trial page, and follow the instructions to sign up for the trial.
Or Visit the Price Page to Select Different Plans: Go to the price page and choose the plan that allows you to access and download the desired number of images from 10 to 40. Ensure that the trial or offer covers the number of images you are looking for.
Sign Up or Log In: If required, create an Adobe ID or log in to your existing Adobe account.
Next, you need to provide your payment information, although you will not be charged if you cancel before the trial period ends.
Search and Download: Once your trial is active, use the Adobe Stock search feature to find images that match your needs. Download the images you want and make sure to adhere to the terms and conditions of the trial.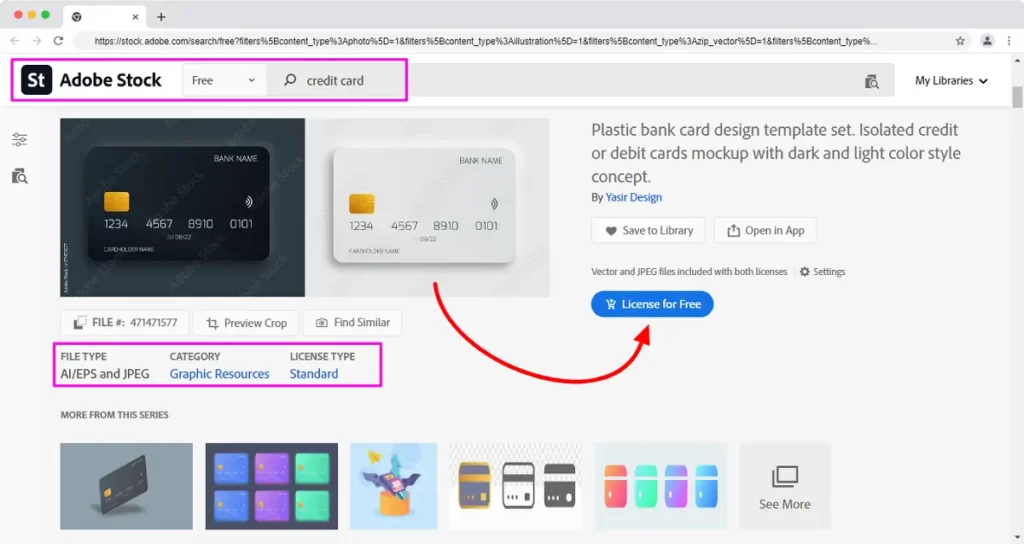 Monitor Trial Period: Keep track of when your trial period ends to ensure that you cancel before any charges are incurred if you do not wish to continue with a paid subscription.
N.B: Please read and understand the terms of the trial, subscription, or promotion you are participating in.
Can I Use Free Adobe Stock Images in Commercial Projects?
Two licensing options are there in the Adobe Stock platform. They are the Adobe Stock Standard license and the Adobe Stock Extended license.
The Standard license typically allows you to use images in a wide range of projects, including commercial ones – provided you adhere to certain usage limitations.
Here are some key points you may want to consider when using Adobe Stock images, especially in commercial projects:
Read Licensing Terms: Always read and understand the licensing terms associated with each image you download. These terms will outline the specific permissions and restrictions for using the image.
Standard License for Commercial Use: In most cases, you can use Adobe Stock images with a Standard license in commercial projects, but you need to adhere to the terms and limitations. Common limitations might include a maximum print run, restricted distribution area, and limitations on use in certain types of products.
Extended License for Enhanced Usage: If you require more flexibility in using images, such as for large print runs or merchandise for resale, you may need to acquire an Adobe Stock Extended license. This license typically comes at an additional cost.
Attribution and Editorial Use: Some images might require attribution to the creator, and others might be labeled for editorial use only. Ensure you understand the specific requirements for each image.
Model and Property Releases: If the image contains recognizable people or private property, you might need model or property releases to use the image in commercial contexts. Check if such releases are available for the image you are interested in.
Logo and Trademark Usage: Generally, you cannot use Adobe Stock images as part of a logo, trademark, or company identity, as mentioned in their terms of use.
Exclusive versus Non-Exclusive Licenses: Some images might be available under exclusive or non-exclusive licenses. Exclusive licenses mean that only you can use the image during the licensing period.
Royalty-Free: Adobe Stock images are typically licensed on a royalty-free basis, which means you pay a one-time fee and can use the image within the terms of the license without paying additional royalties.
Please follow the above-guided steps to download free Adobe Stock images in September 2023 for any creative projects, social media, or blog posts in legitimate ways.
You may consider the Adobe Stock alternative to download free stock images or photos. Adobe Stock competitors also offer free trials or free versions with limited downloads, so you can explore and see which one aligns best with your specific stock media assets needs.