These days, you should not ignore the importance of video in content marketing strategy and that is why you must have an online video tool.
Today, in this InVideo (an online video tool) review, I will help you to understand whether it is good enough to consider as well as my honest opinion.
But, before going further with the InVideo review let's first understand what it is and how it can benefit you, let's get started!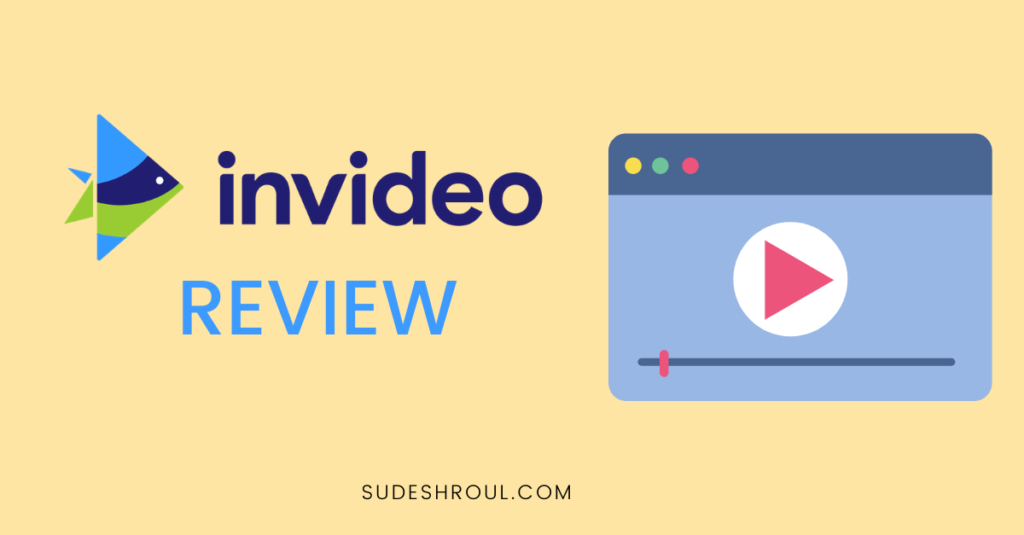 ---
What Is InVideo?
InVideo is an online video editing tool that helps you to have your text content transformed into amazing videos in no time.
Videos made with InVideo will be an option for you to enhance your content marketing strategy.
You can engage and connect with your audience through these videos and it will help you with better brand exposure.
InVideo Review: It's Benefits
Easy to use online video editing tools
Saves you money and time
Can create Social media videos within a few minutes
Top InVideo Features and their Benefits
In this section of my InVideo review, let's now takes look at a few of the InVideo features and how they will help us during the time of need:
Huge Pre-Made Templates
✅ Intro Templates – With the help of this video editing software, you will be able to start your video with a bang and exclusively make an impact!
✅ Outro Templates – You will be able to make your video complete with this animation maker. This means you can end your videos with a boom!
✅ Promo Video Templates – With this video animation maker, you will be able to create videos in a few minutes. Select from templates and create videos in a snap!
✅ YouTube End Screen Templates – With this youtube intro maker, you will have a number of fully customizable video templates ready to use that will help you create YouTube videos, in a few minutes.
✅ Instagram Video Editor – With the help of InVideo's Instagram video editor, you will be able to advertise on Instagram without any difficulty.
✅ Facebook Ad Templates – You will also be able to boost your page's traffic with stunning Facebook ads that can be created with this online video editor.
Stock Images
Another fascinating feature of this online video maker is that you will have a library filled with beautiful images and that too in millions. So, you will have options to create your video more than satisfying.
Automated Text to Speech
With this video creation software, you will be able to create a human-like voice in a matter of a few minutes, and that too as per your specifications. So, you can convert your text to speech in no time.
Voice Over
If you are thinking about making an explainer video with the infusion of a script that is filled with lots of textual details, you can consider going for a voiceover attribute as well with this software.
Convert an Article to Video
Another amazing feature that you get with InVideo's online video editor is that it helps you have your article converted to video in no time as per your specific needs.
Free Tutorials
Lastly, if you need any assistance on any feature of this video editing software then you can consider going for free tutorials available on their website.
How to use InVideo?
In this segment of InVideo Review, we will be understanding how to use the respective software in your favor. This software is very easy to use and requires no technical understanding.
All you have to do is to make a script on your own and take it further with the help of this software.
You will have a number of promo video template to choose from and have your video designed in a matter of minutes take a look at how:
Select from templates available according to your needs
You can also have the respective template customized
You can add images available in stock or as per your needs

You will have your video created accordingly

You will be able to add background music from the music library
Do you need InVideo?
If you are into the marketing business, Invideo is certainly a video editing software that you need.
It helps you create videos that will grab attention and help you avail the best of returns in no time.
With the help of this software, you will be able to create videos for youtube, social media platforms, promo videos, video ads, and a lot more.
InVideo Pros & Cons
InVideo Pros (advantages)
Easy to use and responsive chat support,
Wide range of video templates available for all business sectors,
Upgraded with excellent features
Create amazing videos in minutes.
InVideo Cons (disadvantages)
Still, a lot of features are needed to make things worthy.
InVideo Price
InVideo pricing is split into two simple and transparent plans to suit most budgets. Please check them out.
$20 per month
$120 annually (50% Off – $10 per month)
$60 per month
$360 annually (50% Off – $30 per month)
InVideo Lifetime Deal on AppSumo
FAQs about InVideo
Is there any kind of InVideo discount or offer?
At the time of writing this InVideo review, I came across the InVideo discount coupon SAVE50. But these discounts change frequently. You might get the latest InVideo discount codes on their website.
Which browser InVideo is compatible with?
It is compatible with all browser including Chrome, Safari, and Firefox.
Is there a free trial of InVideo?
InVideo Review Verdict
InVideo is certainly very much recommended for all business sectors as it gives you one of the most hassle-free video-making software of all time.
It is automated, so you will not have to stress about any extra effort to have your video designed. In my opinion, it is worthy of your time and investment!
If you have any queries related to InVideo, you can always reach out to me with your comments. I will love to answer them.
If you find this InVideo review, share it.
InVideo Review: Is It Best Online Video Editor to Consider? If you are into the marketing business. Just go and try it. #OnlineVideoTool #VideoContent #ContentMarketing
Related Posts