Creativity always inspires people, and this is the fact drawing images on the whiteboard and explaining it with voice-over music has become the current trend.
Such type of videos are known as doodle video and surely it has taken over the market and became immensely popular.
Now you must be wondering what makes drawing over and a whiteboard or paper popular? It is the simplicity of the drawings with the extra visuals that make remembering the videos easy.
As you know that Doodles videos are becoming extremely popular, you must be excited to use them for your business. To guide you create the best doodle videos here I present a detailed guide.
Before I start, I like to mention that Doodly and DoodleMaker are the best online video tools that are providing the best solution to the doodle video creation requirements.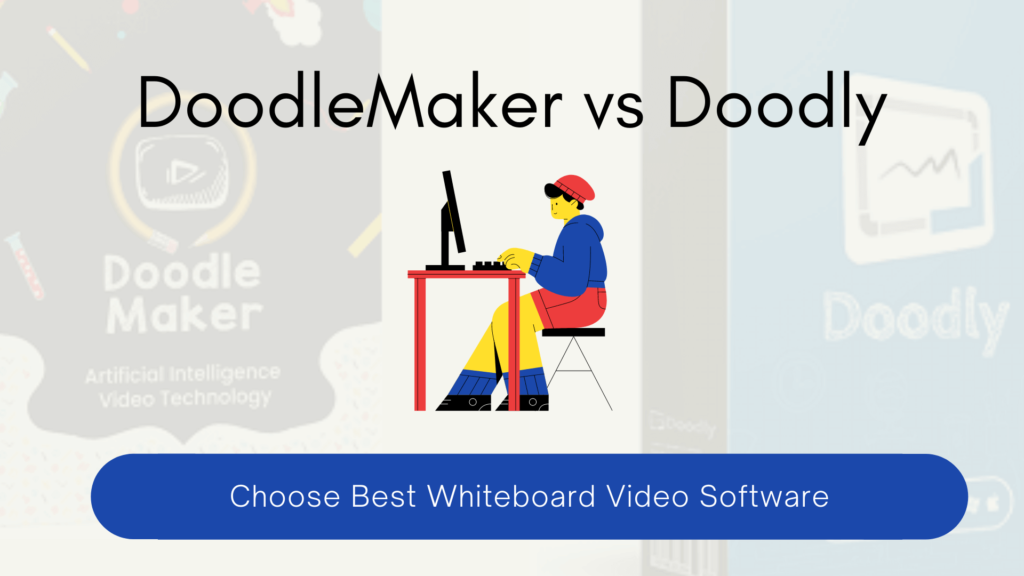 Of course, you can use both but to make your VSL software selection easier here is my DoodleMaker vs Doodly comparison of both the doodle video creation software.
Let's proceed!
DoodleMaker and Doodly Company Overview
Behind every revolutionary product, there is a history. Therefore, for Doodle Maker and Doodly to get immense love from clients and customers have to go through many ups and downs, and finally, the applications have become the top doodle creation software.
So, let us have look at how DoodleMaker and doodly was created and it will help us to understand the functionaries better.
DoodleMaker Company Overview
Digital entrepreneurs Paul Ponna & Sid Diwar created Doodle Maker to help their customers adapt to the changing market demands. This is why they developed the DoodleMaker to solve the struggles of people. Now DoodleMaker is a pro video animator with over 300 stunning templates across today's hottest niches & industries. To know more visit www.doodlemaker.com
Doodly Company Overview
Jimmy Kim a Digital Marketing experts along with Brad Callen the CEO of iWriter.com are the co-founders of Doodly. The makers of Doodly have successfully created the most tech-friendly video creation animation software which is simple to use and also increases conversions.
Because of the two biggest doodle creation software companies, video creation has become so easy, and online businesses could prosper and bring more conversions. Let's have a look at the features of both the doodle video creation software to understand its benefits. To know more visit www.doodly.com
DoodleMaker vs Doodly Features' Benefits Comparison
Both Doodly and DoodleMaker are the topmost competitors in the battle of Whiteboard video creation.
"According to Cisco, 81% of the internet's traffic will be video-based by the end of 2021."
There it becomes very important for YouTubers, Marketing Agencies, Graphic Designers, solo-entrepreneurs, small businesses, freelancers, and influences to choose such a doodle video creation software that will not only ease video making but also open new opportunities to reach the audience faster and increase conversions.
Most Important DoodleMaker Features' Benefits
Over 300+ templates available: Regardless of the ability to import custom, photos from your computer, you have a template of over 300+ prop images built-in pizebay API. These templates surely will help you to create an interesting video ready to go viral over any social platform.
Backgrounds: When it comes to Doodle Maker, I am simply amazed at the variety of default whiteboard backgrounds. I love the way they allow users to change the backgrounds. The background options of the Doodle Maker are Whiteboard, Glassboard, Blackboard, Custom Colours, and Custom Image. These options can be used to create the best Whiteboard animations.
Eight hand styles and transition slides: Doodle maker has the option to choose eight hand slides and also choose the hand transitions while making slides. The transition gives a  plus point to the video creators.
Multi-Lingual 60+ languages: Language is surely important to communicate our messages easily. Doodle maker surely makes it easier for YouTubers, and marketers, Graphic Designers, solo-entrepreneurs, small businesses, freelancers, and influencers to choose the language that they're most comfortable with and create videos easily.
DoodleMaker comes with more features which I have reviewed Doodle maker, you can go through it for detailed knowledge. Now let's have a  look at the features of doodly.
Most Important Doodly Features' Benefits
Doodly is created by the makers to save tons of money spent on video creation. And this why the doodle video creation software helps you in creating attractive and informative videos using the characters, voice-over, and all the necessities.
Let's have a look at its features:
3596 characters images and 3000 prop images: Inside Doodly you get to choose 3596 character images and 3000 prop images, though in comparison to Doodler maker the number is nothing. But the characters and images that are present in Doodly are so interesting and appealing that you cannot find such characters in any other doodle maker software.
Backgrounds: Doodly has great backgrounds for users. It has Whiteboard as a  default option but you can change it to Dark chalkboard, Green chalkboard (you can choose the green chalkboard and change it to your preferred colour.), Glass board, and custom. These options surely make doodle videos easy.
15 real hands and 13 cartoon hands: When it comes to doddle videos hands are very important, as the hands explain your message. The numerous hand options available in Doodly make listening to the message and watching videos more interesting.
150 Royalty free music tracks: Music makes videos even more interesting. Doodly has a wide range of audio options like voiceover, uploading support audio, but the 150 Royalty free music tracks are added benefits for the video creators.
To know more about Doodly features, pros & cons in detail, please check out my Doodly review.
🔑 Key Differences
Doodle Maker has a lot more templates compared to Doodly but the interesting characters, option to change the green board to a custom colour board makes Doodly the winner.
On the other hand, Doodle Maker gives the video-makers to record their video in over 60 languages which is hard to ignore feature but Doodly has 150 Royalty free music tracks that dominate the language feature of Doodle Maker.
But keeping in mind the compact yet very powerful features of Doodly like the characters, royalty-free music, more hand options, custom draw paths makes Doodly the winner.
Doodly vs DoodleMaker is Best For
Both Doodly and DoodleMaker is amazing video animation software. Let me explain to you what, how and who can you benefit more from these video makers.
DoodleMaker is Best Used For
DoodleMaker is best for Facebook ads, Youtube videos, sales videos, and also educational videos. Whiteboard, Blackboard, Glassboard, or Custom Background Canvas videos are best created by Doodle Maker.
Almost all the languages are covered in Doodle Maker and this makes it accessible by people all around the globe and creates videos in regional languages too.
Moreover, the premade templates are best for video marketers who want to advertise the benefits of their services or products. This video creation software makes it easier to fulfill services for clients. The pre-done templates also save a lot of time.
Videos created using Doodle maker are best for social media platforms, YouTube, and other advertising sites.
Doodly is Best Used For
Doodly is a  perfect choice for YouTube videos, teaching and training videos, Facebook advertising videos, sales videos (VSLs), fun and inspiring videos.
Doodly is the simplest video creation tool where the only limitation is your imagination. Using Doodly you can create videos for any industry and niche with zero tech or design skills.
DoodleMaker vs Doodly's Ideal User
Doodly and Doodle Maker are ideal for all kinds of users like marketers, freelancers, solopreneurs, offline and online businesses, content creators, coaches, affiliate marketers, authors, social media managers, bloggers, YouTubers, and many others.
Doodly is created in such a way that it passes the mom test. So easy that your mom can also use it to create the best-animated doodles.
DoodleMaker vs Doodly: Choose based on User Experience
Since anyone can use both doodle video content creation tools, you must be excited to know the user experience. Now in this DoodleMaker vs Doodly comparison, let's have a look into how these tools work and some more real user feedback around the web.
Doodly User Experience
To use Doodly first you have to log in to your account and click on create a new video. You can choose the type of board and then select the scenes, characters, props, text, and sounds.
Once you are done with the selection start adding the charterers according to your video requirement. Add the voice over and then save the file.
Coming to the last step you have to export the video, pick the correct resolution, quality and FPS, finally click on continue to export the video. Doodly has the opportunity to preview and make changes to your video.
Majority of the user review says that Doopdly is a user-friendly application with drag and drop features which help in creating the sketch videos within a minute.
Also, the Doodly library has a variety of royalty-free tracks, characters, props, voiceovers, etc.
When you order Doodly, you will be given access to their private Facebook group with over 51,166 active Doodlers. The tagline of Doodly will surely sum up the user experience to you. It says "So easy that even a 7-year-old child can use it".
DoodleMaker User Experience
For using Doodle Maker you have three options, use a ready-made template which is the easiest, start from scratch, and the 3rd option is AI video translation Engine.
Depending on your requirement you can use the already created templates, or choose the characters to create your video from scratch.
Once you are done with your video creation procedure, you have to save the file and download it in your required format and pixel.
As Doodle Maker is designed to allow video creators to customize the videos without any kind of restrictions, users are completely happy with doodle maker to expect that the price is a little high.
Doodly vs DoodleMaker: Choose based on Customer Support
Everything does not always go right when you are purchasing a Software as a Service (SaaS) tool. Therefore, besides checking its features, pricing, and reviews, the most important thing to review is its Customer Support because you can communicate with the experts to get a fast resolution.
DoodleMaker Customer Support
Doodle Maker support team suggests customers to try sending only ONE email with all your questions as multiple emails can delay their response! All queries should be sent to support@doodlemaker.com
Doodle Maker customer care generally responds within a few hours, but the longest wait time is 24 hours for your question to be answered.
Doodly Customer Support
Doodle has astounding customer support, they have a special website named as doodly Support desk where you can raise a new support ticket or check your ticket status. You also have the option to troubleshoot your problems based on the already mentioned articles, general information and accounts and login details.
Doodly also has video tutorials for its users from where they can learn details like interface tour, Background types, creating the first video, timeline basics, and other Doodly related facts.
You can contact Doodly directly: support@doodly.com. The support team generally responds in less than 24 hours, and typically much faster.
Training options offered by online doodle animation software
Whenever we think of starting a new service or using a new tool, training becomes utmost important. I always suggest that you must choose such a SaaS tool, that has ample video is and training opportunities for their users.
Since Doodly and Doodle Maker will be very new for you, it is natural to look for references. Let's check out how both this software provides training to their users.
DoodleMaker Training
To provide training to the user's Doodle Maker has used a video with all the required information on the home page of the website. The other way you can get training on Doodle Maker is from the Youtube videos.
There is an amazing set of information available on YouTube regarding how to use Doodle Maker, how to create videos using the templates, and much more.
Doodly Training
Doodly has a lot of pre-made videos based on character selection, selecting the whiteboards, blackboards, changing board options, rendering, saving the videos and much more.
This platform maker kept the software so much tech-friendly that they have a special set of FAQs and questions answer related articles to provide the users training.
This is not the end to the list, when it comes to getting training about Doodly, they have Doodly elite masterclasses dedicated to the elite subscription members, and scriptwriting ebooks to help client writing scripts.
So, if we compare Doodle Maker and Doodly when it comes to providing training opportunities for the new users, Doodly is the winner. As it got various freebies, videos online masterclasses to enhance learning.
DoodleMaker and Doodly Similarity
Another vital point that I must highlight to guide you is the similarity of both the whiteboard video creators. The major points that I will highlight are: Both are user friendly and any layman can use them, and Both have amazing characters, templates, and hand options.
So, lets read through:
Doodle Maker and Doodly are the best user-friendly doodle making software available online. To use both this platform you do not need to have any kind of technical knowledge on web designing, video creation rather with the help of the templates and characters you can easily create the best professional videos.
If you try to compare Doodly and Doodle Maker in terms of features surely you will get confused. Doodle Maker has amazing ready-made templates that can be used for advertising video creation, on the other hand, Doodly has amazing characters, which can also be used to create marketing, informative, training videos. There are amazing hand options in both these platform and this is surely a huge benefit for the users.
Why choose DoodleMaker over Doodly or Vice Versa?
Every doodle video creation software launched in the market has some benefits and extraordinary features which make it different and liked by people. Similarly Doodly and Doodle Maker being the whiteboard animation software has certain features that make it unique on the market.
But for your ease I will mention the reasons to choose Doodle Maker over doodly and vice versa:
Choose DoodleMaker
If you looking for software that will help you in your video creation requirement which can be informative videos, marketing videos social media videos, you can surely use DoodleMaker.
According to records, Doodle Maker uses the power of artificial intelligence and is the fastest animated doodle video maker software in the world but Doodly does not have this feature.
The added benefit of choosing Doodle Maker over Doodly is that using Doodle Maker you can convert all your EXISTING videos into doodle animation videos effortlessly.
As compared to Doodly, Doodle Maker allows you to create videos in over 60 languages, which is surely a boon for video marketers.
The added benefit of using Doodle Maker is the text to speech converting feature. You can upload texts in Doodle Maker and it will instantly get converted to speech or voice over.
Choose Doodly
Doodly is the other finest doodle creation software which is a blessing for the video creators, video content creation, digital marketing, online marketing, social media marketing. It is an amazing whiteboard animation tool by using it you can create unlimited videos, and use on multiple computers.
It has amazing characters that can be used to create explainer videos, and also marketing videos. Doodly my not have many characters like Doodle Maker but the available characters are so impressive that they can be used to create high conversion videos.
The 150 royal music tracks are added to Doodly, Doodle maker does not have this feature. Doodly sends the customers an invitation to join the Facebook group which is surely a privilege.
DoodleMake and Doodly Pricing
I have always suggested that you should choose a SaaS tool based on their affordability and money-back guarantee. So let's have a look at the pricing of both these doodle animation software.
DoodleMaker Pricing
Doodle maker offers 2 different plans – Commercial License and the Enterprise License
Doodle Maker Commercial License cost $37 only
Doodle Maker Enterprise License cost $47 only
Other Pricing options are:
Doodle Maker Frontend maker lifetime cost $47 only
Doodle Maker Whitelabel unlimited lifetime cost $497 only
Doodle Maker deluxe upgrade lifetime cost $49 only
Doodle Maker Toon video lifetime cost $39 only
Doodle Maker Client Engine lifetime cost $29 only
Doodly Pricing
Doodly comes with two pricing options – Standard and Enterprise.
Standard = $20/month (annual billing) and $39/month (monthly billing).
Enterprise= $40/month when billed annually or $69/month when billed per month.
If you are doing monthly billing, you can choose to cancel your subscription anytime you want. But I must say, annual plans are cheaper compared to the monthly rates.
Doodly comes back with a 30-day money-back guarantee, but it does not offer a trial period.
Frequently Asked Questions
Is there any free trial offered by DoodleMaker or Doodly?
No, both the doodle animation software does not offer a free trial, but it offers a 30 days money-back guarantee.
What is the refund policy of DoodleMaker and Doodly?
If you are not satisfied with the Doodle Maker for any reason, you can mail support@doodlemaker.com for no questions asked refund
Doodly has a 30 days money-back guarantee. The refund policy of Doodly says, "If you do decide that Doodly is not for you and want to cancel your account, please email our support team for assistance."
Is there any way to make money online through Doodly and DoodleMaker?
More and more companies are putting their efforts into video creation, therefore, through Doodly and Doodle Maker you have huge opportunities to make money online. You can create promotional, educational, whiteboard, or explainer videos for the clients and earn money. You can open a YouTube channel and post videos for more likes and shares, and earn money from YouTube.
DoodleMaker vs Doodly Comparison Verdict
After evaluating all the features and pricing and benefits of both the whiteboard animation video creation software, I like to give my vote to Doodly, as it may not have unlimited features like Doodle Maker, but the features Doodly has are sufficient for YouTubers, Marketing Agencies, Graphic Designers, solo-entrepreneurs, small businesses, freelancer, and influencers who looking for a doodle video tool or a doodle video software to quickly create engaging, well explained animated doodle videos.
Taking into count the annual price of Doodly it is available at extremely discounted rates, moreover, the characters can be used to create a whiteboard animation video, explainer video for landing pages, and all other kinds of videos for YouTube or social media.
Therefore, my suggestion is if you are looking for a feature-rich doodle video creation software, of course, choose Doodle Maker, but if you want a compact all in one doodle whiteboard video creator choose Doodly.
DoodleMaker vs Doodly: Choose Best Whiteboard Video Software
Also Read