Are you searching for TubeBuddy deals or TubeBudy coupons to save money and grow your YouTube channel?
Well, you are in luck as the TubeBuddy Black Friday deal for 2023 is live now.
TubeBuddy is the #1 YouTube tool that's used by more than 3.5 million YouTubers worldwide. It is widely considered an invaluable tool for YouTubers due to its comprehensive features that streamline workflows, optimize content, and aid in YouTube channel growth.
TubeBuddy Black Friday Deals Coupon 2023
TubeBuddy's Black Friday deal is here to revolutionize your YouTube journey. For a limited time, you can supercharge your channel growth with an incredible 40% discount on TubeBuddy's subscription plans. This Black Friday, TubeBuddy is offering two deals with two different coupon codes.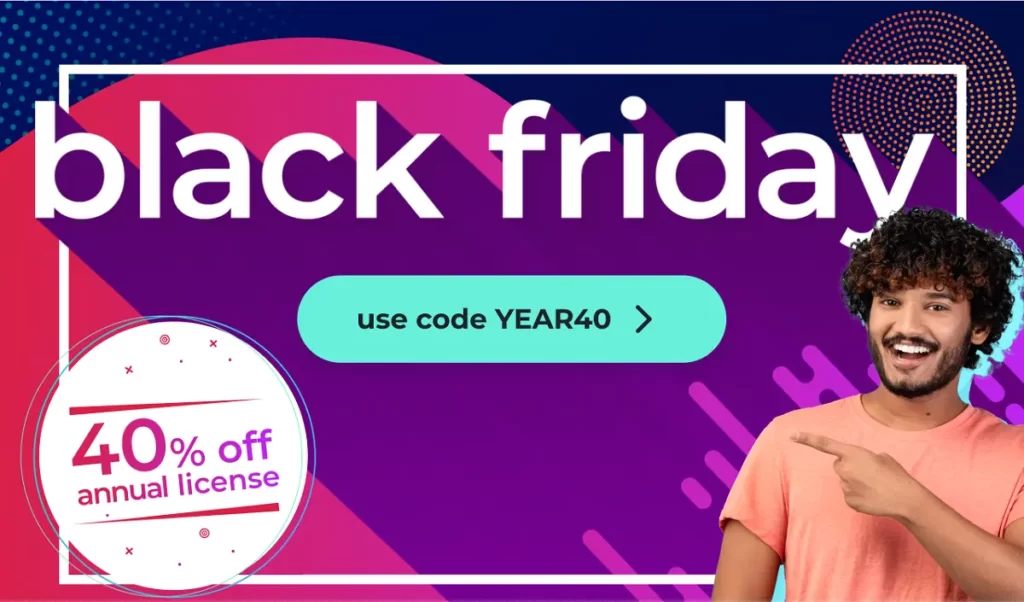 Tubebuddy Black Friday Offer #1
Offer #1 Start Date: 7th November 2023
Offer #1 End Date: 29th November 2023
TubeBuddy Black Friday Coupon Code: YEAR40
Eligibility: Open to everyone.
Discount: 40% off on annual plan purchase
Tubebuddy Black Friday Offer #2
Offer #2 Start Date: 21st November 2023
Offer #2 End Date: 29th November 2023
TubeBuddy Black Friday Coupon Code: ALL40
Eligibility: Open to everyone.
Discount: 40% off on annual plan purchase
How to Redeem TubeBuddy Black Friday Deals?
Choose your preferred plan.
Enter coupon code "ALL40" during checkout to instantly apply the 40% discount.
Claim your discount today and make this Black Friday the ultimate game-changer for your YouTube journey!
Disclaimer: This offer is valid for a limited time during the Black Friday period. Terms and conditions apply. Check TubeBuddy's website for more details.
TubeBuddy isn't just another tool; it's a game-changer for YouTube content creators seeking to streamline their workflow, optimize content, and maximize their YouTube channel's potential.
With its array of powerful features, TubeBuddy is the ultimate companion for creators aiming to boost their presence on YouTube.
Every YouTuber Should Consider the Top Features of TubeBuddy
Tag Explorer: Uncover high-performing keywords and tags to boost your video's visibility and reach.
Keyword Rank Tracker: Monitor your video's rankings for specific keywords and refine your content strategy for better performance.
Canned Responses: Speed up engagement with your audience by creating pre-set responses for frequently asked questions or comments.
Comment Moderation: Efficiently manage and filter comments to maintain a healthy and engaged community around your channel.
End Screen Templates: Design professional and engaging end screens that encourage viewers to continue engaging with your content.
Data and Analytics: Access comprehensive analytics to track video performance, audience demographics, and trends, aiding informed decision-making for content creation.
Why YouTuber should use the TubeBuddy tool?
As a YouTube creator, you can greatly benefit from using TubeBuddy as it offers a comprehensive suite of tools specifically designed to boost channel growth. Here are several compelling reasons why YouTubers should consider using TubeBuddy…
1. Video SEO Optimization
TubeBuddy simplifies the process of optimizing videos for search engines. It provides valuable insights into high-ranking keywords and tags, helping you improve your video titles, descriptions, and tags for better discoverability.
2. Tag Explorer and Keyword Rank Tracker
The Tag Explorer helps identify powerful keywords for video optimization, while the Keyword Rank Tracker allows tracking video rankings for specific keywords, aiding in refining content strategies for better performance.
3. Competitor Analysis
Understanding what works for competitors is essential. TubeBuddy offers insights into competitor strategies, including their video tags, metrics, and rankings, empowering you to fine-tune your content strategy for success.
4. Comment Management
Effortlessly manage and filter comments with TubeBuddy's comment moderation tools, facilitating better engagement and fostering a healthy community around your YouTube channel.
5. Thumbnail A/B Testing
Creating eye-catching thumbnails is crucial for attracting viewers. TubeBuddy allows for A/B testing, enabling you to compare different thumbnail variations to determine which one garners higher click-through rates.
6. End Screen Templates and Data Analytics
Designing professional and engaging end screens becomes easier with TubeBuddy's pre-designed templates. Additionally, its comprehensive data and analytics tools provide insights into video performance, audience demographics, and trends, aiding you in making informed decisions for your video content.
7. Time-Saving Features
The tool's bulk processing capabilities enable you to perform repetitive tasks efficiently across multiple videos. From updating settings to modifying thumbnails or cards, TubeBuddy saves time, allowing you to focus more on content creation.
TubeBuddy Black Friday Sale FAQs
Does TubeBuddy have a Black Friday discount?

Yes, and the TubeBuddy Black Friday sale is live right now. It will last until 29th November 2023.
Is TubeBuddy Black Friday Worth It?
See, TubeBuddy is a 100% legit tool to have to grow your YouTube channel. So, it is totally worth the money.
You can save $19.16 extra on the TubeBuddy Pro plan or save $120.96 extra on the TubeBuddy Legend plan with 40% off the Black Friday Sale by using the YEAR40 or ALL40 coupon code.
When is The TubeBuddy Black Friday Sale End?
TubeBuddy Balck Friday offer end date is 29th November 2023, so hurry up.