Welcome to my Webinarloop review.
Webinar software demand is rising. But existing webinar softwares are not much customization as we expect to have.
If you are looking for a convincing webinar platform to help you with the best of attributes that we have an answer for you.
Webinar Loop platform is here to help you! I am here with its brief review that can certainly help you decide whether it fits your needs or not!
Before getting started with the Webinar loop review, first, let's understand what it is. Let's read along!
Webinar Loop Review Overview
WebinarLoop
Easy to use
Editable webinar template
Ready-made Salespage
Huge Bonuses
Support
On-demand webinars
Price
What Is Webinarloop?
Webinarloop is all in one webinar hosting platform launched in the year 2020 to conduct seamless live webinars as per your specific needs. You will be to run your webinar even on your website or also on the sub-domains. The best part is it comes with beneficial attributes of DFY templates, SMS and Email integration, and API.
With Webinar loop, the webinar marketing software, now you can run any type of webinar seamlessly.
This webinar software is going to be the game-changer for your marketing and branding.
Webinarloop Review – It Benefits
In this segment of Webinarloop review, let's discuss more about the benefits this platform brings into play, check it out:
Firstly, as stated above, you will able to run your webinars on your own domain or even on a branded subdomain.
Secondly, it helps you quickly retarget because of the attributes like Facebook and Google retargeting
Thirdly, you will have Powerful webinars templates to chose from and you can customize it as per your needs.
Fourthly, you will be able to control your branding on the webinar sign-in page with ease.
Webinarloop also comes with API Support which means it can be integrated with any application.
It also comes with the support for Opt-in pages and that too on any website
You will be able to perform Do Live, Evergreen, or on-demand webinars seamlessly!
Webinarloop Review – Features
In this segment of Webinarloop review, let's see the features that come with this webinar software.
Easy to Understand Interface.
Can be operated on your own domain or Sub-domain.
Supports FB Pixel and Google.
Engaging editable templates.
No need for hosting
Supports CVS export
You will have a branding attribute on the sign-in page.
You can easily Share your webinars.
The capacity of up to 5k Live Audience
How to use Webinarloop?
Now let's understand how you can able to use this Webinar software and have your needs covered without any kind of difficulty.
As stated, you will have to first register yourself with the respective webinar platform to make the most out of the given attributes. It is very easy to use and understand further. This platform is launched with lifetime valid accounts, but after that, it opted to recur.
It becomes one of the most credible alternatives with the infusion of internet technologies to help Webinars without putting any kind of burden on their wallets.
Watch the Demo
Who Is Webinarloop For?
The advantage of Webinar loop attributes will be taken by different professionals for their different purposes. You will certainly opt for this webinar platform being a:
Corporates
Trainers
Online Marketers
Information Business
Webinarloop Review – Its Pros & Cons
Webinar Loop Pros (Advantages)
Commercial license
Permits to operate webinars for others
15 webinars supported
Optin page on any website
Multi-user account
Ready-made Salespage
Webinar Loop Cons (Disadvantages)
Webinarloop Review – Its Price

Webinarloop OTOs – Special Bonus Included
30 Days Money Back Guarantee – Webinar Loop Review
Get 6 Premium Softwares as Special Bonuses for FREE
When you buy WebinarLoop from my link that linked anywhere in this page. You will get 6 premium softwares as special bonuses absolutely for FREE. So don't miss this opportunity.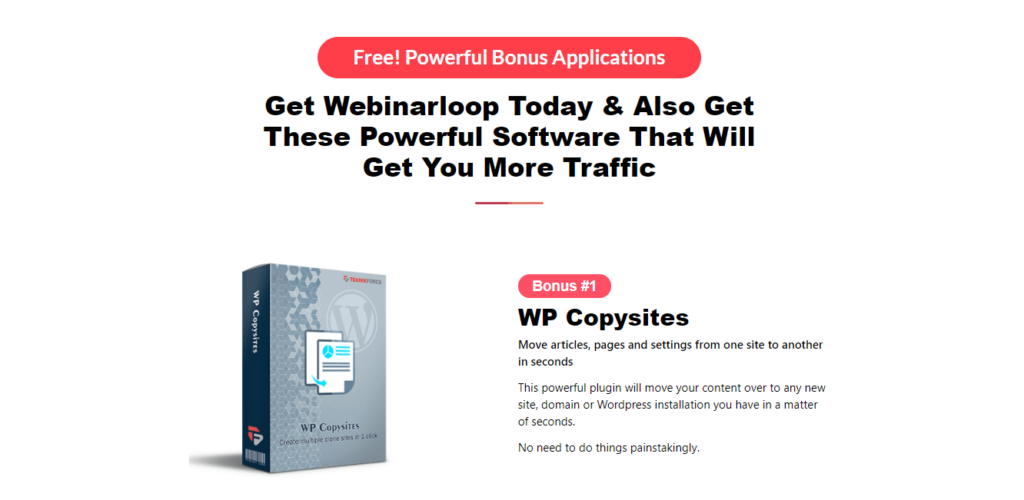 Webinarloop FAQ
Do I have to renew after purchase this Webinarloop software?
It's depend which one you buy as they have one time price as well as yearly package.
Can I customize the templates?
Yes, you will be able to edit the templates as per your needs.
Can Webinarloop be integrated with applications?
Yes, it can be integrated with any kind of apps.
Do they offer money back guarantee?
Yes, Webinar Loop will return your 100% money within 30 days if you don't like it.
Webinarloop Review Verdict
If you are new or experienced in online business, then I will recommend you to adopt 2021's biggest marketing trend which is Webinars marketing.
Webinarloop allows setting a stage for a constant flow of sales, and branding, grow your leads, and conversions for a better ROI.
Hopefully, you are now clear about the respective webinar platform and now you can decide whether it is a perfect fit for your needs or not. If you are looking for an affordable and feature-rich webinar software, Webinarloop certainly fills that criteria.
If you are a trainer, businessman, or a marketer, this software has to be your choice to organize the respective sessions seamlessly!
So, do not think twice and avail of this amazing Webinar hosting platform at such a discounted price now!
Related Posts