Welcome, In this in-depth VidToon 2.1 review, I'll explore the software and help you decide whether or not it is best for your business.
Video is everything right now. That is why influencers, bloggers, online businesses, the education sector, and other industries are using video content everywhere, like on YouTube, social media, and blogs. For this reason, competition is so high.
Therefore the attention-grabbing video is in high demand. To stay ahead of your competitors, you need better video animation software like VidToon to grow your video marketing, freelancing career, video production company, or YouTube channel.
In this VidToon review, I will explore VidToon, which is an advanced video animation software. Recently, VidToon launched its VidToon 2.1 which is now more easiest 2D video animation software. So, without further ado, let's start.
VidToon Review: What is VidToon?
VidToon is a new video animation software that allows you to create 2D animated explainer videos for multiple niches effortlessly. In the new updated version (VidToon 2.1), the software has more ready-to-go animated characters, multilingual text, a smart timeline option, and more.
The VidToon was developed by Cindy Donovan together with her parents after a long struggle with her video creation career.
As Marketers, you can use this video-making platform to create engaging videos since a video is 90% more engaging than other marketing content.
The platform has gained over 8K happy customers in the last year. The platform has an inbuilt library with 34 HD backgrounds and 25 HD characters, each with 30 different animations.
VidToon Editions History
If you are a video maker and looking for a video-making platform that is easy to use and has excellent features, then VidToon is the way to go.
Complete beginners and seasoned marketers in all niches find unique features to using this platform. The platform has evolved into two editions since its launch.
VidToon 2.1 (2022)
The current Vidtoon version is 2.1 which is launched in May 2022. Now Vidtoon is a more powerful explainer video software.
VidToon 2.0 (2021)
After the successful work of VidToon 1.0, the platform upgraded its system to VidToon 2.0. This version is simple to use with no additional fees. This version has over 1000 Full HD images with free audio files. There are other animated characters and various templates.
VidToon 2.0 comes with fantastic pixel positioning to help you put objects where you want them to be. The version has a text-to-speech option and provides 100% customer support.
VidToon 1.0 (2020)
VidToon 1.0 was the first version of VidToon. VidToon 1.0 was launched on 20th April 2020. This version is simple to use with various tools to make animated videos. VidToon works faster and saves a lot of time taken to create animation videos.
VidToon 3.0 (2023)
Vidtoon 3.0 is coming this year. The upcoming Vidtoon 3.0 will be powered by generative AI capabilities, that will take your animations to the next level.
You will experience cutting-edge technology and unlock a world of endless possibilities in animation creation with Vidtoon 3.0. Here plus point is by joining Vidtoon 2.1, you'll automatically receive free access to Vidtoon 3.0 (please note: this offer might change.)
Top Benefits of Choosing VidToon 2.1
Video making is a step-by-step process. VidToon can create fabulous explainer animated videos for any product, service, or social media platform. Here are the top benefits of choosing VidToon.
Easy to use user interface: The user interface is Newbie friendly. Both learners and professionals find it easy to navigate the interface and start working. It uses the drag and drops technique on the interface, with every tool readily available.
Friendly onboarding and video tutorial: VidToon provides a friendly tutorial guide to its users. The tutorial helps new users learn quickly how to use the platform without much time learning.
Work smoothly in the regular systems (Windows & Mac): VidToon works smoothly on Windows and Mac operating systems. The platform is compatible with both PC and Mac. All you need to do is install the software and start your project.
Affordable cost: VidToon is cheap and affordable. You only get to pay once for lifetime use. VidToon 2.1 costs $49 for lifetime access
Zero technical skills required: With VidToon, you don't need to have technical skills in video editing. The platform provides several templates and stock footage that can steer your video editing journey.
Premium customer support: VidToon offers 24/7 customer support. Consumers that would like to speak with customer service support can send them an email message at support@vidtoon.com. The support team provides immediate solutions to your queries.
Has a 30-day money-back guarantee: VidToon allows you to use the product for 30 days after purchase and refunds your money if you feel like it's not up to your standard. The 30-day money-back guarantee is a great deal to allow you to navigate through the features.
Top 10 VidToon 2.1 Features Benefits
VidToon offers a great range of features that makes it stand out as one of the best animation makers globally. Here are the top 10 VidToon features benefits.
25+ animated characters
VidToon has over 25 characters that you can easily use to make different video projects. And its best part is that each character has 20+ animation actions that you can use you make your character animation video memorable.
Also, VidToon contains a massive royalty-free library that includes an extensive collection of music files. These can be integrated into the video with a few clicks of your mouse.
Allow creating 20 minute long videos
VidToon allows you to create long videos. Marketers and video makers make videos up to 20 minutes long. Long videos help convey a great depth of message. The longer the video, the more information you can pass across.
Smart timeline with drag & drop facility
The VidToon user interface has got tools to drag and drop elements onto your project. You choose features to use, drag them, and drop them on your timeline. The tools are easy to use for newbies and professional video makers.
Text to speech
With VidToon, you don't need any voiceover artist. This VidToon feature allows you to create a fantastic speech from texts. You can choose several voices from different accents, including United States English and British English. VidToon contains realistic text-to-speech technology powered by Microsoft and Google that will save your voiceover artist expenses.
Effective typography
Use the right words. More importantly, make them look attractive. Use your brand fonts and colors to keep up the recall. You can also match your text size, type, and flush with the story of your video.
Zoom in and zoom out
The zoom feature of the VidToon allows the audience to focus on a specific area of the video clip.
Easy customization option
Add elements in the right proportion. Drag the corner (the red x will show you where) to resize the stuff in your output.
Huge HD backgrounds
VidToon has a great library of HD backgrounds. The platform provides 34 different HD backgrounds to help your video videos look stunning.
30+ animations & transitions
The platform has over 30 animations and transitions. These are used between footage to make the transition between clips great. The transitions include. Cross dissolve, fade, cut, wipe, and many others.
Multi-install license
VidToon allows you to use a single license to install the software on various systems. Once you purchase the right, you can use it on several computers, enabling multiple people to use it.
Why VidToon is Unique?
VidToon is a unique software because it is the only software that provides full HD background images for various niches. This feature makes your videos stand out by helping you remove the mundane white background from your videos.
VidToon 2.1 is Perfect for any Niche and Industry
With VidToon, you create various videos for several niches. The platform has got different royal forages that range from simple personalized images to corporates and professional photos.
With VidToon, you can create environmental videos, business videos, technology-based videos, and any other video type of your choice.
Types of Videos You Can Create on VidToon 2.1
You can use VidToon to create various types of videos, including explainer videos, promo videos, marketing videos, commercial videos, cartoon videos, advertisement videos, Facebook videos, text animations, Instagram videos, YouTube videos, etc.
VidToon 2.1 Can Be Used by…
Marketers can use VidToon to create marketing videos that grab the audience's attention. YouTubers also use the software to make YouTube videos, including tutorials.
Social media marketers and users employ this software to create videos for Facebook and Instagram. Teachers use this platform to create animations that help in teaching their lessons.
Companies and organizations use the platform to develop advertisement videos for their new product launch.
How to Use VidToon or How Does VidToon 2.1 Work?
Using VidToon is very simple. After purchasing the software licenses, you are given access to the platform. Here are the basics of how VidToon 2.1 works
Open the software
Add background image
Choose an animated character of your choice and add.
Add text and voiceover.
Add music
Export your file to a location on your computer
You can Make Money Online with VidToon 2.1
Freelancers use this software to make a lot of money online. The software saves time to create videos, and therefore, as a freelancer, you can get a lot of time to work on different orders. Thus, VidToon helps you generate some income online.

VidToon 2.1 Review: Its Pros and Cons
The software, like any other software, has its Pros and Cons. In this section of this VidToon review, we discuss the Pros and Cons of using this software.
VidToon Pros (Advantages)
100+ Animated Characters
VidToon software has an easy-to-use interface
The software is compatible with both Mac and Windows operating systems.
VidToon has a smart timeline that let you work easily
VidToon offers an extensive collection of HD background images and music
Payment is one-time, and the license is used forever.
It saves time and energy.
VidToon Cons (Disadvantages)
VidToon software does not offer a free trial
For some industries the character animations are limited.
VidToon Pricing
VidToon 2.1 costs $49 for lifetime access.
VidToon 2.1 Upsells
VidToon 2.1 has 3 optional upsells named…
VidToon Club
Voicely
Streamer
✅ Upsell One – VidToon Club requires extra charges of $67/month or $149/ yearly. VidToon Clud allows you to access all the premium features of this software. VidToon Club's benefits are…
128 new templates
20 new FHD cartoon background
20 new animated characters
+ Animated Character Builder App
✅ Upsell Two – Voicely is an AI text to speech software that has 60+ languages and 600+ voices. It is available for a $49 one-time price.
✅ Upsell Three – Streamr has 3 main features and they are AI translation, video subtitle, and streaming app. It is available for a $49 one-time price.
Important FAQ about VidToon 2.1
Here is a list of frequently Asked Questions about VidToon 2.1
System requirement for VidToon 2.1
VidToon works flawlessly on both Windows and Mac operating systems.
Is this Software A One-Time Purchase?
Yes, you only purchase VidToon once in a lifetime. Once you get the license, you can use it forever and on multiple devices.
How do I get VidToon support?
VidToon provides 24/7 customer support. Just send an email to support@vidtoon.com, and they will respond to your query and provide immediate solutions.
Does VidToon offer tutorials for new users?
Yes, VidToon provides tutorials to its new users. You can access them inside the VidToon account.
Is there any free plan in VidToon?
No, the platform doesn't offer a free plan. However, the platform provides a 30-day money-back guarantee.
What will I get if I purchase VidToon 2.1 software?
When you purchase VidToon software, you are sure of no additional fees or charges. The software also comes in an extensive set of Royalty-free animations, music tracks, and several HD image backgrounds.
You can use the software on both PC and Mac. The software comes with over 30 HD characters animated in 34 different situations.
VidToon Alternatives, Competitors in November 2023
It is no doubt that VidToon is a fantastic marketing video maker. However, there are various VidToon alternatives and competitors in November 2023 that you should try out.
In this section, we discuss the best VidToon alternatives and competitors in November 2023. Check them out and find if there is one that you can try in your next video creation project.
CreateStudio Pro
CreateStudio Pro is another alternative to VidToon; it is a desktop video-making tool that quickly and flexibly creates animation videos, kinetic typography videos, scroll stopper videos, and more.
The platform is the most improved animation maker globally. CreateStudio Pro is flexible and easy to use with a drag and drop technique hence suitable for newbies.
CreateStudio Pro offers outstanding stock of templates and presets, saving a lot of time and allowing you to create both 2D and 3D explainer animated videos.
You can also export videos of any length in CreateStudio. Finally, CreateStudio Pro has lifetime access and no other charges after purchase. Go to the CreateStudio Pro website.
---
AvatarBuilder
AvatarBuilder is a fantastic platform in the 21st century. It is also a VidToon similar software. The platform is easier to use with simple video-making tools.
You can make a 3D animation Avatar Builder as opposed to VidToon which only creates 2D video animations.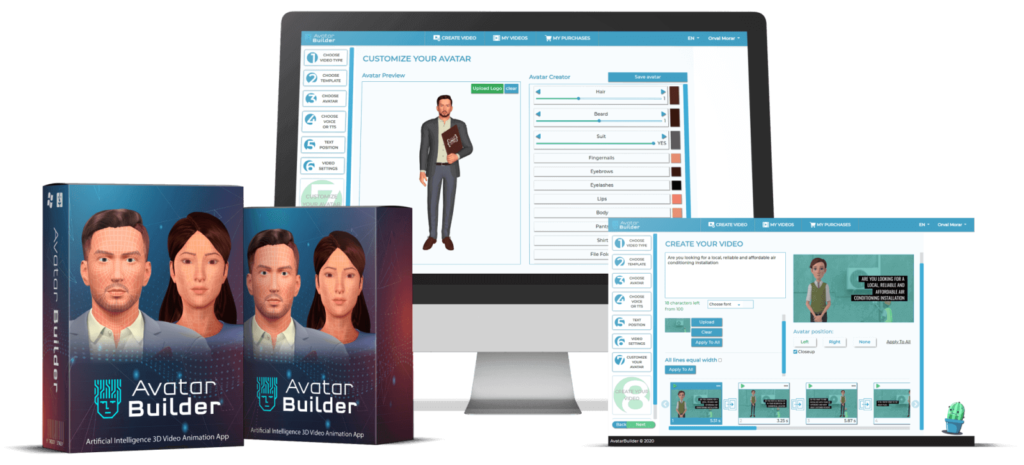 The Avatar Builder combines video creation with artificial intelligence, and you do not need multiple applications to perform this. Go to the Avatar Builder website.
---
Toonly
Toonly is one of the best VidToon alternatives in 2023. The platform is used to make toon videos, and it comes with pre-made characters, props images, and so many things. One of the best features of Toonly is that it provides automatic lip-syncing.
The software also allows you to use voiceovers for videos. The platform offers more than 2000 stock images and various backgrounds for use. Toonly is the best VidToon alternative. To know more go to the Toonly website.
Final VidToon Review Verdict
This is the end of my VidToon review. It is now upon you to decide whether to purchase this software or not.
From this VidToon review, it is evident that the platform is excellent animated software for all content creators, YouTubers, and freelancers out there from this review.
The software helps marketers reach more clients and generate sales. The upgraded version looks even better with more additional features.
The best part of it is that the whole software comes in a one-time purchase. At $49, you get all VidToon 2.1-lifetime licenses.
You can therefore work every time using your purchased software on Windows and Mac operating systems.
I have a feeling that you should try VidToon software. The platform has a high chance of expanding your business and audiences.
In case, still you have queries about VidToon or feel confused with other things. Please feel free to comment below or contact me on Messenger, or WhatsApp.
---
VidToon 2.1
VidToon 2.1 is a upgraded video animation software that allows you to create 2D animated explainer videos for multiple niches effortlessly.
Price: 49
Price Currency: USD
Operating System: Windows, Mac Os
Application Category: Video Animation Software
Pros
VidToon software has an easy-to-use interface
VidToon has a smart timeline that let you work easily
VidToon offers an extensive collection of HD background images and music
Cons
VidToon software does not offer a free trial
For some industries the character animations are limited