If you don't like the complex video editing software like me but wish to create engaging video content quickly for your business or your client businesses?
Then you need Vidnami – a premium online video maker.
Why?
Because, Vidnami is easy to use and you can create professional videos in a few minutes!
In this Vidnami review, I will tell you what is Vidnami in detail and what makes Vidnami different from the Vidnami competitors. It's pricing and key features and much more.
So, let's explore the Vidnami video maker to know more.
Vidnami
Vidnami is an online video creator for businesses, bloggers, and marketers.
Value for money
Ease of use
Features effectiveness
Customer support
Vidnami Review Summary
Vidnami is an online video maker that allows you to create stunning videos in minutes for any niche and grow faster. This is a great option for you if you want to create high-quality, engaging video content quickly.

You can try Vidnami for 14-days at zero cost. No payment details will be required when you sign up.

Remember! If you sign up to Vidnami today by clicking any link from this Vidnami review page; I will support you 24/7, That means you can contact me anytime to get help when you're stuck in a flash. I will help you Righ Away!
What is Vidnami
Vidnami (formerly known as Content Samurai) is an online video maker that uses artificial intelligence to automatically combine your texts, images, music, and video clips to create a professional-looking video.
Vidnami was introduced in the market in 2015 as Content Samurai and has then been upgraded frequently. The platform has created over 2,151,253 videos.
In May 2020, the name was changed to "Vidnami" since "Content Samurai" didn't seem like a video maker tool.
It is simple and with Vidnami, you don't need previous video making or editing experience to create awesome-looking videos.
Why Do You Need Vidnami?
I know you are wondering why you choose Vidnami! On this Vidnami review, I will give you every reason to choose Vidnami.
But first, let me share with you a few reasons why you need Vidnami.
Vidnami enables you to create videos faster.
Vidnami does everything automatically for you. No prior experience
Vidnami is simple to use with a huge library of templates.
Sign up now and enjoy Vidnami today!
Top Benefits of Choosing Vidnami
Here are the benefits you can enjoy when you sign up to Vidnami.
Work in Online
Vidnami is a cloud-based software. Everything you do is saved online. You can access your projects from anywhere so long as you have an internet connection.
Has 14 Days Free Trial
Much better than reading my Vidnami review, try Vidnami for 14-days at zero cost. No payment details will be required when you sign up. If you decide to keep it after the trial period, you get a 25% off discount.
Easy to use
Very user-friendly interface with simple to use tools. Several templates and stock footages are also available to help you start.
Offer Step by Step Video Tutorial
For newbies, Video tutorials are a great way to learn how to navigate and use the platform. Vidnami gives you a step-by-step tutorial on video making. Who doesn't want that?
Work Smooth in Regular System with Internet Connection
Vidnami works in any system so long as your computer can access the internet. Having high-speed internet and a high performing computer is an added advantage.
Affordable Cost
Very cheap and pocket friendly. You can get it for $47 monthly, but I prefer an annual subscription of $397. You will have an advantage of 30% when you take the annual subscription.
Zero technical skills required
Vidnami is a point and clicks video maker. You don't need prior video editing experience and skills to work with Vidnami.
You will get all software feature updates for free
Imagine getting every software updates and not paying anything! Vidnami gives you every new feature for free. Yes free!
Premium Customer Support
Vidnami has a quick support team. Just email the support and wait for your response. Besides email, there are Facebook pages, Instagram, YouTube channel, Twitter, and LinkedIn for support.
Top Vidnami Feature's Benefits
The team at Vidnami are working tirelessly to improve the tool. New features are included frequently.
Here is a quick look at the top Vidnami features and their benefits.
Thousands of Video Assets (Video Clips, Images, Music)
Vidnami has thousands of stock footages, including video clips, royalty images and premium music tracks.
When you purchase Vidnami, you will get over 790000 free video clips, more than 30,000 music tracks and over 120 million images.
This library is often updated, and you don't need extra payments to access new footages. Their latest library update has footages that you would have to pay for on other software.
170+ Customizable Video Templates in Various Sizes, Topic, Niches
Vidnami provides 170+ video templates plus 30+ stunning fonts. With them, you can make videos to cover several niches in different sizes for all social platforms.
To share video content in all social media channels you have to create videos in different sizes like in Landscape, Square, and Vertical. All you can do with Vidnami.
Landscape videos are best for YouTube because the videos are wide in length. Vertical videos are long in height good for Instagram posts. Square videos have the same length and height and are fit for Facebook posts.
Attention-Grabbing Effect, Transitions & Animates Text
Vidnami gives you several effects to add to your videos, making them look more attractive to grab the audience's attention. It also provides several transitions to use between images and clips, such as cross dissolve, fade, etc.
Text to Speech in 14 Voices
With Vidnami, you don't need to seek help from voice over professionals. Your texts can be automatically converted to speech.
Vidnami has 14 voices you can choose from. These voices are either male or female with different accents from Australia, UK and the USA. You can decide whatever sounds best for you. You can also adjust speed and pitch of the voices
Powerful Voice Overs
Vidnami provides tools to record your voice directly into your project. You can decide to use the text-to-speech converter. However, if you want less robotic and more natural voices, I prefer you to record your voice.
Can Upload Your Media
Apart from the huge library of stock media, Vidnami allows you to upload your media for use. This is plus point.
Powered by Artificial Intelligence
Artificial intelligence technology helps to align clips from a video to match texts automatically. For just a simple keyword you insert, you will find a matching video clip.
This saves you time making your videos. Something that can take you several hours when using other video maker software.
In 2021, Vidnami launched a new variation of artificial intelligence, making them even better.
Allow Unlimited Video Creation
Unlike other video-making platforms and software where you are limited on the number of videos to create in a day or a month, Vidnami allows you to create an unlimited number of videos. There are no limits to using the Vidnami video-making platform.
1080p Full HD Quality
You know how impressive Full HD videos look. Vidnami allows you to make Full HD videos for any social media platform.
Private Creators Community
Vidnami allows you access to a private community on Facebook where you can meet with other users. You can share your work and ask for comments on your work so far.
Vidnami Review: What's Inside in Vidnami?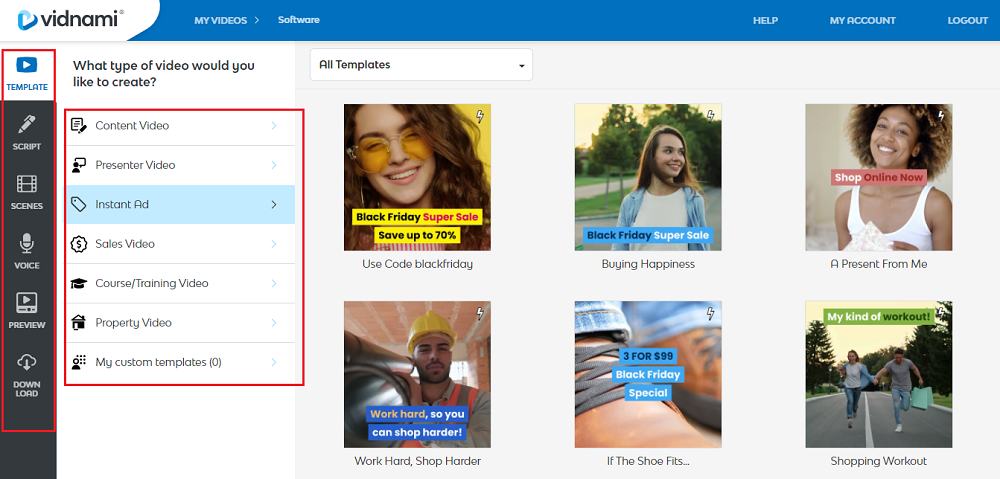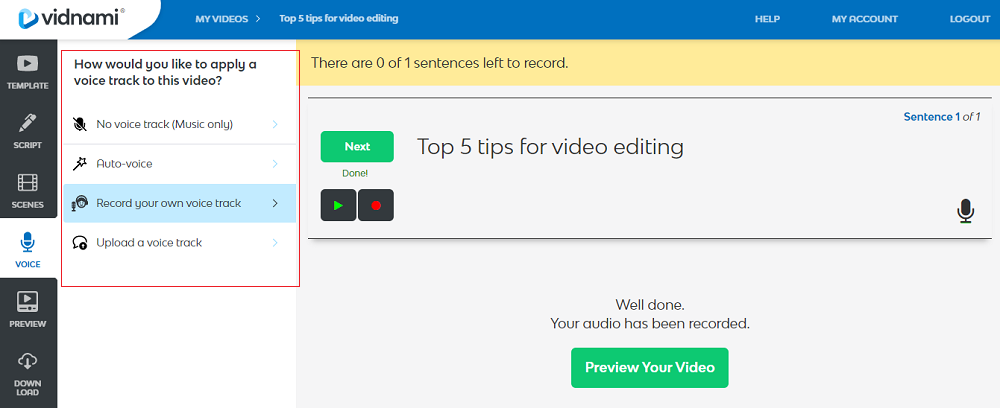 How is Vidnami Different from Other Competitors Software?
I know you are asking yourself how different Vidnami is from its competitors. In this Vidnami review section, I am going to highlight various reasons for choosing Vidnami over its competitors.
Here is your quick answer.
I have never seen a video-making platform so cheap and fast in peed like Vidnami.
Vidnami is easier and simple to use.
With Vidnami, you create an unlimited number of videos of any length.
The automated text-to-speech tool produces higher quality and more natural voices. Someone listening to it may think it's recorded.
Sign up now and enjoy Vidnami for 14 Days at zero cost and decide later.
Next, let's see who should buy Vidnami.
Is Vidnami Suitable for You?
If you are looking to make videos quickly regular basis, then Vidnami is for you. Vidnami is best for marketing video makers. It is used by online marketers looking to create marketing videos for their products.
Social media video makers and YouTube content creators also use Vidnami for social media marketing and YouTube channels. You can also create your Instagram stories using Vidnami.
Professional video creators are also not left out. You can use your technical skills and create unique looking videos on Vidnami.
This is why you can't be left out. Purchase it now and enjoy making videos online.
Vidnami is perfect for any Industry and can be used by Beginner
If you are in any Industry that requires video maker software, then Vidnami is the best tool. You can create both simple and professional-looking videos on Vidnami.
With Vidnami, you can create all-around videos from anniversary videos to birthday videos to product advertisements, etc.
Now let me share with you the specific types of videos you can create on Vidnami.
Types of videos you can create on Vidnami
I know you have several videos you want to make. And this is possible with Vidnami. You can create several types of videos, including;
Presenter-style videos: These are videos to give a presentation. When delivering a speech or a lecture, you can create your presentation on Vidnami.
Advertisement videos: Vidnami lets you create your business videos like product and property adverts and so on.
Sales videos: You can create videos to sell your product using Vidnami.
You can also create marketing videos, promo videos, instant ads, Facebook videos, Instagram videos, and YouTube videos using Vidnami.
Vidnami doesn't allow you to make intro and outro videos. I would recommend you, use software called Offeo or Viddyoze.
If you are looking to create animated videos, use a software called CreateStudio. It creates better 2D and 3D animation videos which is not possible in Vidnami. You can also use software called VideoCreator to create doodle videos and other animation videos.
How to use Vidnami to create my first video?
If you are new to video creation, I am sure you want to use Vidnami to create your first video after reading my Vidnami review.
Here is a step-by-step guide on how to use Vidnami to make your first video.
Login to your dashboard
Then on the dashboard, select create a new video
On the left side, select a template for your video
You can choose to create a video for social media, create a video for an article, or blog, or sales video or a property listing video
Choose your best template and get started
Insert a title for your video, then copy and paste your script.
Click on create scenes for your video.
You can then customize texts, media and styles of your scenes
You can add voice over or music to your scenes
Then preview and next click download your video
And you have done it! Just that simple. Sign up to create your Video Today.
You can Save or Make Money Online with Vidnami
You can save a lot of money using Vidnami or make money online using Vidnami. Here is how…
Vidnami is suitable for people who wish to add more video contents to their businesses without delay and spending huge money to hire freelancer. You will spend just $47 per month and make an unlimited number of your business videos.
As a freelancer, you can make videos using Vidnami and sell them to your clients. Start making money with Vidnami today.
Next, in this Vidnami review section, I am going to highlight some of the things I like and some that I don't like about Vidnami.
Vidnami Pros and Cons
Just like any other video creation software, Vidnami has its Pros and Cons
What I like: Vidnami Pros or Advantages
Simple and easy to use interface
Automatic voice over features
Cloud-based- No download or installation needed
New features updated frequently, and they are free
Huge library of free royalty stock media
What I don't like: Vidnami Cons or Disadvantages
Vidnami does not have a lifetime subscription. However, the monthly subscription is cheap and affordable.
The platform does not have a live chat section. The support offered by the email works just fine though I would love to see live chat support too.
The platform is a bit expensive for beginners.
Next, we move to Vidnami pricing. Let's see how much Vidnami costs and if they have any discounts.
Vidnami Pricing
Vidnami costs $47 per month. The yearly subscription is $397. Getting the yearly subscription gives you an advantage of 30% of the total cost.
Vidnami often runs some amazing discounts during special dates when the subscription price is lowered.
You can get the 14 days free trial version if you are not sure whether to buy the tool yet.
Why Should You Buy Vidnami Now?
Now see why you should buy Vidnami right now.
Vidnami is unique. It is so easy to use and modify as opposed to its competitors.
It would be best if you bought Vidnami because you want something affordable.
You also don't want to waste time making your videos. Vidnami will give you speed.
You want to enjoy creating an unlimited number of videos. Vidnami is your best choice.
Click Here and Sign up to Vidnami
Important FAQ about Vidnami
Here, in this Vidnami review, I wish to share the answers to the most frequently asked question about Vidnami.
Is there any free plan in Vidnami?
Vidnami doesn't have a free plan.  However, Vidnami has a free trial period of 14 days.
Within this period, you can use Vidnami to make your videos. After the expiry of the trial period, you can choose whether to purchase the tool or not.
System requirement for Vidnami?
Vidnami is a cloud-based video maker software. It works entirely online. All you need is a system that can access an internet connection, and you are good to go.
However, because Vidnami is a video-making tool, you need a high-performing system to speed up video editing, preview, and rendering.
At least 4GB RAM with a 2.5GHz of speed.  The software will drag when operating on slow-performing systems.
How Do I Get Vidnami Support?
Vidnami provides support through email (support@vidnami.com). They respond to emails during working hours in Australia.
There can be a slight delay to customers outside of Australia because of differences in time. But the response is always made to every query posted.
Does Vidnami offer tutorial for new user?
Yes. Vidnami has a step-by-step tutorial for its news users. It helps to guide them on platform use and familiarize them with the tools.
Do I need any video editing software if I buy Vidnami?
Vidnami is not a video editing software; you can use other software to edit your video before uploading on Vidnami. That depends entirely on you.
Vidnami Alternatives & Competitors in May 2021
It is with no doubt that Vidnami is a useful platform for making your videos. However, there are other Vidnami alternatives with features that you should check out.
In this final section of this Vidnami review, I will share with you briefly about the Vidnami similar software in 2021
InVideo
InVideo is an online video-making tool. It is the best Vidnami alternative so far. It helps newbies and professional video makers create awesome videos from several templates provided.
InVideo has more features than Vidnami. However, you cannot compare the quality of production to that of Vidnami. InVideo makes better-looking videos and has a lot more features, including the live chat support feature. It is the best Vidnami competitor in 2021.
To know more read detailed InVideo review for better clarity or Buy InVideo Now.
---
Promo
Promo is another alternative to Vidnami. It is a top video creation platform for businesses. The platform was started in 2012 as a slideshow company known as Slidely.
Promo helps businesses to promote services using simple, attractive videos that grab the audience's attention. The platform has over 15 million premium images and video clips.
Promo makes videos so easy and allows you to modify your videos within a couple of clicks. The platform has ready-made templates that can help you start your video-making process.
To know more visit Promo website.
---
Renderforest
Renderforest is also a Vidnami similar online video creation tool. The platform was founded in 2013 as an all-in-one business branding tool. Renderforest allows users to create simple but attractive videos for video marketing.
The platform provides tools that can steer up your video-making experience to make perfect animated videos for your business. Renderforest was created to make branding successful and affordable to all businesses. It is a Vidnami alternative.
To know more read detailed Renderforest review for better clarity or Buy Renderforest Now.
Vidnami Review Verdict
I hope you found this Vidnami review helpful. Let me know in the comments sections what's your view.
If you want to sign up and enjoy Vidnami, do it now by clicking the following link www.vidnami.com
Please SHARE this Vidnami Review
👇👇🏽👇🏿 ALSO READ 👇🏿👇🏽👇