Even if you create good videos, is it really that easy to generate viewers and subscribers on YouTube? The answer is NO. You need TubeBuddy tool to promote your videos. This TubeBuddy review will let you know how it can help you to grow on YouTube faster.
With thousands of channels, every content maker willing to grow continuously is coming up with exceptional content to improve the subscribers and viewers. The competition of becoming the top YouTuber will definitely keep you on your toes because it's on the rise.
This brings the need for doing smart work with hard work; otherwise, you will again become a victim of the crowd. Implementation of the right tool can make it possible to become on top.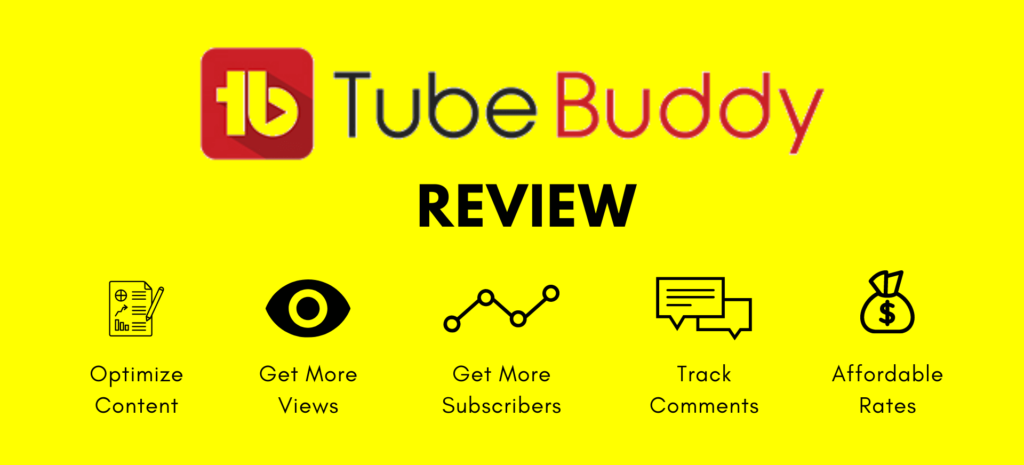 See video editing software is, of course, a necessity to improve the quality of the video, but is it enough to grow your YouTube channel?
The simple answer is NO! Instead, you should start investing in the best YouTube video marketing tools to take the right steps for your videos.
TubeBuddy is the ultimate choice if you are looking for the best YouTube tool. TubeBuddy is exceptionally created for all YouTube creators like you to promote the YT channel.
Therefore this TubeBuddy review can become a helpful guide for you. Let's check this in detail.
Overview of TubeBuddy Review in September 2023
TubeBuddy
Tubebuddy is a free browser extension (supports Chrome, Firefox, and Safari) for YouTube Creators like you that let you optimize your YouTube channel and videos faster to increase views and subscribers.
What is TubeBuddy?
Tubebuddy is a free browser extension for YouTube Creators like you that let you optimize your YouTube channel faster to increase views and subscribers.
Tubebuddy also has a dedicated Android and iSO mobile app. You can use your preferred app to optimize your YouTube channel.
This YouTube channel management and optimization toolkit have the ability to minimize the effort that every creator needs to put into running their challenge – as everything is available under one roof.
From bulk production to managing production, to offering video SEO, research, and data, this all-in-one tool can be the best friend for all the content creators like you who want to become popular.
Millions of users have been a fan of TubeBuddy due to the fantastic features integrated into it. To keep it satisfying for the customers, the company has offered a trial version rather than jumping to compelling users to pay.
It has been certified by YouTube, so you know now that it's safe and the best choice.
I understand you are looking for the features that come with this excellent tool, and therefore, without any further introduction, let me show you the features that come with this best marketing tool for YouTube.
Keep reading my TubeBuddy review to find the important features and their benefits.
Let's Check What is New in TubeBuddy in 2023
TubeBuddy improving day by day, and recently they introduced a new feature named Suggested Shorts.
What are TubeBuddy Suggested Shorts features?
The great search engine, Google says that now Youtube shorts has crossed 50 billion daily views. So, if you are a long video creator and have few subscribers and fewer views on videos then shorts will help you to connect with global viewers and increase the number of subscribers.
But if you don't have enough time to create new videos for short then Tubebuddy's new feature Suggested Shorts will help you. By using this feature you can create shorts of your old long videos in minutes.
Firstly you have to select a long video and then click the Suggested Shorts option from the Tubebuddy toolbox. This feature highlights the timeline where the video gets more engagement from viewers, then you can cut the clip and create an interesting sort. It will drive shorts viewers back to your channel.
All the TubeBuddy Pro, Star, and Legend plan subscribers can use Suggested Shorts. The Pro plan subscribers receive two Suggested Shorts recommendations at a time, Star subscribers see three, and Legend will see all recommendations.
Whether you are a small or a popular YouTuber this feature will save you valuable time and help you to attract more global viewers.
What are the best TubeBuddy features and their benefits?
Now let me explore the TubeBuddy features one by one for you.
Keyword explorer
This tool comes with an inbuilt keyword explorer. This is one of the productive features included in TubeBuddy that boost the views of the channel and respective the channel.
Keyword Explorer is solely built for the creators to find the keywords that are mostly used by the viewers when they are searching for a product, service, or information.
When you use the right keyword for your videos, you will be able to get the views for views and acquire tons of views from them.
All you need is to type the related keyword to your video, and you will be provided with tons of suggestions along with the search volume. It will also mention the trending searches just to make sure you are doing the promotions properly.
But the TubeBuddy free plan provides only 3 keywords suggestion, so in that case, you need to purchase a paid plan for more keyword suggestions and other benefits.
Best time to publish
Competitors are all around, and therefore maintaining the parameters play a major role in its promotion. Using the TubeBuddy tool can become valuable to you as not only the keywords but also you will get to know the best time to publish the content.
You must be aware that not every time is a good time to publish content as viewers are not available round the clock. Therefore, you need to find out the actual times when most peoples are online, especially the audience of your genre, to boost your video performance.
With this TubeBuddy software, you can get insights on the keywords along with the best time to upload. Following the suggestions offered by them can help you walk the path to success.
In this TubeBuddy review, I have tried to include as many features as possible. Keep reading…
Upload Checklist
This is yet another effective feature offered by TubeBuddy. This is done as a checklist for the creators like you, just to make sure that you do not forget anything in the process.
Since each and every step suggested by TubeBuddy is worthy of increasing its productivity, this one step with a checklist ensures following the best practices to acquire the best results.
Every time you choose to upload a video, the upload checklist features inbuilt in TubeBuddy make sure to keep a check of everything and crosscheck if the steps are performed correctly.
Thumbnail Generator
When it is time to upload a video, you must be aware that a video thumbnail plays a crucial role to be successful on YouTube. To ensure the SEO of YouTube you certainly need to add custom thumbnails.
Even when Adobe Photoshop is there to do it, not everyone is savvy enough to use it. Using TubeBuddy, you will be able to create a custom thumbnail for your video, but for a better experience, you can also use other free applications like Canva.
Yes, with TubeBuddy, you can cut down the effort and time that you require to invest in making the right promotion of your YouTube video.
Video topic planner
After uploading some videos and doing brainstorming there is a phase of saturation from your side. But your viewers are looking for something unique, and your competitors are constantly doing it.
You have to think twice about the video topic if you don't use Tubebuddy but now Tubebuddy will do the smart work for you as it has an inbuilt video topic planner option.
You can search the topics in two ways. First, use the keyword explorer feature to find a good ranking keyword then click the " Add to video topic " option to save it until you take any further action. You can also mark them as completed or not.
Secondly, you can go through the comment section to find new topics asked by or suggested by your viewers.
In case you find an idea, all you need is to click on the TubeBuddy icon and then select "Add as Comment Suggestion." When you proceed, you can check the suggestion available in the video tab planner.
This can become such a huge relief to you if you have become saturated and aren't able to find great topics. TubeBuddy is here to offer a complete solution with its exceptional features.
Suggested tags
This goes hand-in-hand with the keyword explorer. These suggested tags are a tool that embeds into the video uploading page along with giving you the suggested tags depending on the main targeted keywords.
Competitor scorecards
Everyone has competitors, and when it is to YouTube, you certainly have to work double to reach the zenith. This again brings the need for you to keep an eye on your competitors. With TubeBuddy, you will be able to compare their channel with yours and find them lacking as well as improvements.
Whenever you watch any of your competitor's videos, it will show you the Videolytics of that video on the right sidebar. Here you will be able to compare the subscribers, monthly views, engagements, and monthly uploads. You will be able to export the data to CSV and then dive deeper to get a complete insight into the data.
TubeBuddy strives to help you in YouTube video promotion that not only shows you how to grow but also points out the shortcomings so that you are able to focus on that special area and make overall improvements.
Bulk processing
This feature is specially built for people who have to deal with a number of things at a time and which become hectic. This can be a good choice as the feature constitutes of:
Change of titles, thumbnails, or descriptions
Update of end screens in bulk
Charge if cards are in bulk
Suppose you have an entire library containing more than 100 videos. In case you are including a new product that you will be offering on the website, a description update is needed. Therefore, you will need to update the description of all your videos.
You can definitely choose to manually change each and every description, which will take a lot of time.
However, when you are using TubeBuddy, it becomes super easy to update the description but saves your time along with earning a lot.
Demonetization audit
You should know that YouTube is always a motive to demonetize content. You will definitely not want to demonetize the content uploaded on YouTube that you have brainstormed and put enough effort into making it. This is where the demonetization audit can become valuable.
This feature enables finding the words in description, tags, and title, which might result in losing revenue. YouTube SEO tools available in this Chrome extension make it worthy for every video SEO.
Make sure you use the demonization audit features to enjoy the most from your videos.
Channelytics
Until you have knowledge about the channel, you will not be able to take the right steps. With the Channelytics feature integrated into this software, you can acquire an amazing chance to view the analytics to grow your YouTube channel.
Depending on the results, you can make the changes that you conclude are effective for your channel.
Auto translator
When you are making efforts to create a video on which the contents have been strictly analyzed and you yourself have given your best, you will definitely want the best results.
This can only be achieved when your viewers are coming to your channel, watching videos, spending time, and offering their views.
But since you are targeting the world, you must know that people from different parts with different languages will watch the show. In such a scenario, nothing but an auto-translate becomes very friendly.
With TubeBuddy, you can get the auto translator that guides you with international SEO, and you can simply use this feature to input descriptions, titles, and tags in different languages. This can become a profitable move.
Comment moderation
You already know that when it is about a video and when your video is attracting viewers, there will be comments given by your viewers. For video marketing, comments are a must to check.
And being a YouTuber, if you are willing to be on top, you need to acknowledge every viewer and their views.
But it might happen that not every time it becomes possible for you to check the videos and comment by keeping track. This is definitely the best tool for YouTubers.
With TubeBuddy, this can be sorted as it has a solution to every problem. The comment filter attribute available in this YouTube extension enables finding the type of comments you are searching for. They have the following filters:
Comments that you have not replied to
Comments where reply has been disabled
Comments that contain profanity
Comments with question
Comments with a positive remark
Comments with a negative remark
In addition to this, there are several other options that can become a time-saver along with helping you to glow in your viewers' eyes.
Retention analyzer
A retention analyzer is a need as it helps to find out the reasons that are leading to loose viewers. The prime agenda of this feature is to identify trends that would help to retain viewers to your YouTube channel
This feature finds several tests that aid in figuring out what performs the best.
Social Monitor
Social media is at its peak, and it's everywhere. You would definitely like to know people's opinions and what are they talking about you. Which video are they talking about? Which social media is mostly used to talk about you?
TubeBuddy helps you to keep track of your social channels. You don't have to keep a constant eye on social media to find what they have to say about you and hamper your productivity as TubeBuddy is your buddy.
The social monitor feature integrated into it can find out the channels where you have a buzzing persona and the hot topic.
Rank tracking
We all know how to keep track of the rank in the major search engine ranking pages, but do you know that since your main platform is YouTube, you have to keep track of the track on this platform?
Do you keep track of your rank on YouTube? If not, and you are finding it a challenge to check the rank, TubeBuddy is here to do that for you. Not only can it find your rank, but it can also help you to find your competitors' rank.
Health report
A comprehensive health report on your YouTube channel can become productive to find and follow the best practices. This health report will show the overall condition of your channel.
Starting from the goods of your website to the lacking – this feature enables you to have a detailed look, at the demographic information, search traffic, and watch time statistics can become a valuable step to make the right projection towards perfection.
This TubeBuddy review is created to guide you through and enlighten you about the best of this software.
TubeBuddy Review: Its Pros and Cons
Each and every tool has some faults and the best attributes, which makes them attain the position that they enjoy.
Similarly, here in this TubeBuddy review, I will help you to find what actually makes TubeBuddy the best and where it can continue its development.
TubeBuddy pros
A comprehensive set of features for starters to pro YouTubers
Reasonably priced enables purchasing the software
You don't have to be an expert to use it – everyone can access the tool
It helps you to keep track of yourself along with your competitor's YouTube channel
TubeBuddy cons
There is still no Android app available in the market
Basic pans do not include the advanced features
It is limited to one channel (you have to buy different subscriptions for other channels)
What is the cost of TubeBuddy, and which plan is best for me?
The Pro Plan is available at $9/month: The Pro Plan consists of features like tags and keyword research, a thumbnail generator, and productivity tools.
The Star Plan is available at $19/month: The Star Plan consists of the Pro features plus monetization tools, bulk processing, advanced scheduling, and end screen templates.
The Legend Plan is available at $49/month: The Legend plan includes the Star plan + Pro plan tools and retention analyzer, video A/B testing, and competitor analysis.
Frequently Asked Questions about TubeBuddy
With TubeBuddy FAQs, we will definitely be getting more insights about the TubeBuddy software. Let's get started with the same.
By the way, if additional concerns arise, contact me on WhatsApp.
Is TubeBuddy Safe to use?
If you are willing to use the TubeBuddy and thinking about whether it is safe to use, then the answer is YES. You can definitely use it as it is YouTube certified. TubeBuddy does not have access to editing or deleting videos automatically.
Is TubeBuddy YouTube certified?
Is there any TubeBuddy Alternative?
Yes, there are several alternatives to TubeBuddy. Some of the most common alternatives are:
1) VidIQ
2) Vidooly
3) Social Blade
4) Morningfame
Conclusion
Don't think further. If you have been looking for YouTube SEO tools, now you must know that TubeBuddy can be the best choice.
It can be a great choice as it is time-saving, boost it in real-time, and improve the reach.
In case you aren't sure, you can start with TubeBuddy's free plan and check if it works for you. Even when the options are very limited, you can still see if it works best for your business.
I hope, with this TubeBuddy review, I was able to inform you about its features and its efficacy in the life of a YouTuber or YouTube marketer.
I can assure you that this is the best video marketing tool for YouTube. Good luck folks!
Please SHARE this TubeBuddy Review