Dude Congratulation! for wanted to step into the blogging career. I hope you have finalized your niche. If not then you can start with what you love to do.
Now, let me help you to select a perfect hosting company and plan to kick start your first blog. Because web hosting is a crucial factor for a successful blog or website.
A good WordPress hosting will enhance SEO performance and boost sales. So you have to choose a hosting company and plan wisely.
There are different WP hosting options available in the market like Free, VPS, Shared, Dedicated as well as managed WordPress hosting.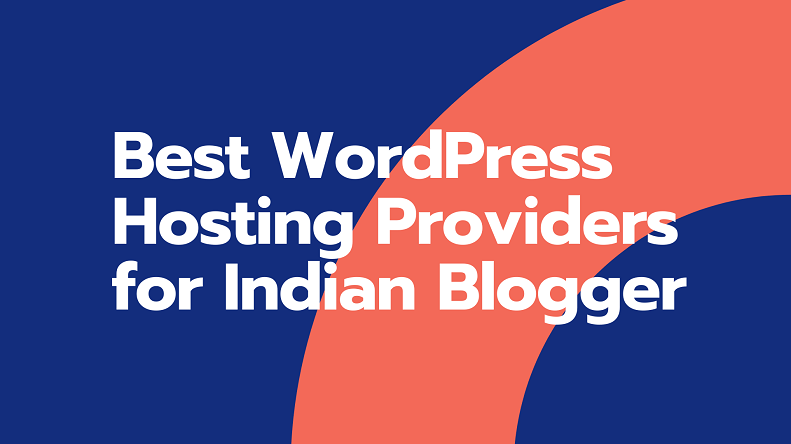 In this list the top 7 WordPress hosting providers are…
AccuWeb Hosting – Large Selection of Hosting – Sign Up at $3.49
A2 Hosting – 20X Faster Web Hosting – Grab 66% Discount
Hostinger – Best Cheap WordPress Hosting in India
MilesWeb – India's Most Affordable Web Hosting
Bluehost – Best WordPress Hosting
HostGator – Powerful WordPress Hosting
NameCheap – Fast and Secure Hosting
---
Before start, as you are a new blogger, you need to understand the important features associated with the best WordPress hosting company.
Click here to Go the bottom of this post and learn more about it.
Now check out…
Top 7 WordPress Hosting Providers for Indian Blogger
Choose a hosting company and Host your blog from these top 7 WordPress Hosting Providers and speed up your blog for Indian visitors!
AccuWeb Hosting – Large Selection of Hosting
Accuwebhosting is a multi-hosting provider. Since its inception in 2002, they provide the best WordPress Hosting starting at just USD 3.49/Month. Accuwebhosting provides remarkable resources as per the needs of the customers with excellent uptime of 99.9%.
Hosting Features
Free Daily backup for your website.
Multi-layer DDoS protection.
cPanel and instant account activation.
One-click installation of more than 300 scripts.
Reliable and scalable hosting with affordable prices.
30-days money-back guarantee.
Free WordPress site migration.
Multiple data center locations.
Excellent and skilled customer support.
Hosting Support
Their best-skilled support engineers provide excellent services regarding technical and non-technical questions with their pro-level skills. They provide live-chat and ticket support.
AccuWeb Hosting data centers
Data centers located at below places –
Denver, CO, USA.
London, Uk.
Singapore.
Mumbai, India.
Syndey, Australia.
JHB, South Africa.
AccuWeb Hosting review
AccuWeb Hosting provides the best full-fledged WordPress hosting package with competitive pricing, best customer support, excellent uptime, and the right resources. Read the full review here.
AccuWeb Hosting pros
Excellent customer support.
Support of all the wp plugins.
30 days refund policy.
Best Prices of WordPress plans.
AccuWeb Hosting cons
No monthly billing facility.
Limited bandwidth and storage.
---
A2 Hosting – 20X Faster Web Hosting
Commenced under the name Inquinet in a two-room office in Ann Arbor, Michigan, A2 Hosting started in 2001. The company conducts independent operations but also has widened its base to North America, Europe, and Asia. Claiming 99.9% uptime., the provider functions even better. No hosting provider can promise on the timing schedule like A2 Hosting.

A2 Hosting Pricing
For beginners in the online field, shared hosting is the most affordable solution. A2 Hosting committed to serving the best hosting solution with 99.95% uptime.
Apt for WordPress blogs and websites, WordPress hosting will feature the best option through A2 Hosting plans. It offers an average of 99.95% uptime, and its shared hosting plan starts from $3.92/month (offer price).
For small businesses, VPS hosting accounts the best. Not as expensive as dedicated plans, VPS hosting plans also have the same uptime with a $5/month starting price.
Dedicated hosting is quite expensive. Though it is one of the most powerful types of hosting, the A2 Hosting dedicated server plan starts from $99.59/month (offer price).
A2 Hosting Features
cPanel with free SSL Certification
Free site migration
It supports eco-friendly "green hosting" solutions, and special discounts for non-profit businesses. 
Shared and WordPress hosting plans offer unlimited SSD storage and transfer.
A2 Hosting Support
If you ask my opinion, A2 Hosting has got the top-notch customer service base. The provider offers 24/7 chat support for the proper functioning of the site. There is a range of customer service options – online tickets, searchable knowledge base articles as well as global phone lines.
A2 Hosting Data Center
For enhanced performance, security, and smoother running of your blog and website, A2Hosting has data centers all over the US, Asia, and Europe(UK).

A2 Hosting Review
If you take my opinion, you cannot go wrong with A2 Hosting. It gets a good ranking for its overall services which are quite commendable due to the showcase of its specific strengths. But if you are not sure of using A2 hosting, any time money-back guarantee makes it a low-risk provider.
A2 Hosting Pros
Anytime money-back guarantee
Responsive customer service
A2 Hosting Cons
A little complex signing up process.
Their Turbo plan only comes with 20x faster turbo servers & A2 Site Accelerator.
Recommending to buy SWIFT Plan!
---
Hostinger – Best Cheap WordPress Hosting in India
This platform is one of the most aggressively-priced web hosting domain. It shares plans commencing from $1.45 per month. Prices are quite cheap and get cheaper as per the budget web hosting standards.
Hostinger Features
Regular Backups With Access Manager
Presence of Custom Cpanel, CloudLinux, and OpenResty nginx+lua
Integration of CloudFlare and LetsEncrypt 
Streamlined and automated server deployments
LVE containers for Account Isolation
For enhanced speed through SSD Drives
Realtime reactive server monitoring
Pro-active and predictive server monitoring
Memcached (Twitter fork – Fatcache)
Intelligent WAF (Web application firewall) on each server
Hostinger Support
Regardless of the pricing strategies, Hosting provides good support to its customers. You can simply get in touch with the agent through live chat. They offer help in multiple languages.
Apart from that, Hostinger also showcases any knowledge-base articles through performed tutorials. When it comes to any issues related to WordPress, professionals are serving with step by step tutorials.
Hostinger Data Center
Their servers are located all over the USA, Asia, and Europe for assuring enhanced speed and data security for all. All the servers are connected to a 1000 Mbps connection line that gives way to enhanced performance along with stability.
Hostinger Pros
Cost-Effective
Quality Site Manager Just Like cPanel
No Restrictions To Site Building
You can give secure access to your site
Hostinger Cons
Gained one of the richest knowledge bases
No phone support
---
MilesWeb – India's Most Affordable Web Hosting
MilesWeb is an India's most trusted hosting company and they offer the most affordable web hosting plan for newbies bloggers to pro and all types of business. This is a highly rated hosting company as per Trustpilot and Google reviews.
MilesWeb Server Locations
United Kingdom
United States
India
Singapore
Australia
Canada
MilesWeb Features
Multiple Server location including India
Offer endless Web Hosting Solutions
Free domain with Swift and Turbo plan
99.95% Uptime
24/7/365 Support
Recommending to buy Turbo Plan!
---
Choose a hosting company and Host your blog from these top 7 WordPress Hosting Providers and speed up your blog for Indian visitors!
---
Bluehost – Best WordPress Hosting
One of the most popular hosting providers in India and all over the world, Bluehost is a reputed brand for its WordPress hosting services.
The 3 variant plans offered by Bluehost which is highly cost-effective and worth it. Also, they are known as the official WordPress recommended hosting provider.
Bluehost Hosting Features
Unmetered bandwidth with all accounts
Starter plan comes with 100 email accounts
cPanel Control Panel with SSL Certificate
Gain up to $200 in marketing offer bonuses
All sorts of important hosting services offered with plans.
Bluehost Hosting Support
Bluehost offers mixed support when it comes to customer service. Waiting time for live chat is few minutes. The quality of the support mainly depends on the agent attending you. The support could not be tagged up to the mark as you are expecting it to be.
Bluehost Data Center
It has two core servers in Central USA namely –
Server Location 1. Provo, Utah: Primary US Data Center
Server Location 2. Orem, Utah: Secondary US Data Center
Bluehost Hosting Review
Bluehost offers you mixed functionality of performance and cost. You can get good features at respectable prices. The support factor can be improved but again, it is recommended by WordPress.org apart from Dreamhost and Siteground.
Bluehost Hosting Pros
Unlimited Storage, Data Transfer, and Domain Hosting
Customized cPanel interface
Responsive Live Chat
Guideline for Website Creation for beginners
Automatic WordPress installation and automatic WordPress Plugin and Theme Updates
Performance Caching
Free SiteLock CDN
Free Domain for 1st Year.
Bluehost Hosting Cons
Cannot use https and Sitelock CDN at the same time
Less control over automatic data backups
Need to Close Some Ad/Promotion Boxes in their Dashboard
Recommending to buy Plus Plan!
---
HostGator – Powerful WordPress Hosting
It is one of the biggest and oldest web hosting companies in the industry. The company is still having improvements acquiring an average uptime of 99.98% over 24 months.
HostGator Features
CPanel
Site Builders
VPS and Dedicated Servers
Management of Multiple Domains
Unlimited Bandwidth, Disk Space
Shared and Private SSLs as well as IP
Automatic Domain Renewal
Affordable Pricing, Reseller Hosting
Top-notch customer Support
45 Day Money Back Guarantee
HostGator Support
HostGator offers good customer support. They have their customer support number as well as chat options that are helpful and available 24/7.
HostGator's Data Center
They have their data centers covering the major countries including North America, Europe, Asia, and Australia.
HostGator Review
As I said, HostGator is one of the most popular web hosting companies. It offers 99.99% uptime with a user-friendly interface and good pricing.
Hostgator offers you flexible plans apt for all businesses as well as bloggers. So, if you are looking for a cost-effective version, HostGator could be your platform.
HostGator Pros
99.9% Uptime Guarantee
Full cPanel Support
Easy Signup Process
Reseller Hosting, VPS Hosting, and Dedicated Servers
Affordable Prices
Great Customer Support
45 Day Refund Policy
HostGator Cons
Smaller Complaints
No Free Domain
Recommending to buy Business Plan!
---
NameCheap – Fast and Secure Hosting
A Los Angeles-based ICANN-accredited domain registrar, NameCheap was founded in 2000. Having 4 million domains under management and over one million direct consumers, NameCheap is one of the top web hosting providers in the world.
NameCheap Features
Unmetered bandwidth
Free website builder
Free .website domain name and privacy protection 
50 PositiveSSL certificates
30-day money-back guarantee
NameCheap Support
Namecheap support 24/7 customer support through live chat as well as help desk number. Professional agents provide instant setup as well as transfer assistance in their customer support service as well.
NameCheap Data Center
The data centers are located in the USA and the United Kingdom.
NameCheap Review
With poor uptime, the brand is not as flourishing as the others mentioned in the list. Some existing customers seem to like their functioning but the customer support is pretty lazy.
NameCheap Pros
FREE Domain and Migration
Decent Page Speed – 727ms
30-day Money-Back Guarantee
Fully-Loaded Value Plan
Third-Party Reviews Are Excellent
NameCheap Cons
Poor Uptime – 99.86%
Problematic Customer Support
So before I conclude my blog, here are some of the important FAQs to provide you with further knowledge.
WordPress Hosting FAQs
May I get Free WordPress Hosting?
Yes, some individuals provide free WordPress hosting with few terms and conditions. I am also offering free 180 days hosting to any new bloggers, students, and small business owners. I will not ask to add any ad banner on your blog or website.
What is Shared WordPress Hosting?
One of the most common WP hosting used by beginners. It is cost-effective and a good way for new users. This is mainly a server used by a different number of sites. Multiple sites are running through the same server.
Unlimited facilities come with restrictions too. In case your site takes a substantial server load, they will ask you for upgrading your account. If ignored, you will have to face the consequences. As the business progresses, so will the costing in the same way.
Though, shared web hosting is one of the most impactful solutions for small businesses and new bloggers in the market.
What has Managed WordPress Hosting's specialty?
Managed WordPress Hosting offers top-notch quality support from professional experts. The plan for such a service is usually. It is apt for established bloggers to acquire revenue.
Apart from the same, you gain support from WordPress experts, gaining WP security practices, add SSL certifications, Easier site management, resell hosting and much more.
Which are the best WordPress hosting companies?
In my opinion, there are 3 best options open for you. WordPress.Org already recommends Bluehost and SiteGround. Both companies have a good plan structure.
In terms of customer support, SiteGround wins the title. Another one from my list will be, A2 Hosting. The company is giving certified and guaranteed uptime. You will not be falling into any burden if you select from any of the same among the ones I listed.
What next?
WordPress is a pretty simple and light-weight script. The platform is compatible with all reputed web hosting companies. Simple needs that WordPress seeks a plan for are –
Due to the huge recognition of WordPress, all the reputed and renowned web hosting companies provide easy 1-click install options for WordPress.
All WordPress hosting companies that you will come across in this blog offer top-notch support for the successful functioning of your WP blog or website.
Also, check out how you can save money when you buying hosting.
As stated earlier, there are different web hosting services available in the market. Let's have a quick glimpse of the same –
Free WordPress Hosting
Free WordPress Hosting offers some sort of surprise. There are different online forums to offer you such service. Mainly managed by an individual who is reselling a part of his/her server space to gain some profitability.
Here the catch could be putting up some ads on your website. Maybe booking a link on the footer or text link to cover up the cost of your free space or so on. There is uncertainty on this form of platform. You never know where the service might get stopped. If you are really serious about your website, avoid such a commotion.
Shared WordPress Hosting
One of the most common WP hosting used by beginners. It is cost-effective and a good way for new users. This is mainly a server used by a different number of sites. Multiple sites are running through the same server.
Unlimited facilities come with restrictions too. In case your site takes a substantial server load, they will ask you for upgrading your account. If ignored, you will have to face the consequences. As the business progresses, so will the costing.
Though, shared web hosting is one of the most impactful solutions for small businesses and new bloggers in the market.
WordPress VPS Hosting
Virtual Private Server is another name for the virtual machine. It is about segregating a physical server computer into multiple ones as per the need of the customer. Even if you are sharing the server with few, you will get the control.
Entitled to separate physical servers along with the configuration of running on specific server software. Developing bloggers, intermediate users, and developers make use of VPS for their websites. If you have lessened technical knowledge, you need to have a managed VPS.
WordPress Dedicated Server Hosting
It is a dedicated physical server which you can take on rent from a reputed hosting provider. It gives you control over different factors. You will not need a dedicated server if you are commencing.
Once your website starts getting traffic, consider getting an upgrade to the server. WordPress hosting providers who offer managed dedicated servers hire full-time system administrators that maintain your server. Apart from software updates, they also conduct server monitoring, phone support and much more. It is effective for those who seek for high traffic blogs.
Managed WordPress Hosting
Most of the people are using WordPress, different web hosting providers have chosen to present you with managed WordPress hosting. Professionals make sure for the performance of the site, safety, security and regular backups. Furthermore, it will offer you with a plugin to prevent negative influence.
Managed WordPress Hosting offers top-notch quality support from professional experts. The plan for such a service is usually. It is apt for established bloggers to acquire revenue. It is recommended to use WPEngine for managed WordPress hosting.
Learn more about hosting here…
You need to review the speed, security, price, and uptime for considering the best hosting provider for your WordPress blog. To keep your blog up and running smoothly note down your requirements and evaluate it before choosing your WP hosting plan.
As per Hosting Feature
Web hosting is mainly a combination of the features that paves the way for easier management and maintain your online presence. Features of web hosting services vary from the web host as well as a plan to plan. Here are some of the main factors related to the standardized features –
Web Space
Also known as disk space, the webspace is the amount of space where you will be able to head to the web host's server. It is measured in the form of megabytes and gigabytes. The things that cover the spaces are images, media files, and large databases.
Monthly Traffic
Known as data transfer, monthly traffic helps you to get every time of the server that sends a bit of your site data to the user's browser. It might even let the user sending data to your server. It provides the user to send data to your server furthermore counts for a monthly traffic allotment.
Email Accounts
Web hosts basically offer you with POP3 email accounts along with their plans. Post office protocol showcases a temporary connection to the server. It retrieves any email before closing the connection. Checking the email accounts through a client in the form of Microsoft Outlook, Outlook Express, Eudora, Entourage or Thunderbird. Some web host providers provide web access to your account for checking your email any time anywhere with a proper internet connection.
File Transfer Protocol ( FTP )
File transfer protocol offers you to upload and download files between your computer and the remote server. Proper web hosting plans involve the FTP tool for proper guidance through launching your website.
Data Backup
Almost all web host offers back up to your site and server files every day, weekly or monthly for a minimal charge. Data backup is important for the proper restoration of your site without having the time and money to recreate it.
SSL Certificates
SSL Certificates will secure your blog at the same time it will boost your SEO ranking. So select a plan which has SSL certificates included. Also, you can buy separately as there are different types of SSL certificates are available.
As per the Cost of Web Hosting
Cost is very important when you are choosing a hosting plan but try to consider features first. Because these days hosting is coming at a very affordable price. If you want to create a good performing blog then select hosting based on hosting features, not by its cost.
As per Technical Support
Technical professionals help you resolve bugs and problems that come in your way of web journey. Consider a web host who offers professional experts help 24/7 to launch your new blog, functioning or migrating your existing blog.
Most of the Web hosts may offer chat or email support. Some company includes 24/7/365 live telephone support for urgent technical issues in their plans at no extra cost.
📌 PIN IT
Please share this post on your social accounts!
Related Posts