You might waited long for SEMrush Black Friday deals to buy annual SEMrush Guru or Semrush Pro plans.
Well, SEMrush's biggest sale of the year is here. The Semrush Black Friday 2023 Deals are Live! Now, you can save huge money on Semrush Guru and Semrush Pro annual plans until 1st December 2023.
Keep reading this guide to know what Semrush is offering for 2023 Black Friday.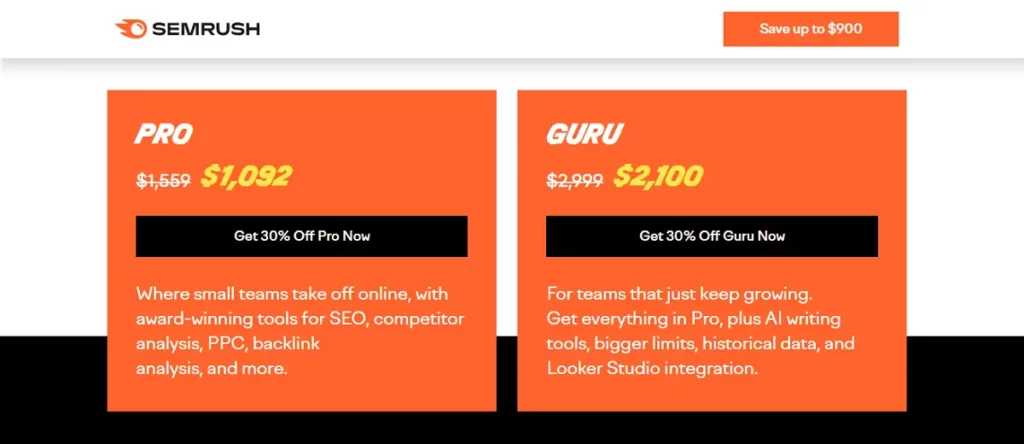 2023 Semrush Black Friday Deals is Live
Semrush is offering two major deals during the 2023 Black Friday sale, and these are the best Semrush offers for this year, so make sure you grab them or start a free trial.
Deal #1: 30% Off on Annual Semrush Pro & Guru Plans (Save $467 or $899)
✅ SEMrush Pro plan is best for newbies and small teams. This plan will give you access to SEO tools, competitive research tools, advertising tools, and reporting tools that can help you grow online faster.
Semrush Pro Regular Price: $1,559
Black Friday Price: $1,092 – you going to save $467
✅ SEMrush Guru plan is best for agencies and mid-size businesses. This plan will give you access to everything in the Pro plan as well as AI writing tools, a content marketing platform, access to historical data, and integration with Google Looker Studio.
Semrush Guru Regular Price: $2,999
Black Friday Price: $2,100 – you going to save $899
Deal #2: Buy 3 months of Pro, get 3 months of ContentShake AI free
If you can not buy the Pro annual plan for a limited budget then consider this offer. This is a big deal, I will say. As you are getting Semrush Pro plan benefits and ContentShake AI tool access.
Let me tell you, ContentShake is a smart AI content writing tool that helps you rewrite or write SEO-friendly content, enhance content, and brainstorm content tasks in a few clicks.
As the holiday season approaches, digital marketers and businesses looking for Black Friday deals. Among the many offerings, one name consistently stands out in the realm of digital marketing tools – SEMrush.
This Black Friday, SEMrush unveils a deal that promises to revolutionize digital strategies, empower businesses, and maximize online success.
SEMrush is a comprehensive suite of marketing tools designed to empower businesses with insights and capabilities to dominate the digital landscape.
From SEO to content marketing, PPC, social media, and competitive research, SEMrush is a powerhouse that fuels strategies and propels businesses forward. Semrush tool is used by more than 10 million people worldwide.
The SEMrush Black Friday Deal – An Opportunity to Grow Faster
Every year, the SEMrush Black Friday Deal garners attention and anticipation for its unparalleled value. This year is no different, promising an array of features and benefits that can supercharge any digital marketing strategy.
You need to use the SEMrush tool to increase your online visibility by identifying actionable gaps in your competitors' strategies and building keyword lists that put your content ahead.
Also, you can find the trending topics your audience is looking for and use AI writing tools to create the content your audience cares about.
Here's a sneak peek into what makes this deal a game-changer:
Access to Premium Features: The Black Friday deal offers access to SEMrush's premium features at a fraction of the usual cost. This includes in-depth keyword research, competitor analysis, and advanced SEO insights that are instrumental in outranking competitors and boosting online visibility.
Expanded Toolkit: The deal isn't just about discounts; it's about unlocking a world of possibilities. It provides access to SEMrush's entire toolkit, allowing marketers to harness the power of various tools for content planning, social media management, and advertising intelligence.
Training and Support: Besides the robust toolkit, users gain access to exclusive training sessions and resources conducted by industry experts. This invaluable knowledge equips marketers with the skills needed to leverage SEMrush effectively, ensuring maximum returns on investment.
Customized Solutions: Whether you're a small business owner, a marketing agency, or an enterprise, SEMrush tailors solutions to meet varying needs. The Black Friday deal offers flexibility, ensuring that businesses of all sizes can benefit from its offerings.
Stay Ahead of Trends: With access to SEMrush's analytics and trend-tracking tools, businesses can stay ahead of the curve. Identifying emerging trends early on can be the key to crafting successful campaigns and staying relevant in an ever-evolving digital landscape.
How Businesses Can Leverage the SEMrush Black Friday Deal
Now that we've glimpsed into the promising features of the SEMrush Black Friday Deal, let's explore how businesses can leverage this opportunity to elevate their digital strategies:
1. Optimizing SEO Strategies: Utilize SEMrush's powerful SEO toolkit to conduct comprehensive keyword research, track rankings, and identify opportunities for organic growth. The deal's access to premium features empowers marketers to fine-tune their SEO strategies for maximum impact.
2. Refining Content Marketing Efforts: Leverage SEMrush's content planning tools to create data-driven, high-performing content that resonates with your audience. Uncover content gaps, analyze competitors, and craft compelling content that drives engagement and conversions.
3. Enhancing Paid Advertising Campaigns: With SEMrush's advertising intelligence, businesses can gain insights into their competitors' strategies and optimize their own paid advertising efforts. Uncover profitable keywords, track ad performance, and allocate budgets effectively.
4. Harnessing Social Media Power: SEMrush's social media management tools aid in scheduling posts, analyzing performance metrics, and understanding audience behavior. This deal opens doors for marketers to amplify their social media presence and engage with their audience more effectively.
5. Continuous Learning and Growth: Take advantage of the training sessions and resources offered through the Black Friday deal. Equip yourself and your team with the knowledge needed to navigate the ever-changing digital landscape and drive consistent results.
The SEMrush Black Friday Deal isn't just about discounts; it's a gateway to unparalleled opportunities for businesses to thrive in the digital sphere. With its suite of powerful tools, expert training, and tailored solutions, SEMrush empowers marketers to surpass their goals and achieve sustained success.
As the digital marketing landscape continues to evolve, seizing this opportunity could be the catalyst that propels businesses towards greater online visibility, higher conversions, and long-term growth. Mark your calendars and gear up to elevate your digital strategy with the SEMrush Black Friday Deal – an investment that promises remarkable returns.