Welcome to my SE Ranking Review. As a digital marketer, I have used so many SEO tools to manage my client's projects.
Today I will share my experience of using SE Ranking. This is an all-in-one SEO Software. Let's check out the whole SE Ranking review and go ahead to subscribe to this best SEO Software. I am using this SEO tool since the beginning of my career and I discover it has some incredible features, let's reveal them.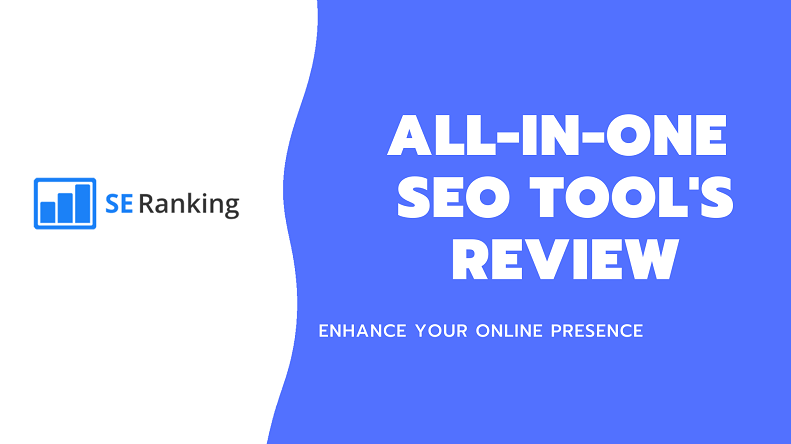 First, let's check what you can do with this best all-in-one SEO software.
Keyword Rank Checking (Rank Tracking)
Keyword Research
Competitor Research
SEO On-page Checking
SEO Reporting
Backlink Monitoring
As Lead Generator
Website Audits
As you can see, literally you can do all SEO tasks with this 360° all-in-one SEO tool.
I will explain each option one by one, Let's start with…
1. Keyword Rank Checker (Rank Tracking)
In this SE Ranking Review section, I will discuss SE Ranking's keywords rank checker.
When it comes to understanding SEO performance, one of the core factors in SEO to identifying the performance of the keyword.
And this is possible through apt keyword tracking tools for monitoring the rankings while implementing the right SEO strategies.
The top-notch keyword rank tracking tool should be on the top list if you wish to provide a keywords report to the client. It is applicable to all digital marketers.
SE Ranking can do this time by taking keywords checking jobs in a few minutes. This tool focuses on offering you apt and accurate rankings. This tool offers a version of signup for a free trial with all features. Join now.
Website Adding Process on SE Ranking
Post signing in for the first time, you will be asked to create your first project.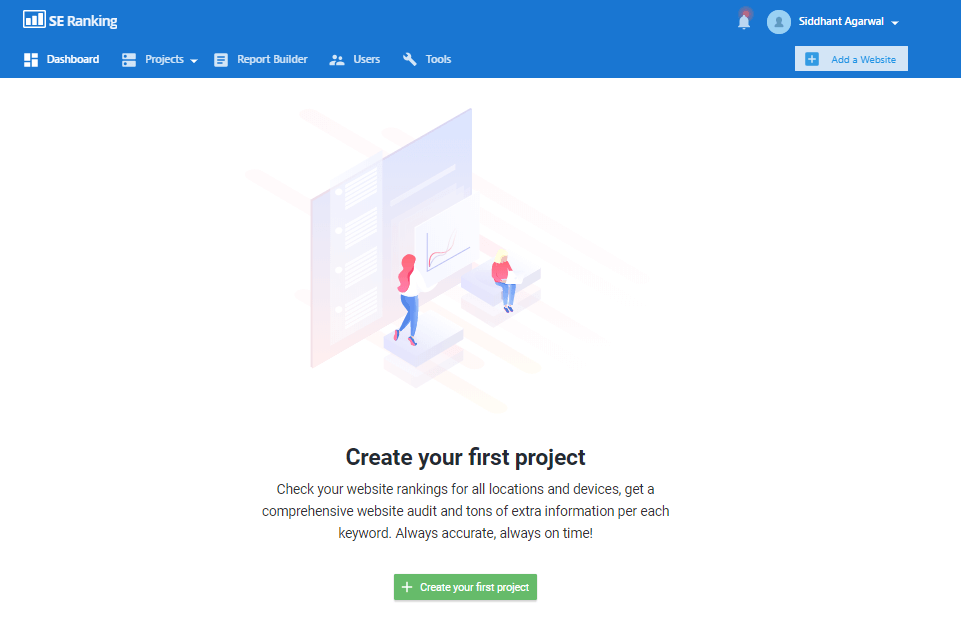 This is the dashboard, where you can acquire all the features. Most of all, you can review and monitor your real-time rankings regularly. Let's check how you can add your first project on SE Ranking.
To add a new website you have to fill up a few pieces of information about your project and it has a total of 5 steps. In the very 1st step you have to put the project name, website URL.
Next, it will ask to add your targeted keywords, you can add up to 250 keywords.
In the 3rd step, you have to choose your search engine and its location. You can choose up to 3 search engines. For Google, you can choose its location, languages, and can turn it on or off for Google map results.
Now you can add up to 5 competitors here.
In the last step, you can add your Google Analytics and Google Search Console accounts to track all statistics in one place.
With the commencement of understanding and tracking the keyword rank, you will directly get to add features without any hidden glitches.
Other specifications involve Reports – this lets you gain detailed information about your team and clients. This tool lets you garner more specifications for implementing SEO strategies.
Furthermore, there is a stop and continue keyword rank tracking feature. This will let you focus on specific keywords or click All Rankings and garner access to the same.
You can even combine all of the keywords for tracking them all together without any loopholes.
Now you can do SEO audits, competitor analysis, keyword rank tracking, and many more with SE Ranking to enhance your online presence! #SEO #Tool
2. SE Ranking Review – Keyword Suggestions Tool (Research)
You will find this option under the tools. This Keyword Suggestion Tool will help you by suggesting the best suitable keywords that can generate more traffic to your website.
To generate keywords suggestions follow the below process…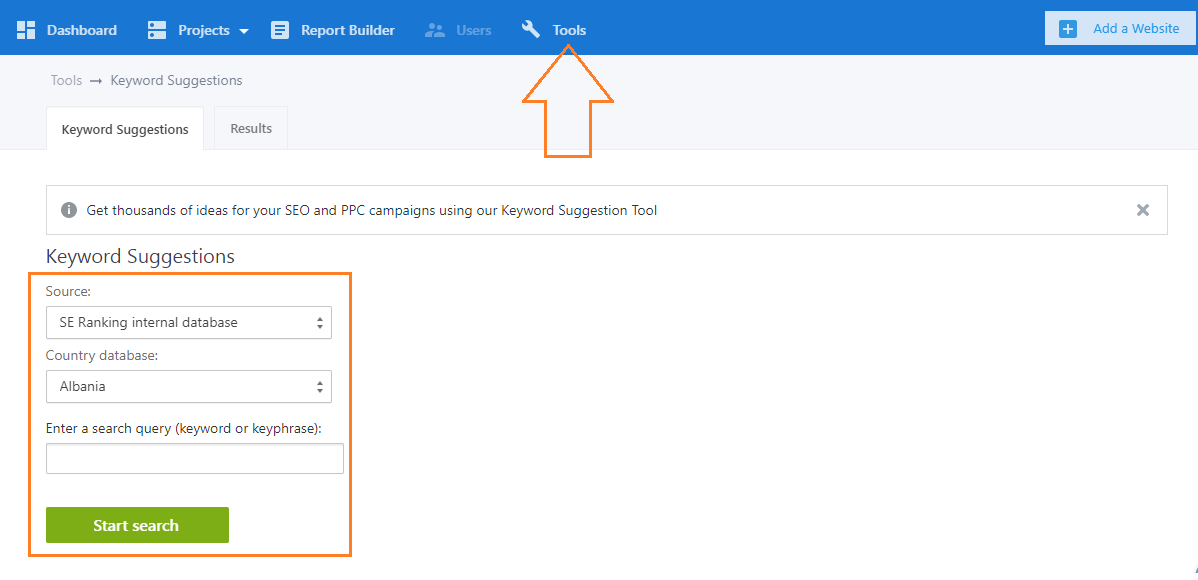 Open Keyword Suggestion Tool.
Select a SOURCE as per your choice out of SE Ranking internal database and Search engine suggestion.
Select Country Database.
Enter Your Keywords.
Hit the Start Search button.
After hitting the search button you will discover Similar keywords, Related keywords, and Long-tail keywords along with their search volume, competition, and many more metrics.
I have searched by "SEO" let's see the result.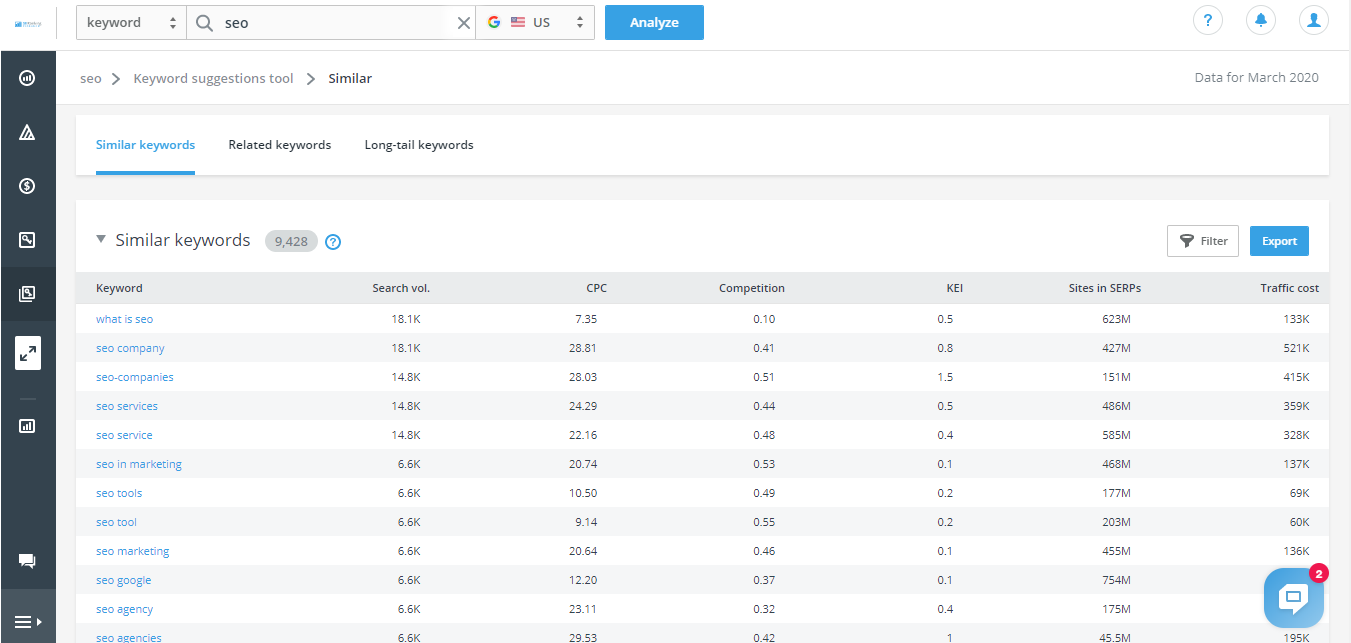 3. SEO/ PPC Competitor Research
It is the tool that entitles you to monitor the amount of organic traffic and paid traffic to understand your competitors.
As you can see, you have the opportunity to track your competitor's organic traffic, ranking as well as paid traffic with ranking changes and Ads history.
SE Ranking Website List
Once you have updated the database, tracking keywords ranking becomes easier. Just review them through the Dashboard by clicking on the ranking button. You can further change the options by clicking on the gear icon.
SE Ranking Buttons
Once you click the website, head to the website overview to see the keywords and their rankings. You have a myriad of options to select for a detailed overview of the data for enhanced monitoring of the specifications.
Well, you can delve deeper into the analytics process post the linking of your website directly to Google Analytics. You can overview the traffic and the other reports that garner the information you are looking forward to.
Performance Of Analytics
You can conduct a competitive analysis. Yes! You can work like a pro of understanding your competitor's keyword ranking for embellished comparison. Getting in and your competitor's search will feature efficient results.
Tools' Competition
One of the important features of the tool is the Website Audit feature. You could review and analyze your website for proper evaluation of the website's performance. Different techniques and plans will help with the improved working of your website.
Exploring Backlinks
Backlinks explorer entitles you for checking the different backlinks for the website. You will be able to review how many valid and invalid links you have.
Also, you can monitor your backlink profile.
New Backlink Checker Account Limits Update
SE Ranking announced new backlink checker account limits in May 2020. Now you can analyze more website backlink profiles under any subscription plan offered in SE Ranking: Optimum, Plus, or Enterprise. Check more details here.
SE Ranking Review
SE Ranking
SE Ranking is an All-in-one SEO Tool. With this tool, you can do competitors' analyses and can track your keywords position.
Accurate Keyword Rank Checker
Comprehensive Website SEO Audit
Competitor SEO and PPC Research
SE Ranking Review – Pricing Plan
SE Ranking offers 14 days free trial. After that, you have to choose a plan based on your requirement as they offer a customizable plan.
They have a total of 3 plans named – OPTIMUM, PLUS, and ENTERPRISE.
These plans are customized based on Ranking checking frequency (available – Daily, Every 3 Days, and Weekly) and subscription periods (1 month, 3 months, 6 months, 9 months, and Annual)
You don't need to have or apply a coupon code to get their discount. As SE Ranking discount (5%) is applicable from 3 months subscription.
You can get up to 60% discount from SE Ranking
Their Optimum plan starts at $18.60 per month, per user which is the minimum starting price. And their Enterprise plan's maximum price is $189 per month per user.
My recommended plan is PLUS (select WEEKLY and ANNUAL) which you can get at a 60% discount.
So, if you planning to subscribe to this tool why not start with a free trial as this cloud-based SEO software offers it.
SE Ranking Review on Trustpilot
Based on 293 reviews SE Ranking gets 88% Excellent reviews and the company's TrustScore is 4.7 out of 5
General FAQ about SE Ranking Tool
Is SE Ranking a good SEO tool?
Yes, this is a user-friendly best SEO tool available in the market. If you are a beginner or expert in the SEO industry just signup with their 14 days trial account to give it a try. By using this tool you can improve your SEO performance and track your competitors.
Is there any of SE Ranking's alternative SEO tools available?
SE Ranking vs SEMrush
SE Ranking is the #1 SEMrush alternative and vice versa. SE Ranking is best for beginners bloggers, internet marketers, and small businesses in terms of price and features, On the other hand, SEMrush is suitable for everyone (bloggers, freelancers, and all types of digital marketing agencies).
SE Ranking Review – Final Verdict
SE Ranking helps me with accurate keyword results for my websites. Also, I love their report builder as it's saved me time. By using this tool you will get accurate keyword reports, SEO On-page, and competitor details. With the help of these analyses, you can enhance the entire performance of your SEO effort.
SE Ranking is a tool where you can rely on the features without having any second thoughts in mind. Signup Now!
Please share this post on your social accounts 🙂