Welcome to my Renderforest vs Viddyoze comparison review post! A video is worth a million words, not to mention the impression it leaves on the viewer's mind.
Today, creating any sort of animated video is a matter of a few minutes, thanks to advanced technology introduced by video creation software. I will walk you through the comparison between two animated video makers, Renderforest and Viddyoze. So, let's get started!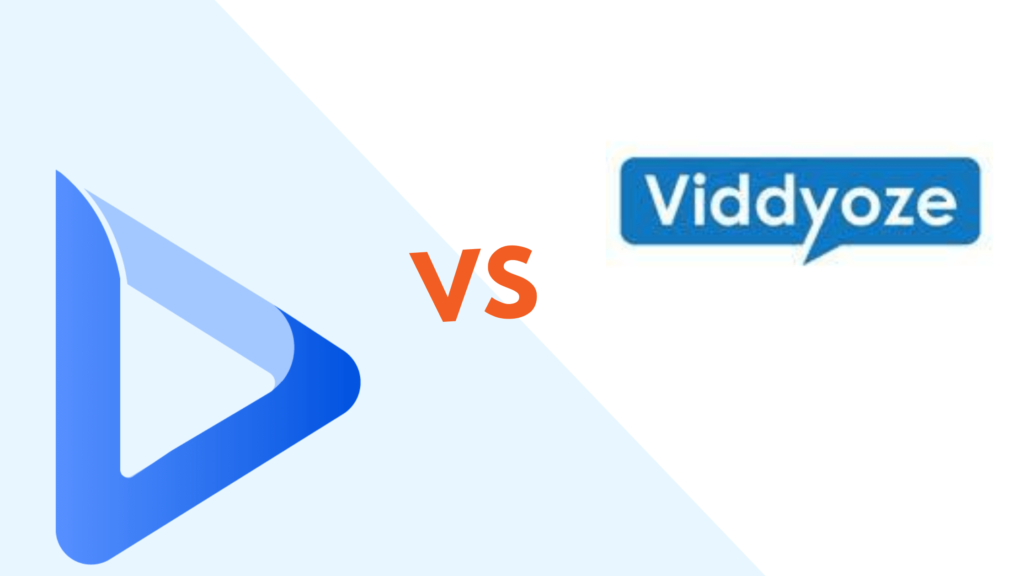 Renderforest vs Viddyoze Company Overview
About Renderforest
Renderforest is a video editing software that allows users to create animations videos, logo animations, and more. You can even create websites without having a deeper understanding of coding. It is cloud-based software, so there is no need for installation.
This online video maker features a wide variety of over 500 templates, 25,000 pre-made logos, and 195,000 stock videos. You can subscribe to their monthly subscription pack.
About Viddyoze
Viddyoze is an online video editing tool that enables users to create videos of all sorts. This one is also cloud-based, which means you can have access to it from anywhere anytime.
With the 260 animation templates library, you can create logo stings, animations, clips, and whatnot. You need to make a one-time payment to get the license and use the software for a lifetime.
Renderforest vs Viddyoze 3.0 Benefits
Now let me walk you through each video animation software benefit. So you can decide easily, which one to consider in November 2023.
Renderforest key benefits
It is user-friendly software, and anyone can create professional videos in just a few minutes without having much expertise and knowledge in the technical field.
The software is cloud-based, offering cloud storage, meaning you can create videos from anywhere anytime if you have access to the internet. This saves money, effort, and a lot of space.
With a wide variety of video-making templates, you can create realistic product mockups, moving infographics, 3D explainer animation, corporate presentations and slideshows, service or product promotion videos, and websites.  
Viddyoze 3.0 benefits
It is an automated video animation software that enables you to access a library of templates to choose from.
Since it is fully cloud-based, you no longer have to install anything, which means you can create videos from anywhere.
You can create 3D animations, logo stings, intros & outros, CTAs, live-action animations, YouTube videos, etc.
🏆 Who is the winner?
As you can see, both tools are cloud-based and need zero expertise in making videos. However, with Viddyoze, you have to make a one-time subscription payment to create videos for a lifetime. Sign Up to Viddyoze Now!
Suppose you need to make just one or two videos and cannot afford to invest a lump sum. In that case, you could opt for Viddyoze alternatives like Renderforest, as it gives you the opportunity to enjoy creating videos for free forever. Sign Up to Renderforest Now!
Renderforest vs Viddyoze Features Comparison
Now we will check Renderforest and Viddyoze features.
Renderforest features
There is a wide variety of website animations and logos
Over five hundred Renderforest templates, 25,000 pre-made logos, and 195,000 stock videos are available
Customizable templates to suit different brandings
High-definition video quality (only in the paid version)
Viddyoze features
The template club supports more than 700 Viddyoze templates
Live-action 3D animations
Groundbreaking intros, outros, and logo stings
Alpha technology enables you to create animations
Cloud-based automated technology
🏆 Who is the winner?
Do you want to add some touches to make a video look less homemade and more professionally produced? If you are a freelancer online tutor and want to make professional-quality videos, investing in Viddyoze makes sense.
Viddyoze and Renderforest Similarity
Renderforest is a similar software to Viddyoze. The primary similarity between these two video editing tools is – both of them enable their users to create stunning high-definition animations to be used in social media channels, landing pages, and other marketing channels.
Both of these tools use cloud-based technology, meaning you do not have to install anything and can create videos from anywhere.
With both Renderforest and Viddyoze, you do not have to be a technology expert, as both of these are user-friendly. This is why anyone can create professional-quality videos without having specific skills and expertise.
Why choose Renderforest over Viddyoze or Vice Versa?
Renderforest over Viddyoze
If you need to create stunning professional quality logos for your business to stand out, considering Renderforest over Viddyoze is a good idea. As well you can create doodle videos, kinetic typography, 3D animation videos, and more.
Do not want to invest in expensive website-making agencies to build websites for your start-up? With Renderforest, a free alternative to Viddyoze, you can build best-in-class websites without even knowing the basics of coding.
Viddyoze over Renderforest
Whether you are a small business owner, freelancer, digital marketer, or blogger, you know how videos can leave a lasting impression on viewers' minds. With Viddyoze, which is an alternative to Renderforest, you can create stunning videos and 3D animations that suit your business needs.
You can even make money online by selling professionally-made videos to your clients without investing a massive amount of money.
User experience and customer reviews on Trustpilot
Renderforest Reviews
Renderforest is the best video-creating tool anyone can use to boost their company's sales and promotion. There are a variety of ways you can customize videos according to your needs.
I love how there are so many different video styles, including 3D animations, app presentations, whiteboard animations, and more.
I love Renderforest because of its 'explainer video toolkit'. On top of that, it has an intuitive, fast rendering platform that no other software can offer. Try Renderforest Now!
Viddyoze Reviews
I bet there is no other animation video creation software like Viddyoze to date. It is very user-friendly. When I first used it, it got me baffled because, within just a few minutes, I created a quality video for my YouTube channel.
I would highly recommend this Renderforest alternative. The best thing about this tool is that it is fully cloud-based and does not require installation. Anyone can create amazing videos without having any expertise or skill. Try Viddyoze Now!
🏆 Who is the winner?
With Viddyoze, a free alternative to Renderforest, you do not have to invest in costly agencies and wait for weeks to get a professional video. Even if you do not have any technical knowledge, creating videos is a matter of a few clicks.
Viddyoze vs Renderforest Comparison – Pros and Cons
Viddyoze Pros and Cons
Viddyoze Pros
Viddyoze is a user-friendly video-making tool that can be used by anyone
It helps you to create 3D animations in just a few clicks
It is an automated tool
Viddyoze Cons
The template library is not so huge
Renderforest Pros and Cons
Renderforest Pros
A massive number of photos and stock videos allow you to make engaging videos.
You can make HD) video animation in just a few clicks
It does not require you to be an expert to use it
Renderforest Cons
It is quite an expensive option if you go for Pay per Product.
How to use Renderforest and Viddyoze?
Steps to create animation videos on Renderforest
An animated video is a fun and easy way to share your business idea. Here is how to create one:
Pick your desired template from the massive array of professional templates that suit your need
Customize your chosen template according to your criteria. You can do this by uploading your visuals or picking fonts
Your video is ready in three simple steps. You can instantly share it with any social media platform or download it.
You can add sound to the video by picking a soundtrack available on Renderforest. You can also upload your music, or you can even do both.
How to create animation videos on Viddyoze just in 3 clicks?
Creating an animated video with Viddyoze is easier than you think. Here is how you can create one:
Select your favorite template and customize it to suit your needs
Confirm by clicking on the Finish button to save the changes
Render your video by clicking the Build Video button
Your animated video will be created in no time.
Frequently Asked Questions
Is there any free trial offered by Renderforest or Viddyoze?
Yes, there is a free trial offered by Renderforest but Viddyoze doesn't have a free trial option.
What is the refund policy of Viddyoze and Renderforest?
Viddyoze video editor has a refund policy, claiming you will get the money back if the results are not satisfactory. You can try this tool for 30 days.
Renderforest does not offer refund policies like Viddyoze.
Is there any way to make money through Renderforest and Viddyoze?
With Viddyoze, making money is easier because you can create and sell high-quality videos to your clients. There is no such facility in Renderforest, which is an alternative to Viddyoze.
Viddyoze vs Renderforest Comparison Verdict
Video making has become easier than ever, thanks to the advancements in technologies and the inception of new software like Viddyoze and Renderforest. With these tools, today, anyone can create professional videos in the blink of an eye.
Whether you want to make explainer videos or presentations for your business, or you might want to create your website, Renderforest is the answer for you.
On the other hand, if you are into digital marketing, and willing to take your social media channels to the next level by creating high-definition videos, going for Viddyoze is a good idea.
Was this Viddyoze vs Renderforest Comparison article helpful? If so please help by sharing it.