Ever thought about living your life on your own terms?
Ever wondered what it takes to start a blog and build it successfully and make money online?
Well, you are not alone who might be having a skyrocket idea and all the time in the world.
Millions of people are trying their hand at blogging, but only a few could ever generate a handsome amount from their efforts.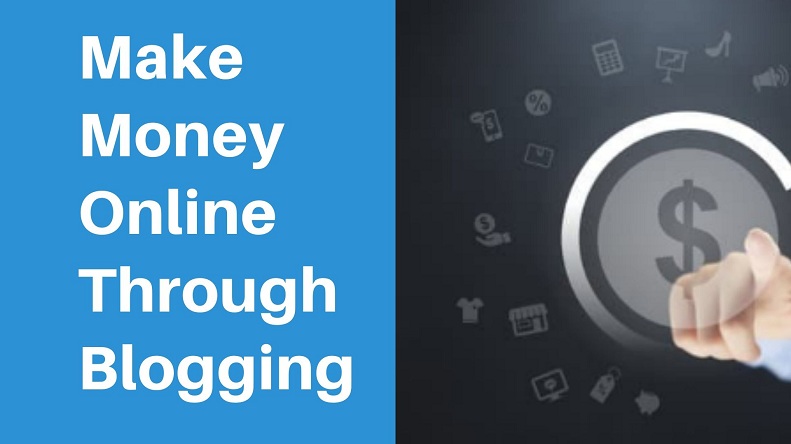 Honestly, I also have made many mistakes when I stepped into blogging.
Clearly, if you will start a blog for the purpose of making money online, you will waste your time.
If you don't have an intense passion for your art of blogging, you can experience a tide of upset and frustration.
Hence, in this blog, I am going to give you the ultimate guide showing you precisely how I did it.
Let's jump in!
Things You Need to Make Money Online Through Blogging
Firstly, you need a blog that can bring or generate visitors every day. It could be organic or referral.
How it's possible?
When you will think and take action about the following points.
Select Your Niche Carefully
Now creating a blog an easy job. Buying a domain name and hosting – Installing WordPress and necessary plugins can be done within 20 to 40 minutes.
But to make it profitable you have to think very carefully. Here is how you can do it before start investing in your blog, you first need to:
Go with your passion – If you want to start a blog, it doesn't mean that you need to always write about something viral, trending or pop. When you want to start blogging, simply write about what you know and what your passions are. Trust me, it will turn your content into a more genuine, personal, and engaging substance that attracts readers. Ensure to be true to yourself and your readers always. This will make your blog stand out for sure.
Go with a profitable niche – Once you figure out your passion, you can start with a specific niche that targets a particular market audience. You will have to target your content to a profitable niche to make money online. Think about what you prefer and what kind of niche your blog might fall into.
Work on Content Creation
Congratulation, once you have chosen or shortlisted a profitable niche for blogging. Now, you must be ready to work on some engaging content creation for your readers.
With so much competition for limited attention spans, you need to create unique, useful blog posts people will love to read and possibly share on their social accounts or on their own blogs.
Your blogs must be properly formatted and look good with appropriate images, entertaining and detailed.
Optimize Your Blog for SEO
By optimizing your content, you can bring organic traffic to your blog, which results in more engagement, growth, and help to make money online.
The way you use SEO and your knowledge regarding it will decide how you rank in Google searches.
This decides how many visitors are navigating to your site. Hence, I would suggest, make an SEO strategy that benefits you by increased traffic.
As a result, more people reading your content, helping you make money online.
Work on Content Marketing
Content marketing is the single most crucial strategy and my all-time go-to method for boosting the search rankings on Google's SERPs. This not just builds up your blog but also improves your visibility on search engines like Google.
You can post your articles on websites like Scribd or Medium for marketing your content; otherwise, you can answer questions on Quora or Reddit.
Moreover, you can do it with videos on Vimeo or YouTube as well.
Content marketing is an intricate procedure that engages apparently-never-ending, long hours of creating worthier offsite content that links to your main anchor content.
Build up Audience
At first, I began my blog by writing on a continuous schedule regarding different niches as per my interest.
People found me through social media platforms, Google and my readership slowly developed over time to where it is currently.
First built up a targeted audience through blogging by sharing value to your audience; next, you can making money online out of it.
Once you get a large group of people interested in what you say, then you can monetize them and the money will easily come.
You can discover and gathering your fan by following methods..
Grow your email list – After creating a fan base, you should retain them for building your personal brand. Earlier in the case of my blog, nearly 99% of readers came, read a single blog and left forever. Hence, rather than missing out on a promising reader, I began growing my email list. Now I have constant readers on my blog. The prime mantra of email marketing is keeping your current readers while simultaneously appealing to new readers.
Grow social media followers – Growing an audience by the only word of mouth is really tough. Hence, you require putting in the work and promote your blog through each type of social platform you can think of. We are living in a digital age where online social platforms are being used more than offline advertising. If you want your blog a success, you must grow social media followers; not just by connecting with other like-minded bloggers but also by sharing your posts on social networks like Facebook, Instagram, Twitter, Pinterest, LinkedIn, Reddit, etc. Use fun images, clever hashtags, and catchy captions. Answer queries, leave comments, start creating value, and be helpful, which will gather interest in your page.
Build Relation within Your Industry Experts and Companies
By building a relationship with industry experts and companies in your niche is an essential part of a blogger's strategy.
Networking with and reaching out to other blogging experts will help you build your brand by growing your readership, make more awareness regarding your blog, draw in readers and grow an audience, link to other blog posts, and build connections that will improve credibility.
The above things are time taking process. Once you have done then you can drive into the next step which is making money out of your blog.
Now You are Ready to Make Money Online through Blogging
Start Monetize Your Content
Advertising comes first when you think about making money online through blogging. Google AdSense is a simple way of monetizing your blog. You just require adding a script from Google to your site and starting showcasing ads.
Affiliate Marketing
If you would prefer making some passive income flows from your blog, affiliate marketing is one of the best options. Affiliate marketing is a way to make money online by promoting some products or services on your site for a specific commission percentage from the sales.
You can start with Amazon Associates, or you can make private partnerships with businesses and advertisers through an affiliate program. With affiliate marketing, the best thing is that you don't require bloating your site with bothersome ads.
Moreover, you can refer the products within your blogs and make money online when your readers buy them.
Sell Your Service – As Per Your Profession
Everybody has the expertise that businesses require and providing that skill and your time is an amazing way of making money online from your blog.
Services contain the highest profit margins as you are selling your time effectively and not a physical item; nevertheless, your earning is restricted to the number of hours of your work availability.
You can provide consultancy or training services to businesses. Also, several businesses demand competent bloggers and writers. I also promote the services of many businesses through content writing, editing, and proofreading services.
If you excel in design or illustration, you have many opportunities to provide your services to other bloggers or businesses.
Accept Sponsored Content
Accepting and publishing sponsored content is one of the simplest ways to make money online. Some bloggers don't like to display ads to their audiences. So, they can publish sponsored content to make some additional income from their blogs.
Sponsorship is simply like it does in TV shows, sports, or other industries. Basically, an organization pays you for representing their products, talking regarding it, and promoting it to your readers. When publishing a sponsored blog, ensure to tell your audience explicitly that it's a sponsored content.
Sell Private Ads
When it comes to selling ads, working with ad networks is not your single choice. If you get sufficient traffic, advertisers may directly come to you for placing their ads on your website.
Selling private ads can come in different types like links, buttons, or banners. You can also make money online by writing sponsored posts where you can give a review of the products or services of any advertiser or write about his products or services.
Writing an underwritten series or post is another option, where you can write regarding any topic and the advertiser pays for that. To increase your income, you can also sell sponsorship space in your video, podcasts, and newsletters.
Write Product Reviews for Money
Like sponsored posts, you can also make money online by writing reviews on your website and getting paid for that. This is a little distinct monetization process than a review website with affiliate links.
Rather you can try out products associated with your niche for free and get paid for review writing. The procedure for doing this can be the same as getting sponsored posts.
You will need to review products that are appropriate for your niche that your audience would prefer. You can ask companies yourself regarding doing paid reviews.
Sell Your Blog
It's highly satisfying to have a profitable blog site and see that earnings drip-feed into your bank account every month. Seeing your hard work paying off is an unmatched feeling. However, some bloggers don't want to sell their blogs.
But if you require the assured money and your heart is not in it anymore or in case you have many other projects on the go, this is something I would recommend considering.
Look into selling your blog in case the conditions are okay but don't rush into it. Don't accept less than that your blog's value and ensure the selling price justifies the lessened monthly earning and the possible development you will miss out on.
Conclusion
So, hope you find the possibility to make money online. But make sure you treat it as an online business. You can change your blog to a full-time, passive income source that gradually lets you leave your job, spends more time with your friends and family members, and do whatever and whenever you want to.
You need to study and practice more to master your art. If you love writing, I cannot imagine a better way to make money online.
I never regret dedicating myself to blogging. It's not only due to the money but also I can do what I prefer simultaneously. And nothing could be better than that, right?
So, how do you make money online? What has been your struggle with money-making blogging? Feel free to let me know!
Related Posts