Once you started your blogging career or has bring your business online your main goal will be, how to be successful.
Here in online, you need to have a correct strategy to be successful. Check out how you can plan it through a landing page.
A landing page, also known as a lead capture page is a website page that all visitors land on, in response to tapping on a search result or online ads.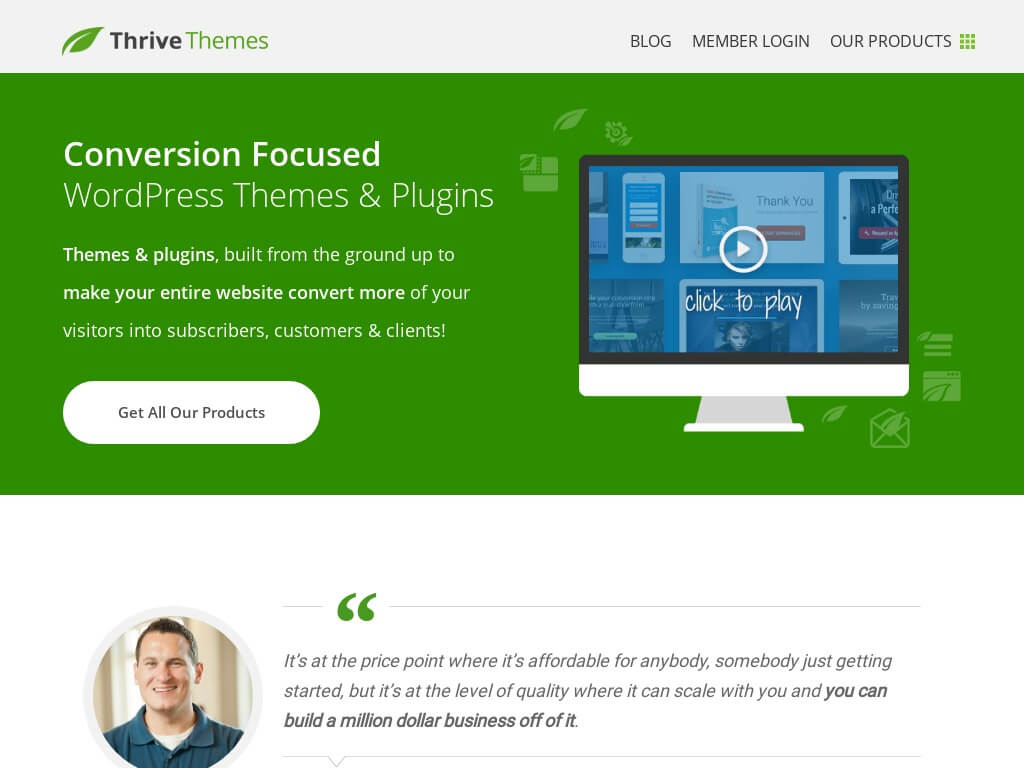 If you create a landing page correctly, your conversion rates will be increases. Read this full post to learn how you can increases lead and be successful on online business.
All WordPress blogger usually doesn't have the skill to design or compose a landing page. But you can complete this task through a clever WordPress plugin. Today I will discuss that.
You can easily do it all with a great WordPress plugin. Please read continue to discover, how you can do it in a smart way.
Introducing Thrive Themes
Thrive Themes provide WordPress themes, plugins, and other resources for helping you develop a productive WordPress website or blog.
All Thrive products are designed to help you accomplish and increase lead conversion rates from your website – regardless of what your objectives are.
Whether you are a WordPress blogger, product supplier, service provider, or an affiliate marketer you need to connect with your audience more efficiently, Thrive Themes could have the lead generation tools you are seeking.
If you are seeking an honest review on Thrive Themes, read my blog more!
Best Products by Thrive Themes
Thrive Themes contain 7 WordPress Plugin tools in their portfolio, which helps customize a website, optimize content, engage audiences, and boost conversion rate.
These plugins are Thrive Content Builder, Thrive Landing Pages, Thrive Leads, Thrive Ovation, Thrive Ultimatum, Thrive Headline Optimizer, Thrive Clever Widgets, Thrive Themes, and Thrive Quiz Builder. Let me give you impressive detail regarding a few of these tools.
Engage Your Visitor with Thrive Quiz Builder
Thrive Quiz Builder is a great quiz maker. It helps make complex and beautiful quizzes to grab the attention of your visitors and engage them without requiring knowing the ways of coding or working Photoshop.
Nevertheless, the real strength of Thrive Quiz Builder occurs under the surface of the engaging quiz. After all, you want to be capable of reaping the benefits of all additional attention the quiz can create.
In short, the under the surface system of Thrive Quiz Builder helps you increase your social shares, email list, and provide you lead data collection to develop your business.
Thrive Ultimatum's Role in Your Marketing Success
Thrive Ultimatum helps you enjoy the benefits of each aspect of your scarcity marketing. Let me summarize the role of Thrive Ultimatum in your online marketing success:
With Thrive Ultimatum, run a limited-time promotion, sale, or offer. Build a professional-looking campaign easily in only a few clicks.
It helps you automatically begin, stop, and handle your scarcity marketing campaigns on any schedule.
With this WordPress Plugin, you can build constant evergreen scarcity campaigns that provide your business with a permanent boost of lead conversion.
The Best Way to Improve ROI
Thrive Ultimatum puts one of the strongest lead generation techniques into your hands. Increasing lead conversions on a site is a complicated and complex process.
It needs intense knowledge regarding good analytics, your visitors' behavior and a standard of running and assessing A/B tests regularly.
Being a marketer, you may find it very rare to consider an exception to this discipline – something that makes enhancing conversions instant and easy. And utilizing Thrive Ultimatum for building scarcity marketing campaigns is precisely one such exception.
It functions for any type of business or its marketing campaign you need to process. And adding a sense of emergency and a time limit to a campaign is the most dependable and repeatable thing you can do to improve ROI, sales, conversions, leads, and member signups.
Improve User Experience With Thrive Clever Widgets
With the use of the Thrive Clever Widgets plugin, you can simply display highly appropriate content in the widget areas of your website.
Rather than a common offering that rarely grabs attention, you can display your visitors the type of thing that helps them get precisely what they have been seeking for a long.
For you, this means fewer bounces, more clicks, and better conversion rates.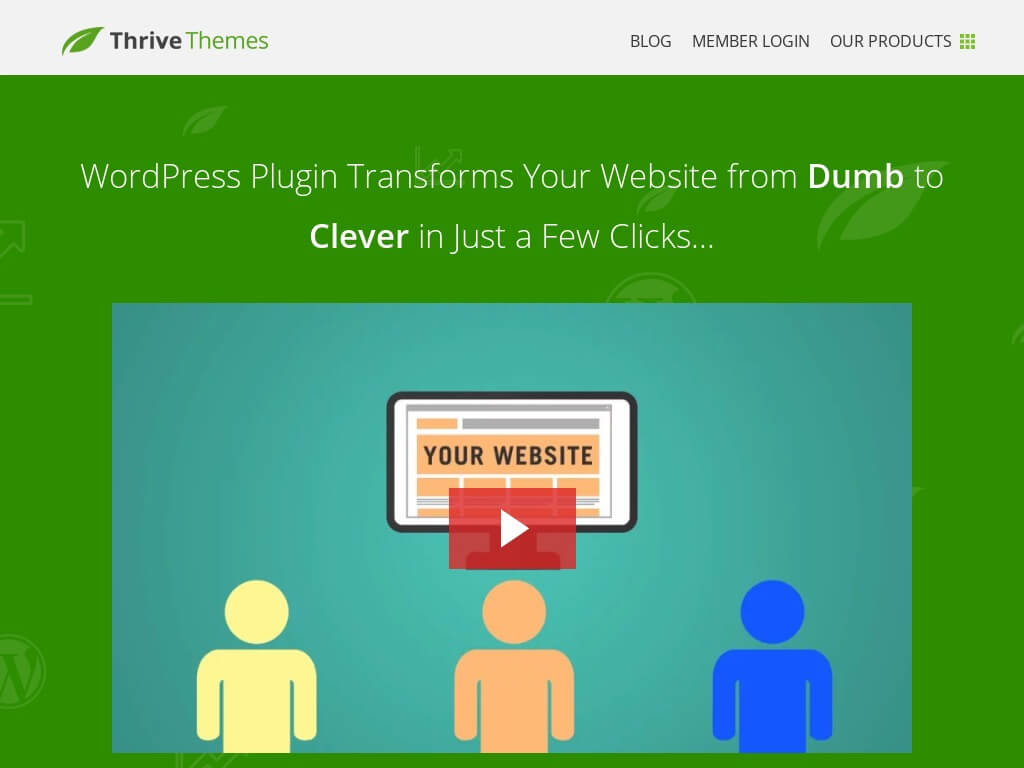 Thrive Clever Widgets accepts the basic fact that your site visitors are telling you much regarding themselves just by which pages or posts they are checking.
Using this plugin, now you can decide accurately where your widget content must be displayed to visitors, depending on post types, tags, categories, and down to incorporate and exclude disciplines for particular pages.
This is how Clever Widgets improves user experience and increases lead generation rates.
Better User Experience Means Boosting Conversion Rate
Better user experience is a means to finalization. You don't make an excellent user experience only for making someone delighted. You need it to cause something – be it purchasing your products, getting your services or visiting your social networking site.
Whenever users visit your website, they get experience. The quality of their experience has an important effect on their referral possibility, opinion and ultimately conversions. Thereby, opting for Thrive Clever Widgets can help you boost user experience and let people do what you want them to do.
Join Thrive Membership: An All-In-One Online Business Tool
In case you want to get immediate access to all the plugins Thrive provides, you must join Thrive membership, the all-inclusive online business tool. With this membership, you will get:
the complete suite of Thrive Themes WordPress plugins
exclusive member-only content, templates, and courses
continuous updates and immediate access to new plugins,
and unlimited assistance
Each Thrive plugin is continuously updated, so you don't require worrying regarding outdated plugins violating or breaking your website's security.
Some General FAQ
How Do Thrive Leads Help Create an Email List?
Thrive Leads is a compact email list building WordPress Plugin. However, it does not have email send option. I know that maximum email marketing services are designed to send emails and don't offer lots of options to create an email list.
But Thrive Leads fills this gap by helping you form various kinds of WordPress opt-in forms that you can target and optimize usefully.
In short, Thrive Leads let you
A) Select from pre-designed templates for your opt-in forms
B) Showcase various offers to people who already have subscribed to your email list
C) Edit or design a template with the use of the strong Thrive Architect page builder
D) And view detailed analytics for your list creation efforts.
You can connect Thrive Leads to a highly recognized email marketing service also. Start collecting emails and increase lead conversion.
Why is an Email List Important for Online Success?
For business owners and bloggers, email lists can offer dramatic rewards. With the popularity of social media and lots of other types of messaging, the conventional email format feels comparatively old.
Nevertheless, it still is one of the strongest and completely considered modern types of communication. This is why every social platform needs you to have an email. Let me summarize why an email list is vital for your online success:
A) It helps you connect with your audience and potential clients.
B) You can reach your clients in real-time as these days, maximum people access their email account on a mobile device.
C) Emails feel more engaging and personal than other online messages.
D) It is undoubtedly cost-effective.
E) Email marketing is one of the easiest internet marketing types in terms of functionality and outputs.
F) You can utilize targeted campaigns for reaching for various kinds of people, in regard to their connection with a service or your company.
G) Email marketing is better than social media to create brand awareness on a more constant level.
Why Should You Engage Your Visitors?
A beautifully designed website conveys professionalism. However, if it does not engage your visitors, the website wastes everybody's time.
The visitors should be pulled, grabbed, and propelled for interacting with your website by doing something while visiting it. Without visitor engagement, a site has nothing.
Hence, you should engage your visitors so the shoppers add items to their carts, share the products or services of your website on social platforms and sign up for its newsletters.
Why Increase Lead Conversion Planning is Important
Because without proper planning or goal, your online business can not generate a sale or increase your revenue. That is why you have to plan to increase lead conversion as early as possible.
Winding Up
Hope, this Thrive Themes review blog post will help you decide whether Thrive Themes is the right choice for you or not. If you ask me, I am highly satisfied with the features provided by the Thrive Themes, as it has helped me increase lead conversion rates dramatically on my blogs.
And I am planning to stick with them in the future also. In case you have loved this blog, and are seeking to choose Thrive Themes, it's high time to join the Thrive Membership!