You may have a couple of reasons to try DoodleMaker alternatives.
I know a few of them and will discuss them here, but first, let me tell you, Is DoodleMaker Worthy or Not?
DoodleMaker is one of the easiest software that can be used to make doodle videos. The worlds' first video creation platform for doodle videos using Intuitive Artificial Intelligence to help both professional and unskilled video creators make realistic doodle videos within a few minutes.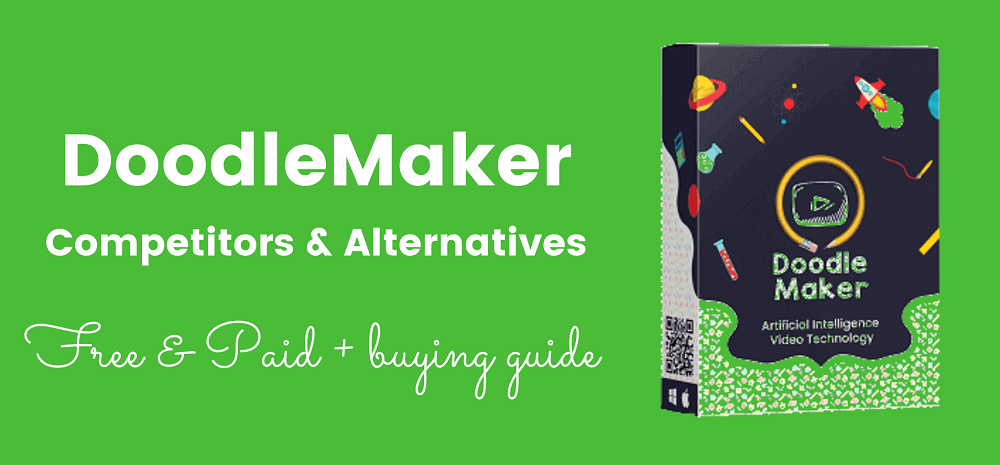 Using DoodleMaker, you get to create animated videos, whiteboard animation videos, tutorial videos, training videos, and Marketing or Promotional video.
The best thing about this platform is that it comes with over 300 pre-loaded video templates to help you start your video creation journey.
You don't need technical video editing skills to create an animation video on DoodleMaker; everything you can do by just Drag & Drop.
Benefits of DoodleMaker
DoodleMaker is newbie-friendly.
300+ Ready-Made templates.
Create unlimited Videos
Built-in library of Images, Colour Image to Sketch Converter.
Export in 720p or 1080p HD quality.
Wide Range of Language available.
Anyway, why should you try DoodleMaker Alternatives and Competitors?
I understand you are looking for DoodleMaker alternatives. Don't worry; you are on the right page. But before that, let me share with you why you need to look for alternative options.
Here are the most important reasons why you should try out other available Doodle Maker alternatives.
DoodleMaker has few bugs. An example is when you add images; sometimes there are crashes occurs.
With Doodle maker, you cannot preview the full video.
Customers also say that rendering on DoodleMaker sometimes does not work.
Some of the DoodleMaker Alternatives and Competitors discussed in this review have zero errors and can create longer videos than DoodleMaker.
Some alternatives are also cloud-based and have a more user-friendly interface compared to DoodleMaker.
Things to Consider while choosing a doodle video creation software
Now doodle video is the heart of internet marketing. As a marketer and an online video maker, you need to make wise decisions while choosing your doodle video creation software.
Here are the few features that you need to consider when selecting a doodle video creation software.
Will meet your requirement: Choose software that meets your video creation needs. If you are a YouTube video creator or social media video maker, choose software that creates social media videos and export files in full HD.
Software Price: Check software prices before purchase. Choose software that is affordable and has outstanding features.
Free trial or money-back guarantee: You should choose a software that provides or more extended free trial or money-back guarantee.
This will enable you to know all features to determine if the software supports your video creation needs before official purchase.
System Requirement: Choose software that meets your system requirements. Your computer must not drag or slow down when working with your software.
Customer support: Choose software that provides proper customer support. The support team must respond to all your queries anytime in case you have problems working with their software.
Note, not all the software listed below contains all the above. But they will have most of these features.
So, today I am going to speak about the best alternatives to DoodleMaker.
So, let's start.
5 Best Free & Paid DoodleMaker Alternatives Doodle Video Maker
In case DoodleMaker doesn't work things for you, choose any of its most acceptable alternatives and continue your video creation journey.
In this guide, I share both free and paid options of DoodleMaker competitors, with their features, and benefits.
Best Paid DoodleMaker Alternatives and Competitors in April 2021
Now, delve directly into the overview of those finest paid alternatives to DoodleMaker.
VideoScribe one of the best DoodleMaker alternatives. VideoScribe was first launched in 2012 by a UK company, Sparkol. Since then, the company has grown in its number of users in 135 countries globally.
VideoScribe is very easy to use with a simple user interface to create animation videos. The software provides several stock images and sounds, making the whole video creation experience efficient.
VideoScribe works perfectly on Windows and Mac computers, unlike DoodleMaker. Since its launch, the software is still the best animation software available in the market right now.
Benefits of choosing VideoScribe
Here are the four benefits of choosing VideoScribe.
Cross-platform and cloud compatible
Easy to use interface
Varied pricing scheme
Wide range of video making features and tools
Most Important VideoScribe Features and their Benefits
VideoScribe comes in several essential elements that's make it stand out as one of the best animation makers. The software provides users with the flexibility they need to create stunning videos. Here are the 4 Most Important VideoScribe Features and their Benefits.
Premium Images: It has several stock images that you can simply drag and drop into your project. The media library helps you create amazing animations.
Work Offline: You don't need an internet connection to create your videos. All you need to do is download the software, install it, and start work.
Video resolution options: With VideoScribe, you can create videos of various resolutions up to Full HD videos.
Import music & fonts: VideoScribe allows you to import music and various fonts. This makes your video more attractive.
Types of video you can create on VideoScribe
With VideoScribe, you can create several types of videos, including;
Marketing videos,
Promotional Videos
Social Media Video.
Animation video
Explainer Videos
eCommerce Ads
VideoScribe Pricing
VideoScribe pricing changes from country to country. This is the good thing in VideoScribe.
Single Users
Monthly Plan: $35/Month
Yearly Plan: $14/month billed annually
One-off: $800. Buy once
Team Licenses
Team of 5 and above: $155/users
Team of 10 and above: $150/user
Team of 20 and above: $145/user
System Requirement for VideoScribe
Please make sure your computer meets and exceeds these system requirements.
Microsoft Windows (PC)
Windows 7 or higher with 64-bit Systems only
4GB RAM
Intel core processor with 1.6GHz
A screen of 1024×768 resolution (1280×720 resolution recommended)
Mac OSX/macOS
OSX 10.7 or higher.
4GB RAM
Intel core 1.83GHz processor
A screen of 1024×768 resolution (1280×720 resolution recommended)
Why choose VideoScribe over DoodleMaker?
VideoScribe is software without bugs. The software also has an extensive library of stock footage. There are more than 300 hand styles on VideoScribe.
The platform also has fantastic customer support that works 24/7 to help users. The Separate customer support portal of this website answers all user questions easily and quickly.
Go to VideoScribe Website and Signup Now
---
Vyond was founded in 2007 as a GoAnimate. The Co-founder Alvin Hung created a program to allow user animations based on Demo shorts.
In 2008 the first version of the program went life, and since then, the program has helped small enterprises make creative videos at a lower price. The company's mission is to empower everyone to create attractive media easily using the reedy-made templates.
Vyond provides various features that help develop flowing stories and utilize data to engage the audience and deliver business results. The platform has more than 12 million users globally.
Benefits of choosing Vyond
Vyond is changing the way business advertisements are made. Here are the benefits of choosing Vyond
Easy to use and to create videos
Free library of stock footages
Creates engaging videos.
Automatic lip-syncing
Most Important Vyond Features and their Benefits
With Vyond studio, you can combine the inbuilt templates to create a dynamic video that fits your brand. The following are the 4 most important Vyond features and their benefits.
Automatic lip-sync: You can upload an mp3 file or recorded speech and align with your character with just a click of a button.
Premade Templates: Vyond Studio provides ready-made templates for all businesses. These templates are an easy starting point in your creative work.
Expanded timeline: Vyond provides an expanded timeline view to check on your scene's various effects. The extensive view also gives you a quick way to make changes by drag and drop on the timeline.
Global Editing: This feature allows for an instant swap of an aspect that appears in your video's multiple scenes, enhancing the Vyond Studio's productivity.
Types of video you can create on Vyond
With the more splendid templates and perfect video creation features, you can create several videos on Vyond. These include;
Promotional ads
Product campaigns
Animated GIF
Social media videos
Real Estate Videos
Instagram Story Ads
Facebook video
Vyond Pricing
Vyond offers a 14-day free trial, after which the software is available in three paid packages.
Essential Plan: It costs $299 annually for a single user.
Premium Plan: It costs $649 annually for a single user and includes high-quality exports and live chat support.
Professional Plan: It costs $999 annually for each and Includes advanced features and priority customer service.
Enterprise plan: This Plan combines Vyond Professional with advanced information security features, training & boarding assistance, and a dedicated account manager. The cost is customized.
Why choose Vyond over DoodleMaker?
In terms of live support, Vyond offers 24/7 live support and every day is a business day. Vyond also provides a great media library and has the most animated graphics than other SaaS industries.
Vyond pictures are grouped into three categories; contemporary, whiteboard, and business contemporary.
Finally, Vyond provides for collaboration tools and, therefore, suitable for creating long-format videos.
Go to Vyond Website and Signup Now
---
CreateStudio is another paid DoodleMaker alternative and competitor; it is a desktop video creation tool that quickly and flexibly creates animations.
The platform is the most improved animation maker globally. Founded in 2020, CreateStudio provides several templates easy to customize to ease your video editing and video creation work.
The company's vision is to bring the power of collaboration and co-creation to craft your video creation experience into reality. With CreateStudio, you can also access Supreme, Colourful and Amazing 3D characters.
Benefits of choosing CreateStudio
CreateStudio is the ideal creative and video-making platform for content creators. Here are the four benefits of why you should choose CreateStudio.
The platform is flexible and easy to use.
Simple to use templates and stock footages
You can export videos of smaller file sizes without compromising quality.
You can create both 2D and 3D animations on the platform.
Most Important CreateStudio Features and their Benefits
The following features make its users enjoy creating videos on the platform.
Green screen editing: You can use the eye-dropper tool to remove the green screen and create a custom background to make your videos awesome.
One clicks animation: With just a mouse click, you can animate videos, images, text, and shapes in CreateStudio.
Built-in vector shape library: CreateStudio has several shapes that you can choose.
Smaller file size: CreateStudio allows you to export videos that are eight times smaller than the original creation. However, it maintains video quality.
Types of video you can create on CreateStudio
CreateStudio helps you create rich video animations. With this platform, you can create several advertisement videos, including;
2D & 3D Explainer videos
Lower thirds
Logo animations
YouTube videos
Social media videos
Sale and promo videos
ECommerce ads
CreateStudio Pricing
CreateStudio Commercial Use License: This Plan costs $99 billed annually. You get lifetime access to the platform, with 50 templates and 30 Dyas money-back guarantees. You also get 24/7 customer support, with eight 3D characters and twenty 2D characters.
CreateStudio + All Access Club: This Plan costs $299 billed annually. With this Plan, you have full-time access to the software and access to all 3D and 2D characters. You get new characters every month.
System Requirement for CreateStudio
Windows 7, and above.
2.33GHz or faster processor
2GB of RAM
Monitor 1280×800 resolution
Why choose CreateStudio over DoodleMaker?
CreateStudio is flexible and easy to use. The platform uses a drag and drop technique hence suitable for newbies.
CreateStudio offers outstanding stock of templates and presets, saving a lot of time and allowing you to create both 2D and 3D animated videos.
You can also export videos of any length in CreateStudio. Finally, CreateStudio has lifetime access, no other charges after purchase.
Go to CreateStudio Website and Signup Now
---
Doodly: Bonus Paid DoodleMaker Alternative
Doodly is another DoodleMaker alternative. Jimmy Kim and Brad Callen created this platform to help regular individuals like you to create marketing videos for businesses.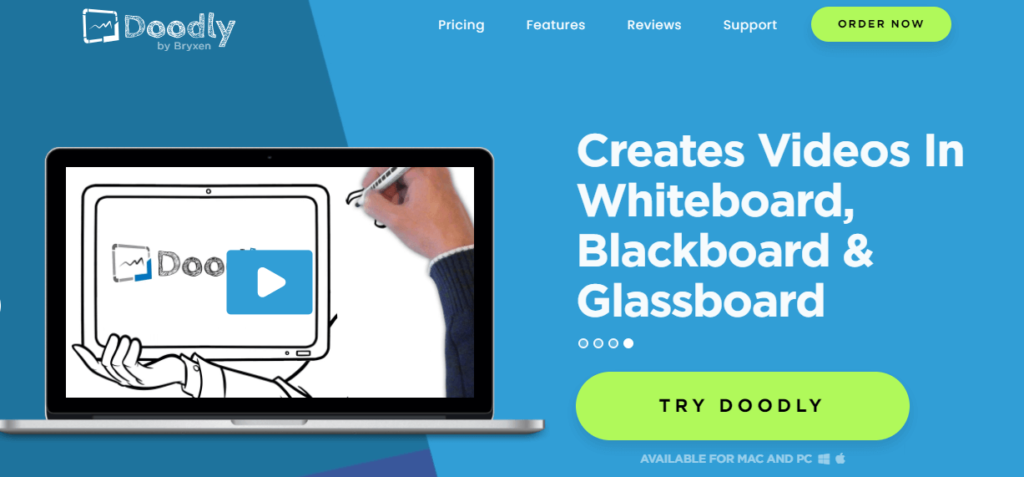 Doodly works to make ordinary people interested but has no video editing software skills to create amazing professional videos within no minute.
For beginners, it has thousands of libraries with stock footage to jump-start your video creation journey. Doodly is popular because of its easy-to-use nature.
With Doodly, you can create various videos, including; Cartoon Video, ads, instruction videos, book reviews, Text Animation Video, Advertisement Video, Social Video, YouTube Intro, presentation videos, and many others.
Go to Doodly Website and Signup Now
Best Free DoodleMaker Alternatives and Competitors in April 2021
The software I am going to discuss now is available freely online. However, videos created on these platforms have watermarks.
You will have to upgrade for a fee to remove the watermarks.
Animaker was first launched in 2014. The platform uses HTML5 to create animated videos. Animaker provides tools to create and animate videos online.
It also uses the drag and drop technique in its user interface, making it easy for newbies and non-skilled users.
Animaker is the leading SaaS Product Company in terms of growth. It is cloud-based software to mean that it works entirely online.
With Animaker features, you can create animated marketing videos that sell. It was the first animation-making platform globally.
Benefits of Choosing Animaker
Animaker is the ideal creative and video-making platform for content creators. The following are the four benefits of choosing Animaker.
Simple and easy to use interface
More than one user can work on a single project at a time.
Animaker offers tutorials to help in the video creation process.
Extensive library of stock footage and templates, including background and characters.
Most Important Animaker Features and their Benefits
The following are the four most important features and the benefits that Animaker gives you.
Whiteboard animator with five unique board styles: Animaker provides whiteboard animators to let your video stand out. It is a whiteboard video maker.
Screen Recorder: Animaker lets you record your screen while working.
Edits 4k videos: Animaker lets you edit and export 4K video quality. 4K videos look clear and realistic.
Auto lip-sync: Animaker automatically synchronize voiceovers to your characters
Types of videos you can create on Animaker
Animaker provides hundreds of templates; users can create several types of videos Including
2D animations,
Whiteboard videos,
Infographic videos,
Handcraft videos,
Typography videos,
GIFs. Etc.
Animaker Pricing
Free Plan: Videos come with Animaker logo watermark, and assets are Limited assets. You export videos in SD Quality.
The Basic Plan: It Costs $10 monthly billed annually. You get five premium downloads, build five custom characters, and ten premium asset credits per month. You export your videos in full HD.
The Starter plan: It costs $19 monthly billed annually. You get ten premium downloads, build 15 custom characters, and 20 premium assets monthly.
The Pro plan: It costs $39 monthly billed annually. You get 20 premium downloads, build 30 custom characters, and 45 premium assets monthly. You also create and download 2K video quality.
The Enterprise: The pricing for this Plan is custom. You get unlimited downloads, build complete characters, and total assets monthly. You also get to create and download 4K video quality and upload up to 20GB files.
Why Choose Animaker over DoodleMaker
Animaker gives you high-quality videos in 4k that are very impressive. The platform is cloud-based therefore allows for more than one user at a time.
You can enjoy Animaker free plan for as long as you want.
Go to Animaker Website and Signup Now
---
Maybe you have heard of Renderforest, this is a famous company with software to create amazing videos for free. Renderforest is a video creation platform that works entirely online.
The platform allows small businesses to create video marketing content for their products. The founder Narek Safaryan created the podium with a mission to make successful branding affordable to all businesses.
Due to its cloud-based nature, you only need to create an account and login into your account to start your projects.
Renderforest provides the most advanced marketing tools to steer up your video creation experience and help you make animations and iconic logos for your business.
Benefits of choosing Renderforest
With Renderforest, the platform combines video, logo, mock-up, and website creation in one place. Here are the four benefits of choosing Renderforest.
User-friendly interface
Cloud-based nature
All in one brand platform
Unique product marketing mock-ups.
Most Important Renderforest Features and their Benefits
Here are the most important Renderforest features and their benefits
All in one branding platform: With Renderforest, you can create videos images, logos websites, graphic, and mock-ups in the same forum within no minute
Video templates for all-purpose: Renderforest provides over 500 templates in various categories, from video intros and music to explainer animations and promotional videos.
Easy to use interface: Everything that you need is already on the interface. The user interface is newbie-friendly and attractive.
Types of video you can create on Renderforest
Renderforest is a promo video maker. You can decide to make various types of videos, including;
Explainer Videos.
YouTube Intros.
YouTube outro videos.
Whiteboard animations
Product presentations.
Animated logos.
Product promotions, and many others.
Renderforest Pricing
Free Plan: This Plan is open forever. You can only export videos of up to 3 minutes. Your videos have a watermark.
Lite Plan: This Plan costs $6.99 monthly. You get to enjoy 10GB storage space and export up to 5 minutes of videos.
Amateur Plan: This Plan costs $8.49 monthly. You can edit and export up to 15 minutes of videos.
Pro Plan: This Plan costs $15.99 monthly. You can edit up to 30 minutes of HD videos.
Agency Plan: This Plan costs $37.49 monthly. You also get unlimited access to logos and graphics for your videos.
Why choose Renderforest over DoodleMaker?
Renderforest a cloud-based, and therefore you can work on your project from anywhere.
The platform also provides a wide range of tools in the graphic design industry, including web design templates and product mock-ups.
You can decide to use the free Plan until you feel to upgrade. The platform is easy to use and newbie-friendly
Go to Renderforest Website and Signup Now
Conclusion – Over to You
Until now, you must have realized that even though DoodleMaker is is an excellent software for 3D animation and doodle video creation, there are some of DoodleMaker's similar software that you need to give a try.
Weigh the feature, Pros, and Cons of each of the discussed DoodleMaker competitors to see any you need to try out in your next video creation task.
In case, you feel confused to choose the best to try out or you have other queries. Please feel free to comments below or contact me on Messenger, or WhatsApp.
I will be happy to help you.
Also Read