Are you trying to decide between Filmora and Viddyoze?
First, let me tell you that Viddyoze is the best short animation video creation software and on other hand, Filmora is mainly beginner-friendly video editing software but you can create some animation as well.
I will cover everything in this Filmora X vs Viddyoze 3.0 comparison.
Both Filmora X and Viddyoze 3.0 allow you to create beautiful videos with a few simple clicks.
But after reading this comparison you can decide which one's the right solution for your budget and needs.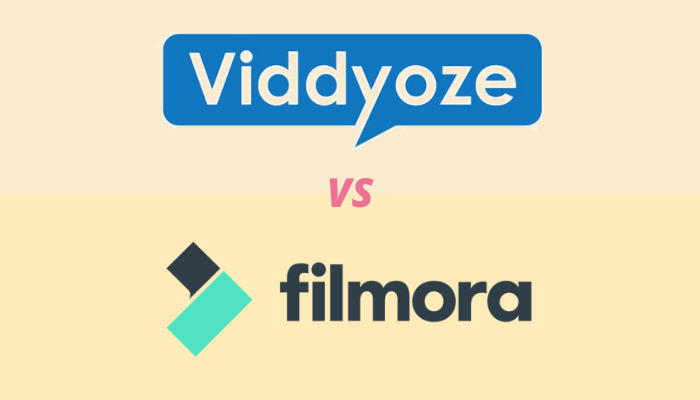 So, let's start…
Filmora vs Viddyoze Company Overview
Filmora is a well-known video editing desktop software created by Wondershare. It was first released in 2015 in the name of Wondershare Video Editor. Later it was renamed Filmora.
As of now, Wondershare Filmora has 1.3 million active users from around the world. Filmora X launched in October 2020.
---
Viddyoze is web-based animation software created by Joey Xoto, Jamie Garside, and David Chamberlain. It was also first released in 2015.
Currently, Viddyoze has 150,000+ active users and is growing. In 2019, Viddyoze 3.0 comes into marketing. To know more visit my Viddyoze review page.
Filmora X vs Viddyoze 3.0 Benefits
Both software has multiple unique benefits to attract. Check out them…
Filmora X
Filmora allows you to render your video fast.
It allows you to add multiple layers which means you play with your video clips and sound effects
You can upload your videos directly to YouTube
Viddyoze 3.0
As it is cloud-based software you can access it anywhere with an internet connection.
It will save your time as they offer pre-made animation
 ZERO video editing experience required to use Viddyoze
Filmora vs Viddyoze Key Features
Let's check out the key features of both video editing softwares.
Filmora X
It is a desktop software for Mac, Windows
Can remove noise
You can record the screen
It has various animated effects, graphic
Viddyoze 3.0
It is 100% cloud-based 3D video animation software

It has a large pre-made template library

170 professional templates
Live-action animations video maker
How Does Viddyoze 3.0 Work?
Login Screen: Viddyoze 3.0 is a web-based tool that comes with a login screen. In order to use the tool, the very first thing is to log in to the software.
First, you need to click on the "create" tab where you can find several templates available. You can choose among the styles available.
Select Template: Select a template that you feel can suit your business or logo for the video creation.
Template customization: Secondly you need to customize the video and then go ahead to click on the Finish tab. Once you go to the next step, you will find sections to input information.
Confirm the video: This is a crucial step as in this step you can review if there are any spelling mistakes. You can immediately change it. If you find some glitches, you can go back and rectify the mistakes.
Rendering the video: Once you have done everything and clicked the Build Video tab, you can find the video-baking screen.
This means that the software is working in your video and to renders the video. Once it is completed, you can check the video on the "My Videos" tab.
How Does Filmora X Work?
Select aspect ratio after launching: Once you install Flimora X, you can find it on your desktop. Just double-click on it to launch.
The welcome screen asks for the aspect ratio. Choose to proceed.
Create and import: You need to click on the "New Project" tab present on the welcome screen. You will find an "Import" button on the upper left.
Click on the tab to import files directly from the computer.
Organize the materials: Whatever you choose to import will be stored in the "Media" tab present below the "Import" button.
When you work with several files it might get messy and to avoid confusion, you can create albums. Organize alphabetically to improve efficiency.
Place audio and video files and remove the unnecessary: There are often some mistakes found in raw footage.
At this phase, you can easily cut the video or add something that you wish. You can also preview the video by hitting the spacebar.
Apply visual effects: Once you have removed the unnecessary parts and made the video section, it is time to add music, transitions, and other visual effects.
There are several other things that you can use at this point like icons, subtitles, end credits, and much more.
Check the color correction procedure: You can also take advantage of the color correction buttons in order to show the true color and engage people.
You can experiment to correct the color and bring out the vibrancy.
Export and share: Once you have done everything and created a video of your choice, you can click on the "Export" button.
Here you have to choose the Format and make other necessary changes to acquire a desirable end product.
Viddyoze vs Filmora Pricing Plan
Viddyoze 3.0 has 2 simple pricing plan as follow…
Personal License – $97
Commercial License – $127
Check out the pricing model of Fillmore X as follows…
Free
Monthly Payment
One-time Payment
Annual Subscription
Quote-based
Viddyoze vs Filmora System Requirement
As Viddyoze is a cloud-based software you don't need any special system requirements to use it.
To get the best performance of Filmora X

Firstly you need an Intel i3 or better multicore processor, 2GHz or above, Recommended – Intel 6th Gen or newer CPU for HD and 4K Videos.

Second – 4 GB RAM (8GB required for HD and 4K videos). Intel HD Graphics 5000 or later; NVIDIA GeForce GTX 700 or later; AMD Radeon R5 or later. 2 GB VRAM (4GB required for HD and 4K videos).

Third – At least 10GB free hard-disk space for installation (SSD-Solid State Disk recommended for editing HD and 4K videos). As well you need an internet connection to access Filmstocks.
FAQ on Filmora vs Viddyoze
Now, in this segment of Filmora X vs Viddyoze 3 comparison, let me cover a few FAQs.
Filmora X FAQs
Here are the common FAQs about Filmora X…
Can I edit green screen videos?
A big yes! This is an advanced feature that enables you to make use of any picture or color in the background of the video.
It actually increases the chances of getting more from your videos.
Can I add a logo or watermark to my video?
Yes, you can. Since adding a logo or watermark builds a sense of authenticity song the viewers, Filmora X has incorporated the features for the betterment of businesses.
 Do I get the option to add audio to the video?
Yes, you can. A video without suitable audio seems incomplete and to complete it you would require incorporating audio.
Filmora X gives you the freedom to choose from their huge library of audio tracks.
Viddyoze FAQs
Here are the common FAQs about Viddyoze 3.0…
Are there specific templates for specific businesses?
Yes, there are! You can find many templates designed in the best way to suit the different business niches. In order to check the template, you will require signing up for the template club.
Where can I use Viddyoze 3.0?
There are several ways Viddyoze 3.0 can be used. Some of the most common uses comprise social media promotional videos, create GIFs, and animations.
Your online businesses can leverage this software to find more engagement.
Are there animations that I can use?
Definitely yes! If you are willing to use animations in your video, Viddyoze 3.0 permits you to do that. Rather, you can get stunning live-action animation that can add glamour to your video.
Viddyoze vs Filmora comparison Verdict
My first recommendation for you is Viddyoze. If you are a beginner or have limited time to create your marketing videos then you should go with Viddyoze.
Viddyoze has 170+ ready-made professional and customizable templates. So you can create your videos within a few clicks. It will save you time and money.
Filmora X also has huge templates but to run this software you need a compatible system and basic video editing skills to manage your video editing task.
If you have time then you can create amazing videos easily using Filmora X's wide range of powerful editing tools. Filmora X is a little bit more expensive than Viddyoze.
Please share this Filmora X vs Viddyoze 3.0 comparison.
Please SHARE this Article
👇👇🏽👇🏿 ALSO READ 👇🏿👇🏽👇