Recently we are hearing a lot about video conferring all because of the pandemic and our work-from-home, study-from-home conditions. It's not that video conferring was not there before, but it is because a lot more popular in recent times.
However, video conferencing can be challenging! It happened so many times that we suddenly found ourselves booted out of the meeting due to poor internet connection, or unable to hear the voices properly due to a system error.
So I thought why not talk about the best video conferencing software and guide you to choose the best video conferencing solutions for your requirements? So, let's start…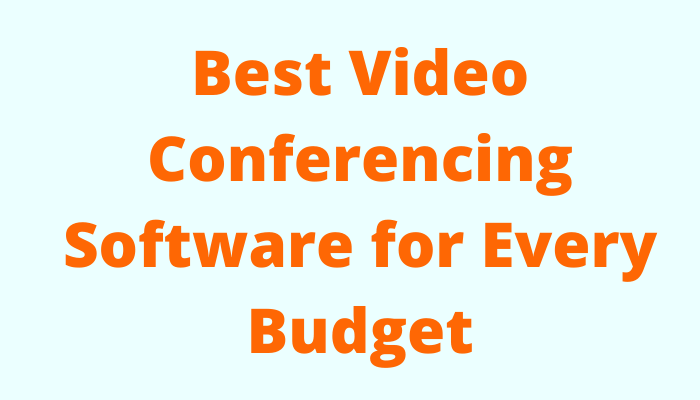 What is Video Conferencing?
Video Conferencing is termed as a live, visual connection done for communicating between two or more people residing in other locations. Video conferencing allows you to share static images, texts and documents, and much more.
Video conferencing mainly includes the transmission of full-motion video images and clearly audible audio from multiple locations using computer networks and the internet.
We mainly need video conferencing for business meetings and follow-ups, where you can easily communicate with your partners through a cloud-based virtual meeting room and web conferencing.
Video conferencing has become the most important form of communication all over the world because we can hear and see our business partners, and clients.
Since through video conferencing, we can both see and hear others opposite the screen it makes communication more effective.
On the other hand, we also like to spend time without friends through video conferencing. In recent times, even teachers are offering classes to their students through video conferencing. It is called multipoint video conferencing.
"In the present time, video conferencing
is becoming the new norm".
But still, it is the maddening part of working from home right? As an employee you struggle with confusing software, it becomes more awkward when you are unable to follow what your boss is speaking about if the internet is slow, but when it works, it builds a genuine and easy connection.
I dedicate this blog to everyone who is struggling with video conferencing and willing to adapt themselves to the few changes.
Read through the details, and I assure you that the next time you use video conferring you will feel it's your new friend guiding you to give your best.
Required Things for Comfortable Video Conferencing
From closing business deals to teaching the student, attending tuition classes, to managing remote teams, video conferencing has become a smart part of our life and the critical need of the hour.
The main purpose of this blog is to ease your video conferencing journey, so let's discuss the main video conferencing equipment required for proper video conferencing:
A Video Conferencing Software
Firstly you need video conferencing software that enables online communication and in-person meetings. Choose robust and user-friendly software to experience smooth conferencing. I will guide you through this post. Keep reading…
Internet Connection or WiFi
Internet connection is very important, as this is the medium through which you get connected. You can connect yourself to the video calling software through mobile internet, or wifi.
Required Bandwidth
For a smooth error-free video conferencing experience you will need a bandwidth of 650Kbps to 1 Mbps. If the bandwidth does not meet the mentioned requirements then you can experience video pauses and poor connection issues.
The Camera is Important
The main aspect of video conferencing is the camera. So make sure that alive mentioned devices you are using are having a proper camera. The camera captures the picture, therefore, make sure that your camera pixels are good to get a clear image.
Speakers and Microphones
So the device you are using must a microphone to capture your voice and also let you hear what the opposite partner has to say. For error-free video conferencing listening to the audio properly is very essential.
So, make sure that you connect yourself with good headphones or earphones during the conferencing.
A Proper Display
It's best to treat a video call like an in-person meeting, and for that, you need a proper display. Desktop conferencing, laptop conferencing, smartphone conferencing, or widescreen conferencing like projectors are the types of displays generally used to turn a meeting space into a video meeting space.
To simplify your video conferencing I refer to the following screen sizes:
42"–50" screen for a small room video conference
42"–60" screens placed side by side for a Boardroom
If the Video conference is held in an auditorium an HD projector with 2500 to 4500 lumens is the best display option.
9 Best Video Conferencing Software in November 2023
With many Video conferencing software available, I believe you must choose the software according to your team size and work capabilities for the perfect meeting and webinar solutions.
Video conferencing software, (For eg. Skype, GoTo Meeting, Zoom) increases productivity among the team, and you can complete the projects faster, with regular follow-ups.
Moreover, you can understand a topic much easier with features like HD video sharing and free screen sharing.
To make things more simple and to help you choose the best video conferencing software, I have reviewed and ranked the best 9 video conferencing software list.
This will work for any business (teaching, office meetings, webinars, tuition classes, team meetings, client meetings, and endless other video conferencing requirements).
1. Zoho Meeting
Zoho meeting employs a unique and distinct technology for video conferencing and webinar requirements.
Since security and privacy are very important I found that Zoho meeting protocols protect the online information as it is encrypted and maintains all privacy standards.
What I found interesting is that you can use moderator control to steer the course of the meeting.
You can enable sound notifications to understand the entry and exit of participants. Not only that you can mute selected participants to reduce noise.
Other options that make this video conferencing software extremely interesting are the screen sharing facility, where you can share your screen, and share documents to ease the online meeting.
---
2. Microsoft Teams
The second software on our list is Microsoft teams, this software makes one-click video calling quick and easy.
What I find very attractive about one of the best web conferencing tools – the Microsoft team is that you can hold meetings, and collaborate with your partners all in one place irrespective of where you are.
This smart software cum app, supports video calls, chats, setting reminders, screen sharing, and endless other features.
You can add 10 members to as many as 10,000 members. So, this software makes attending office meetings, holding classes, and webinars easy.
This is not just the end, using the Microsoft team you can also search for files. and access the share, and edit in the docs.
---
3. Adobe Connect
Adobe Connect is a must in my video conferencing software list as it has impressive features and a quick setup process, with a user-friendly dashboard and interfaces.
Adobe Connect helps enterprises meet business continuity, schools conduct virtual classes, governments make rapid responses, and hold cabinet meetings. Adobe connects with its comprehensive features and delivers the best platform to conduct webinars.
Why I say this is one of the best online meeting software because it's a cloud-based interface that lets you connect with both desktops and smartphones.
Apart from creating webinars, adobe connect allows us to host videos and share documents. The variety of templates helps you to customize your virtual environments and also create unique registration pages.
I recommend you this video conferencing service for covering virtual events as this platform has already succeeded in connecting over 2.5 million people every month.
---
4. GoToMeeting
GoToMeeting is powered by Log me in and can help you build collaboration with any type of business. This video conferencing software can help you with a one-click meeting, instant joining, and managing video facilities.
Whether you are in your home, or conference room choose Go To meeting for the best video conferencing solutions.
The other benefit is that GoToMeeting is free video-conferencing software and can be operated from all types of devices desktop, Mac, and Android.
Let me explain some of the features of going to a meeting, Automated provisioning makes it easier to sync your active directory.
So, I believe this video conferencing service can ease your daily meetings and virtual classroom requirements.
---
5. Skype for Business
Skype is one of the best and most popular video conferencing software that aims to provide a professional online meeting solution.
Skype has a very easy-to-use framework, and you can set the profile picture, share your documents, find documents, create groups, can easily share your screen to make your facts clear and easily understandable.
Moreover, skype can be operated from desktops and is also one of the more popular video conferencing apps used for virtual communication.
What's more interesting is that Skype is free video-conferencing software and is used by maximum video-conferencing companies for internal conferencing or meetings.
So, if you have not yet used Skype for video conferences, get it installed now!
---
6. Livestorm
Livestorm offers the best video conferencing software list as it provides efficient communications for virtual events.
This video conferencing service can be operated from all types of devices be it PCs, laptops, or tablets, or smartphones.
Moreover, it can run live, automated, or on-demand, and webinars, Not only that you can easily conduct employee board meetings online courses, classroom teaching sessions, and much more.
There is a special feature of the internal conferencing software that you will love, the email logistics functionality. Using this feature you can easily send automated emails, check email status, and more.
Looking through all the exclusive features I can say that Livestorm is a must-have in my video conferencing software list.
---
7. Demio
In case you are willing to record your webinar along with attending it, then there cannot be any other best video conferencing software other than Demio.
This video conference platform offers a value-based customer experience as it can automatically record sessions and of course, you will be able to use it later. Also, these recordings can be accessed and downloaded anytime.
As a webinar software, it delivers HD streaming and email support along with 24/7 chat support. Being one of the best web conferencing tools Demio has powerful tracking options and in-built analytics to track the success of your webinar.
Therefore, I suggest this video conferencing tool to everyone planning to outreach your clients, and customers with your webinar goal.
---
8. StarLeaf
Created by industry experts Satrleaf makes remote working possible for you. While it lets you join the meeting from anywhere from conference suites to working from your home, you will have no issues with the audio, and video.
Not only that StartLeaf also provides free video conferencing as their basic package.
Next, they have two other packages for businesses and enterprises. I say this is one of the best video conferencing and webinar solution providers as it meets with up to 100 participants, provides business support and consists of a central admin dashboard.
It also provides custom meeting invitations along with other features that you seriously need for the best video conferencing.
---
9. Zoom
Zoom is one of the most used video conferencing software which also provides messaging solutions for both desktops and smartphones.
Why I feel zoom is one of the best video conferencing solutions because of its scalable features and easy-to-set-up conditions.
If you are a school teacher, college professor, or running a training institute you can easily hold classes using zoom because it can support as many as 1000 participants.
The meetings are saved in the cloud, and transcripts have searchable texts. Since the Zoom meeting has a user-friendly interface and comes with various security features, and also takes into count that this is free software.
You can sign in to Zoom in for the best video conferencing experience.
Essential Features of Video Conferencing Software
You must have gone through my 9 best video conferencing software lists, and you must have noticed the common element in all these software. If not then I will explain it to you.
All these video conferencing platforms comprise user-friendly and flexible interfaces. It may have a different look but they all have a common aim, which is to provide you with the best virtual platform for video conferencing.
Let us discuss the most essential features of online meeting software so that you do not have to make any kind of compromise in your webinar, or virtual meetings.
Sound and Video Quality
Sound and video quality play a very important role because the more clarity the image has the more understandable the body and hand movements are.
Moreover, audio quality is as much important as visuals, because proper audio makes the words of the speaker easily understandable.
So, make sure that you put on headphones while you are on video conference, or even if you are on Video Conference make sure that the sound is easily heard.
Recording
The ability to record your video conference or webinar is the best practice for risk management.
I believe you must look for this feature in your webinar software so that if you do not understand, forget, or miss certain points during the meeting, conference, subject classes, or special training you can turn on the recording and check the missed out details.
Screen-sharing
When you are up to making others understand certain points, explaining facts over – the phone becomes very difficult. Therefore, through screen sharing, you can ease your complete process.
You easily take the cursor to the area you want to explain and or want to make changes, and ask the developer, designer, SEO executive, engineer, and anyone to concentrate and make changes.
In-app chat
If you are already using Skype, or Zoom, go to a meeting probably you will know what in-app chat means.
It is the ability to chat individually or through creating groups. In-app chat lets you communicate details about the project and provide instant replies to the queries asked.
Calendar integration
The calendar integration feature organizes the details of a video conference by allotting invitation recipients automatically. With this feature, you can also set reminders or add events to the calendar
Network bandwidth
Video conferencing requires a bandwidth of 128kbps for a low-quality desktop endpoint, to 20 Mbps when it comes to three-screen telepresence. The bandwidth requirements are based on the resolution, and the session to handle the image motion.
IT Security
When it comes to online software and applications IT security is a must. Video conferencing platforms can introduce complexities.
For example: If your company relies on VPN services for remote access, then you will have to investigate several other factors if their VPN is incompatible with adjusting your conferencing solutions.
Support
While choosing the Video conferencing software make sure that you check on the support provided by them.
We all love instant support, right? Most of the video conference service providers I have suggested you provide 24/7 hours support. So, feel free to check them out.
What is the Best Video Conferencing Software for Small Businesses?
I believe Zoom and Skype are the best video conferencing software for small businesses.
Since both Skype and Zoom have a basic package that is completely free, you can easily connect with 50 participants using Skype and up to 100 participants at a time using zoom.
Both the apps are cloud-based and you can connect them with any device you feel easily.
Zoom is supported by devices like Android, iOS, macOS, Windows 10, and Linux (including Ubuntu). And Skype is supported in Windows, Mac, various web browsers.
So, since skype has no call duration limitation and if your employees are between 50 you can choose Skype.
In case you have a small business comprising 10, 15, or 20 employees I suggest Skype as the ultimate video calling support system for you.
On the other hand, in case you need to hold a video conference with more than 50 members, go for zoom, Microsoft teams, or adobe connect.
What is the difference between a webinar and web conferencing software?
During a video conference, you can interact with everyone sitting opposite the screen. On the other hand, a webinar is guidance, tricks or training, or experience shared by a subject or industry expert for others to benefit from it.
Webinar software is much more customized and allows users to modify the webinar according to their needs. As webinars are virtual events a presenter must add a personal touch to them.
Good webinar software can generate high-quality leads for you. On the other hand, web conferences are done for the purpose of business meetings, and direct interactive training.
Contrary to webinar software, video conferencing software may or may not provide collaboration of large groups.
Video conferencing tools can accept participants from 50 to 1000. But when it comes to webinar software it invites the presence of a large group of audience.
The video conferencing software provides real-time solutions and you can expect answers immediately through audio chat, text messaging, or video chat.
Tips to Shortlist a Video Conferencing Software?
It becomes easy to get confused when it comes to shortlisting video conferencing software. Here I mention you some of the useful criteria to consider software:
Verify how many users can be present at a time
Some of the video conferencing plans if bought annually are less than monthly plans.
Review whether the video conferencing software you are interested in comes with a free plan or trial.
Check whether the video conferencing software you want to use comes with your required features
List of free video conferencing software
In case you have just started a Startup, or you are an entrepreneur, or maybe a freelancer you will always prefer free video-conferencing software so that it can easily meet their requirements.
When cost becomes the prime consideration free video conferencing software can help you transmit your voice and share your business requirements.
Here are the best free video conferencing service providers which will surely guide you to get the job right.
ZOOM
Uber Conference 
Google Hangouts meet
Skype
Twitch
Jitsi
Go to meeting
Microsoft teams
Team viewer
Adobe Connect
Global Meet Collaboration
Zoho meeting 
Warping Video Conferencing Software Suggestion
As you are accepting a changed lifestyle with technology updates and this is why you must select the best video conferencing platform according to your requirements.
I believe all the above-mentioned video conferencing tools and software have the most exclusive features and functionalities.
Now coming to the final question, I have mentioned the 9 best video conferencing tools, but which software is going to best work for your business?
The decision is left to you, but do not forget to review a few things like the budget, and make a comparison of the features seamlessly.
Identify the size of your audience and your video conferencing requirement to engage them. The best part of this video conferencing software is that all of them come with a free trial (which is a money-back guarantee).
So, whether to upgrade or not is up to you. But I will recommend you check the trial package of this video conferencing software for the best webinar and video conferencing experience.