Looking for the Offeo alternatives software? With so many options to choose from, it could be a hectic task for you but don't worry I did the heavy lifting for you. I have checked all facts (software features, price, customer support, and other user reviews including my own experience) and selected only the 5 best Offeo alternatives in November 2023. Save time and pick anyone with confidence.
Check out the below brief introduction table first and later we will review each software in detail.
Overall the Best
Animaker
Animaker is a powerful animation video maker that can use by any video creator.
Best for Beginners
InVideo
InVideo is a leading online video editor that lets you make attractive videos easily.
Best for All Creators
WeVideo
WeVideo offers tons of features including animated text, effects, green screen.
Ultra Budget Pick
Wave.Video
Wave.Video is an online video maker and video hosting platform. It's free to join.
Best for Professionals
CreateStudio Pro
CreateStudioPro is the best video animation software made for all video creators.
But let me tell you that undoubtedly Offeo is a great online video maker that enables users to create short and attention-grabbing videos for marketing.
Offeo is a high breed of graphics design and video creation tools, providing templates easily customized to suit any marketing campaign. With Offeo, you can become a professional video creator by using the available templates. The platform's user interface is easy to use; it employs a drag-and-drop system.
Offeo is best for making short marketing videos. It allows you to create marketing videos for your new product launch, special promotions, important announcements, or a festive greeting for your clients as a freelancer with complete creative freedom.
Furthermore, the platform allows you to create animated videos with a single click, to know more about this software read my full Offeo review, and don't forget to grab the Offeo lifetime deal at $98 (no more upsells).
Benefits of Offeo
Offeo offers advanced features to make thousands of designs from one image.
The UI is newbies-friendly. It is easy to navigate, upload, and edit content.
To use Offeo, you don't need the skills to create an animation video.
Offeo offers thousands of templates that are easily customizable to suit your business.
Anyway…
Why you should try Offeo Alternatives and Competitors?
Even though Offeo offers excellent features, you should try other Offeo alternatives and Competitors.
These platforms offer great features, including cloud storage, voiceover features, Screencasting, and several editing modes.
In pricing, the paid version of some of the Offeo alternatives and competitors is quite affordable.
Some give a lifetime purchase an alternative such as Animaker edits and exports high-quality 4k videos with higher rendering speed than Offeo.
The pros of using the other Offeo alternatives include;
High rendering speed
Edits 4K quality videos
Cloud storage features
Cheaper compared to Offeo and provides a lifetime purchase
So, today I am going to speak about the best alternatives to Offeo.
So, let's start.
5 Best Offeo Alternatives and Competitors Online Video Maker
Compare Offeo competitors using their descriptions below. The list gives the best choices for Offeo alternatives in November 2023. The other Offeo alternatives are more similar in terms of critical features and benefits.
Please compare the pros and cons of the Offeo competitors and alternatives to make an informed decision for your video creation needs.
1. Animaker
#1 One of the best Alternative to Offeo
Animaker is the leading SaaS Product Company in terms of growth. The platform has gained over 7 Million users globally. Animaker was first launched in 2014. Animaker uses two English words, "animation" and "maker," to mean animation maker. It provides tools to create and animate videos online.
The platform uses HTML5 and Adobe Flash to create animated videos to export to Facebook, and YouTube, and download as mp4 files. It also uses the drag and drop technique in its user interface, making it easy for newbies and non-skilled users. It is the best Offeo alternative free tool so far and the most used animation video maker.
6 Important Animaker Features and their Benefits
Animaker is the ideal creative and video-making platform for content creators looking to make great content for their business enterprises.
The following are the six most important features and the benefits that Animaker gives you.
1. Whiteboard animator with five unique board styles: Animaker provides whiteboard animators to let your video stand out!
2. 100+ charts, 1000+ icons, and 3000+ maps: Animaker provides thousands of stock files you can choose from.
3. A deck feature: The deck lets you create all kinds of productions, from picture-based to typography-based presentations.
4. Instant Uploads: Animaker can instantly upload your videos on Facebook and YouTube or download the master video file.
5. Edits 4k videos: Animaker lets you edit and export 4K video quality. 4K videos look clear and realistic.
6. Auto lip-sync: Animaker automatically synchronizes voiceovers to your characters
Types of videos you can create on Animaker
Animaker provides hundreds of templates; users can create several types of videos such as 2D animations, whiteboard videos, infographic videos, handcraft videos, typography videos, and GIFs. Animaker is the world's most extensive library for animations.
Why Choose Animaker over Offeo?
Both OFFEO and Animaker are two design platforms for online marketers. However, Animaker provides a large number of solutions to your business needs. In terms of service, Animaker is a similar software to Offeo.
However, In terms of audience, Animaker is used by marketers, sales, HR, and everyone else. Animaker also gives you high-quality videos in 4k that are very impressive, and the platform allows for more than one user at a time.
Animaker Pricing
Animaker plans and pricing are based on the number of features and video downloads.
Free Plan: Videos come with the Animaker logo watermark, and free video assets are limited. You export videos in SD Quality.
The Basic plan: It Costs $10 monthly billed annually. You get five premium downloads, build five custom characters and ten premium asset credits per month. You export your videos in full HD.
The Starter plan: It costs $19 monthly billed annually. You get ten premium downloads, build 15 custom characters, and 20 premium assets monthly.
The Pro plan: It costs $39 monthly billed annually. You get 20 premium downloads, build 30 custom characters, and 45 premium assets monthly. You also create and download 2K video quality.
The Enterprise: The pricing for this plan is custom. You get unlimited downloads, build complete characters, and total assets monthly. You also get to create and download 4K video quality and upload up to 20GB of files.
To know more read my full Animaker review.
---
2. WeVideo
#2 Offeo Alternative
WeVideo is a cloud-based tool that provides easy to use platform for video creation. WeVideo allows you to create professional videos, podcasts, and more. WeVideo Inc. was founded under the name of Creaza, Inc., the company publicly launched in 2011 with a change of its name.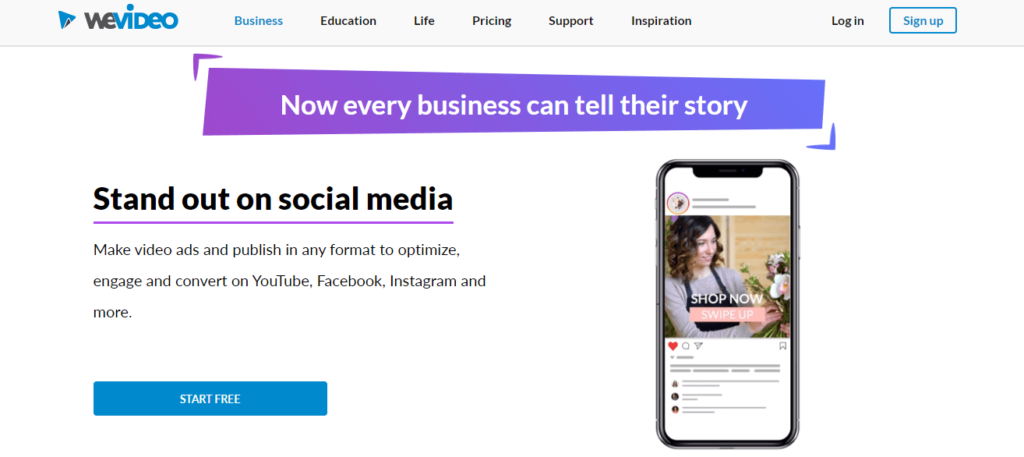 The WeVideo foundation's idea was that everyone, both skilled and unskilled, gets an opportunity to create and communicate through videos using easily accessible tools. Since then, over 30 million video makers and marketers have created their accounts with the platform.
6 Most Important WeVideo Features and their Benefits
Wevideo is an advanced video editor for capturing, creating and sharing 4k resolution videos. The following are the six most important features of a Wevideo loved by its users.
1. User-friendly interface: This software's layout is straight and direct, making your editing work simple, thereby giving you full control of your imagination.
2. WeVideo is cloud-based software: Users of this software collaborate to work on a single project collectively. You get to invite friends to join you to make different edits on the same footage. This also enables you to work from anywhere since you can access your project anytime.
3. Two editing modes: The WeVideo Editor comes with two editing modes. Professional editors use Storyboard and Timeline modes. To allow the use of more features, use the Timeline mode.
4. Voiceover features: Adding a voiceover to videos creates powerful stories without switching to a timeline.
5. Screencasting capabilities: Screencasting enables users to watch screencasts at a time.
6. Motion titles: Wevideo provides you with motion titles to quickly create videos with attractive texts and graphics elements.
Types of videos
you can create on WeVideo
WeVideo provides a platform for creating several types of videos, including. 2D animation, LinkedIn videos, Instagram videos, Facebook videos, and YouTube videos. There are several video formats supported by WeVideo.
The most common file extensions work with WeVideo, including. MOV and .MP4 files. To export your work in Full HD, we recommend using clips that are at least 280×720 pixels at 24fps.
Why choose WeVideo over Offeo?
WeVideo offers excellent features that you would choose for your business. In terms of the user interface, WeVideo gives you complete control of your video editing experience.
You can easily capture, edit, and share your videos with the safe storage of your projects in the cloud. The software also gives voiceover and multi-track editing. Finally, WeVideo updates and roadmaps look more significant.
WeVideo pricing
Free plan: This is a free service with limited features. You get 1 GB of cloud storage to publish 5 minutes monthly. You only export 480p resolution videos with a watermark.
Power plan: This plan costs $4.99 monthly billed annually. You get premium editing features and publish 30 minutes monthly. You export videos in 720p resolution and create vertical and horizontal videos.
Unlimited plan: This plan costs $7.99 monthly billed annually. You publish an unlimited number of videos with 4K video resolutions and motion titles.
Professional plan: This plan costs $17.99 monthly billed annually. It allows for the complete publication of 4K videos plus unlimited use of 1 million commercially licensed media pieces.
Business plan: The Business plan cost is $29.99 per month while billed annually. This plan provides a Team license (which includes three seats) and unlimited use of managerial tools. You can create and use your template.
---
3. Vyond
Vyond was founded in 2007 as a GoAnimate. The company's mission is to empower everyone to create attractive animation videos easily using ready-made templates. Vyond provides various features that help create flowing stories and utilize data to engage the audience and deliver business results.
Vyond has more than 12 million users globally and it helped small enterprises make creative animation videos at a lower price.
6 Most Important Vyond Feature's Benefits
Vyond provides a platform that is easy to use to create, update, and iterate video projects. With Vyond Studio, you can combine the inbuilt templates to create a dynamic video that fits your brand. The following are the six essential features that Vyond possesses.
1. Automatic lip-sync: With Vyond, you can upload an mp3 file or recorded speech and align with your character with just a click of a button.
2. Global Editing: This feature allows for an instant swap of an aspect that appears in multiple scenes of your video, enhancing Vyond Studio's productivity.
3. Expanded timeline: Vyond provides an expanded timeline view to check on your scenes' various effects. The extensive view also gives you a quick way to make changes by drag and drop on the timeline.
4. Premade Templates: Vyond Studio provides ready-made templates for all businesses. These templates are an easy starting point in your creative work.
5. Version history: Vyond version history allows you to switch back to each saved version of your video in case of any mistakes while doing your editing work.
6. Keyboard shortcuts: The shortcuts help minimize time spent while copying and pasting, undoing and redoing, or even more.
Types of videos you can create on Vyond
With the more splendid templates and perfect features for video creation, Vyond creates videos that are uniquely suited to storytelling and that capture viewers' attention. Marketers use the platform to create promotional ads, build product campaigns, and animate GIFs for targeted audiences.
Vyond is also used by individuals and social media video-makers to create animated eLearning courses together with perfect social media videos. Videos created on Vyond are always available for download in either 720p or full HD resolution as MP4 files.
Why choose Vyond over Offeo?
Vyond provides various useful features that you would choose over OFFEO. In terms of live support, Vyond offers 24/7 live support and every day is a business day. Vyond also provides a great media library and has the most animated graphics than other SaaS industries.
Their pictures are grouped into three categories; contemporary, whiteboard, and business contemporary. Finally, Vyond provides collaboration tools and, therefore, is suitable for users that look to create long-format videos.
Vyond Pricing
Vyond is a very costly software and it uses four pricing plans. Vyond offers a 14-day free trial, after which the software is available in three paid packages.
Essential Plan: A basic plan for those on a tight budget. It costs $299 annually for a single user.
Premium Plan: This plan is suitable for small businesses. It costs $649 annually for a single user and includes high-quality exports and live chat support.
Professional Plan: This plan is suitable for medium and large-sized businesses. It costs $999 annually each and Includes advanced features and priority customer service.
Enterprise plan: This plan combines Vyond Professional with advanced information security features, training & boarding assistance, and a dedicated account manager. The cost is customized.
To know more read my full Vyond review.
---
4. Wave.Video
Wave.Video is a marketing platform combining an online editing toolkit, cloud-based hosting for videos, and a landing page builder in one place. It's the perfect platform for creating and publishing videos on blogs, websites, and social media. Wave.Video was founded in 2017 with the mission of allowing all individuals to create stunning videos that can drive their businesses.
Wave.Video gives you the most delicate tools for social media, video ads, video marketing, digital marketing, video hosting, video editing, business, social media sharing, and video editor. The company's main headquarters is in Boston, Massachusetts, with an employee number between 15-20.
Most Important Wave.Video Features
Wave.Video helps you create videos that increase ROI for every stage of your marketing funnel. The platform provides video tools for social media.
It is used by digital marketing agencies, digital marketers, video marketers, entrepreneurs, bloggers, vloggers, and influencers. Most of its users enjoy its use because of the following six essential features.
1. Easy to navigate Stock library: The platform comes with millions of stock images and video footage. In the latest update, the platform made it easier for a user to access the stock library.
2. Favorite folder: The platform allows you to save images and videos to use the latter in your project.
3. Free text position: This feature helps your creative workflow smoothly without text obstructions. You can place the text anywhere on Canvas since you are not limited to the grid.
4. Advanced audio editing: The platform provides advanced audio editing features to make your video more versatile and customized by adding several audio tracks to one video
5. New template categories: The platform has divided templates into categories, making it easier to search and choose your enterprise's best.
6. VoiceOver feature: In Wave.Video, you can record a voiceover right in the editor when creating your video.
Types of videos you can create on Wave.Video
Wave.Video gives you the most delicate tools to create social media videos, text animation videos, slideshow videos, product demo videos, and explainer videos.
You get to choose your preferred video format and the video quality from the type of template used.
Why choose Wave.Video over Offeo?
Using Wave.Video makes it simple to create, download, and launch videos to social media sites, training, and the Facebook community.
Wave.Video also combines three online editing toolkits, cloud-based hosting for videos, and a landing page builder in one place.
Wave.Video Pricing
Free plan: Basic video creator for every individual.
Creator plan: Advanced video editing and hosting for creators. Costs $20 monthly billed annually
Business plan: All premium features for businesses and agencies. Costs $40 monthly billed annually
---
5. InVideo
InVideo was founded in 2017 by Harsh Vakharia, Pankit Chheda, and Sanket Shah, with its headquarters in Mumbai, Maharashtra, India. It is a video creation platform that helps make professional videos from inbuilt templates.
Users can create videos from scratch using the available templates and customize them to fit their business.
InVideo enables you to create content for your Facebook Story, YouTube channel, and IGTV, among others. The organization's primary mission is to minimize the stress of video editing globally.
Most Important InVideo Features
The following features make its users enjoy creating videos on the platform.
1. Easy to use: It requires minimal knowledge and skill in video editing, which allows you to focus on creating videos to boost your brand reputation and growth.
2. Inbuilt templates: InVideo is equipped with a library of pre-made templates for a variety of uses.
3. Royalty footage: It also offers royalty-free photos and videos that you can use to attract and engage viewers.
4. Voiceover: You get to record a voiceover right in the editor when creating your video.
5. Automated text-to-speech: It also comes equipped with an automated text-to-speech feature that you can utilize to tell a story through your videos.
6. Cloud-based: You can add team members to help you collaborate and create content.
Types of videos you can create on InVideo
InVideo creates YouTube videos that stand out. Marketers use the platform to create promotional ads, build product campaigns, and animate GIFs for targeted audiences. Videos on this platform are always available for download in either 720p or full HD formats as MP4.
Why choose InVideo over Offeo?
If you compare Offeo and InVideo, you will notice that Offeo is specifically for marketers and designers in small businesses and marketing agencies to make short video ads, InVideo serves media companies, small businesses, and brands to expand audience engagement.
InVideo pricing
Free plan: Video creation features are limited, and you export your videos with a watermark.
Business plan: The most used plan. It costs $10 monthly billed annually.
Unlimited plan: Majorly for large organizations. It costs $30monthly billed annually.
To know more read my full InVideo review.
---
Conclusion – Over to You
Without a doubt, Offeo is an excellent online video tool for marketers to create short, attention-grabbing videos.
However, you should try out other alternatives and Offeo Competitors, considering the excellent feature that this competitor poses.
Review the above Offeo alternatives to see any that you should also consider in your software search.