Disclaimer: 2022 Black Friday Deal has Ended. The offers mentioned in this article are of the 2022 Black Friday Sale. Still, you may discover current offers of the respective below-mentioned companies by visiting the given links.
Are you looking for the best Black Friday deals on web hosting for 2022?
If yes, then you have arrived at the perfect post. I have analyzed and got some exclusive Black Friday web hosting deals, which will save up to 95% on your web hosting costs!
If you do not know that, what is the best Black Friday web hosting deals? Then let's know Black Friday in some easy words. It is the day after the day of thanksgiving in America.
It is America's essential annual holiday and one of the days that attract a lot of sales with incredible deals and offers for the globe.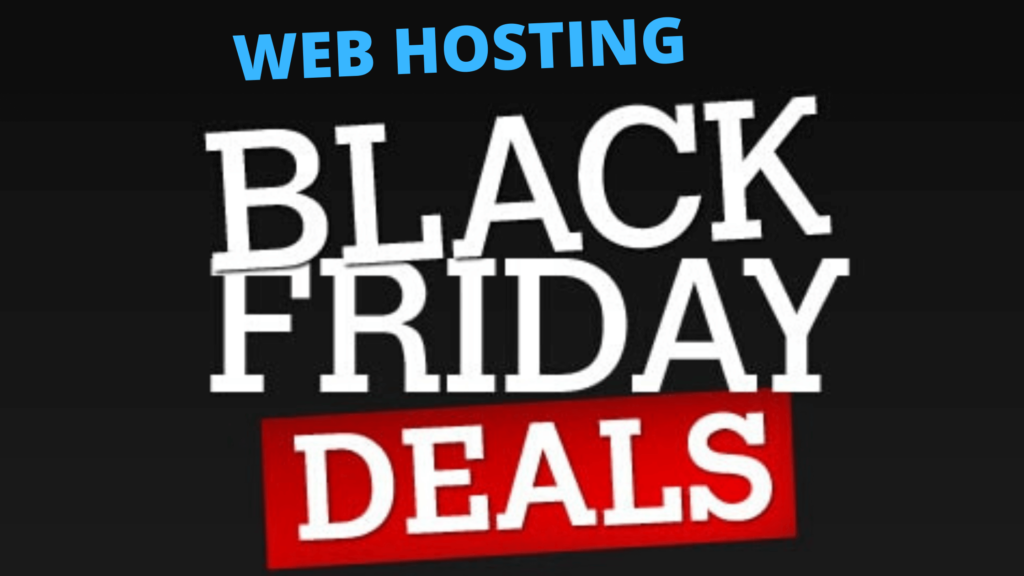 And on the same day of Black Friday and throughout the week, almost all of the hosting service providers offer various deals on web hosting services with many deals and discounts at a reasonable rate.
I have researched and listed the 8 best deals on web hosting in 2022 Black Friday.
Please Note – The offer may vary from time to time and depending on the company's promotion activities.
Best Black Friday Deals on Web Hosting 2022
Here, I have picked the 8 best Black Friday deals on web hosting in 2022. Let's have a look at Black Friday hosting deals…
A2 Hosting is one of the best web hosting solutions. If you consider speed to be a factor in your website hosting, it is the best option for you. A2 Hosting uses SSD servers that are extremely fast compared to other traditional disk-based servers.
Websites that are using A2 shared hosting can load within 2 seconds. Also, the A2 Hosting services offer everything you require to satisfy your Small Business Hosting requirements like CMS, CRM, analytics, blogs, schedule, and many more.
The best thing about them is that they offer free migration of the sites. They also offer free SSL certificates on each hosting package.
The A2 Hosting offers the best Black Friday web hosting deals in 2022
Shared Hosting: 67% flat discount started at only $1.98/month.
Managed WordPress Hosting: 60% off, starting at $9.78/month only.
VPS Hosting Plans: 50% discount on the basic Managed and Core VPS, starting with $25/month only.
Dedicated Server: 50% discount starting from $96.5/month only.
Reseller Hosting: 40% off starting from $9.8/month.

---
Cloudways is a well-recognized hosting company, and they integrate with five larger cloud service providers. It is the best hosting service where one requires not to create accounts on the best cloud platform. They handle everything and establish your website in a single tick.
Cloudways web hosting has been recognized as setting up a website by Cloudways, its fast responding speed, and very reliable customer support and service to resolve every glitch you have. They offer Free Site Migration and Free SSL services also.
It is a smart decision to select Cloudways on Black Friday for the best web hosting deals in 2022. Cloudways offers various plans of 1GB, 2GB, 4GB, 8GB, 16GB, 32GB and 48 GB. And during Black Friday deals on web hosting, they are offering 40% discounts for the first three months, and the same coupon code is BFCM40. First, try Cloudways deals on web hosting, and thank me later.
---
WPX hosting is top-notch and the best WordPress secure hosting. Their blazing rate and excellent client support make WPX top-notch hosting services. WPX is the speediest in WordPress optimized hosting twice faster than others. They are at the number one position on G2 Crowd & Trustpilot.
The speed given by WPX hosting services is outstanding, and they offer free migration, free SSL, and free backup services also. Also, you can create here as many email addresses as you want. WPX hosting is not only the fastest but also the most secure hosting platform.
WPX hosting offers three different plans Business, Professional, and Elite. On Black Friday, WPX hosting provides the first month at a 99% big discount to all first-time users in all three plans.
Like Business Plan of $24.99 decreased to 0.25 cents, Professional Plan of $49.99 decreased to 0.50 cents, and Elite Plan usually $99 decreased to 0.99 cents just for 1st month.
Also, offer three months free on annual subscriptions in all three plans. Without a second thought, you can try WPX deals on web hosting.

---
InMotion Hosting is located in Los Angeles, California, and was founded in 2001. InMotion has an excellent reputation and some advanced advantages to users who are engaging with them. In the hosting industry, they involve a free domain name with plans of a minimum of one year with free migration services.
InMotion Hosting offers unlimited email accounts, MySQL databases, domains, websites, and bandwidth. They also give 90 days' money-back guarantees if you are not happy with their services.
InMotion Hosting services provide outstanding client support by email, calls, and live chat. InMotion Hosting is suggested for small-to-medium size firm websites.
InMotion Hosting offers up to 41% discounts on WordPress Hosting or 50% off on Business Hosting on the Black Friday sale 2022. WordPress Hosting plans of $8.99/mo, $16.99/mo, and $16.99/mo are available at just $5.99/mo, $8.99/mo, and $11.99/mo.
In Managed VPS Hosting, 15% discount on their renewal fee, and in Dedicated Servers, they offer double storage deals. Without hesitation, you can grab InMotion deals on web hosting.
---
Bluehost is the most famous and old web hosting company. WordPress officially recommends it as one of the top hosting organizations for WordPress. As more than 2 million websites are being hosted on Bluehost, it is recognized as the broadly used hosting service.
Bluehost Hosting offers free domain and SSL certificates with the unlimited website, storage, add-on domains, and bandwidth. It provides a powerful control panel, FTP & Shell access with 24 X 7 professional customer support. WordPress installation can be done quickly with just one click.
On the Black Friday sale, you can get 75% off hosting services, and a .com domain is only $2.9 for one year. It offers three plans:
Starter: For 36, 24 and 12 months rate is only $2.95, $3.95 and $4.95 respectively
Plus: For 36, 24, and 12 months rate is only $5.25, $6.95, and $7.95 respectively
Pro: For 36, 24 and 12 months rate is only $13.25, $15.95 and $18.95 respectively
---
HostGator is one of the best and most reputable web hosting firms below the Endurance Group. Brent Oxley founded a web hosting firm in 2002, and it is recognized as HostGator. After ten years, on June 21, 2012, Brent Oxley marketed HostGator to web hosting conglomerate Endurance International Group.
HostGator has outstanding features that bring most of the people to take this web-hosting service over other services.
HostGator web hosting provides Linux hosting, and it has 24 X 7 customer support to get any support for various problems.
It offers unlimited disk space and bandwidth, easy cPanel access, one-click setup, and 45 days money-back guarantee.
HostGator offers a Hatchling plan, Baby plan, and Business plan. On Black Friday sale 2022, on HostGator, you can get up to an 80% discount with free domains.
You can avail of it using the CYBER2021 coupon code. HostGator Black Friday hosting deals 2022 is for a limited period of 6 days, so don't miss HostGator deals on web hosting.
---
AccuWeb Hosting is a debt-free, privately held firm, and it offers reliability, transparency, and quality. It has 101,025+ global customers, and they aim to know your necessities and provide all the hosting requirements. AccuWeb Hosting has been in the field hosting services for more than 15 years and provides a large number of clients.
One of the important factors in reducing latency so that your website or application load fast. AccuWeb Hosting enables you to pick between a single or double dedicated server.
The best thing here is that you can configure a server before publishing where you can choose the operating system, storage, RAID level, backups, and other benefits.
AccuWeb Hosting provides a broad range of services, like shared, cloud, VPS, WordPress, and dedicated hosting. On the Black Friday offer, AccuWeb Hosting will offer a flat 30% off on all web hosting plans.
AccuWeb Hosting's Coupon code is BLACKFRIDAY2021 for the Black Friday deals 2022. You will never regret it if you select AccuWeb Hosting deals on web hosting.
---
Final Recommendation
By choosing any one of the hosting services providers, you can get the benefits of Black Friday Hosting 2022 deals to get hosting servers at throwaway rates.
Most bloggers buy a host server during this time of the year to have a significant discount.
If you are also thinking of having a new website or new blog and finding the best-hosting services providers, choose any of them and buy your first web hosting during this Black Friday deals 2022.
FAQs on Black Friday Web Hosting Deals 2022
Now let's check some frequently asked questions on Black Friday Web Hosting Deals 2022.
When will the Black Friday Hosting Sales begin in 2022?
In 2022, Black Friday is going to start on 27 November. So mostly all the hosting services firms are starting their sales in the Middle of November.
Are Black Friday Deals beneficial?
Yes! You can get a big discount on the hosting services on this day.
Do I require VPS or Shared Hosting?
If you are a blogger or a beginner, then shared hosting is the best option, but VPS is the best for larger businesses or high-traffic websites.
What If I do not like a Hosting Service after Purchase?
Many of the hosting services provide a money-back guarantee so do not worry if you do not like services, you can get their support for the same.