Hello Marketers! Are you using the InVideo online video editing tool and you feel it is holding you back with your creativity or unable to fulfill your video editing requirement for your projects? Then you certainly need similar or alternatives to InVideo.
Today, I am here to help you with the best InVideo alternatives that will work well for you and make it possible for you to have your needs covered to perfection.
But, before moving ahead with the InVideo alternatives, let's first understand the InVideo as it is also one of the best online video editor software.
About InVideo
InVideo is a perfect online video editing platform that will help you completely modify your content into excellent videos that will help you attract a lot of customers. These platforms are taken into consideration by businesses, companies, brands, and business owners to engage their clients and customers through video content.
InVideo Features Benefits
Huge media library
Audio tools
Speed Adjustment
Supports HD Resolution
Video Capture and Stabilization
Text Overlay option and more
InVideo Pricing
Professional Version: $4 per month
Business Version: $15 per month.
Hopefully, you are clear about what InVideo is but today, I will show you some alternatives to InVideo.
Top 5 Alternatives to InVideo in 2021
In this segment, I am going to discussing more about the InVideo alternatives that can be a perfect choice for you to make an online video, check it out:
1) Renderforest – (#1 One of the best InVideo Alternative)
When it comes to Renderforest, it is one of the best InVideo Alternatives for you to go with. This is a perfect online video editor for the marketer as it helps in creating your explainer animations, intros, slideshows, promotional videos, and a lot more.
In fact, this online video maker has done exceptionally well when it comes to providing amazing video templates. So, you can always consider buying this amazing software and promote your businesses to higher levels.
Renderforest Key features
Renderforest Advantages
The excellent spectrum of Content Library
Wide range of video templates
Renderforest Pricing Plans
Amateur: $59/month
Pro: $89/month
Business: $119/month
Enterprise: $299/month
---
When it comes to Viddyoze, it is a perfect online video editor for the marketer as it helps them get studio-quality intros. This online video maker will allow you to edit videos, add watermarks, design video templates, and a lot more.
So, you can be certain that the respective video editor tool is perfect for businesses of all sizes. It is a video editing software that will help you with bespoke animations, CTA overlays, team accounts, floating animations, and a lot more.
Viddyoze Key features
Audio Tools
3D Video Editing
Brand Overlay
Viddyoze Advantages
The major advantage of Viddyoze is the Media Library
You can also go with social sharing with the use of this online video maker
Viddyoze Cost and Pricing Plans
---
If you are looking for a design-driven online video maker that can help you with attention-grabbing video development then you can always go for Offeo. Being the perfect alternatives to InVideo, this video creation tool is a hybrid between a video creation platform and a graphic design tool.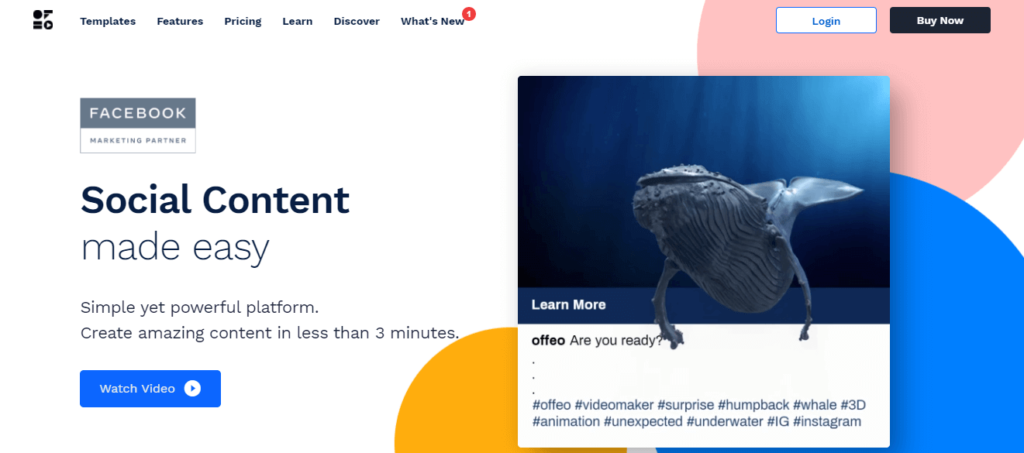 If you compare Offeo vs InVideo, Offeo will win in terms of short promotional video creation. The best part of Offeo is that it comes with a wide variety of video templates. So, it is a perfect option for to go for to promote your content engagingly.
Offeo Key features
Drag & Drop
Customizable Branding
Huge Media Library
Offeo Advantages
You will full creative control when it comes to customizing animated videos
It allows users to create attraction-grabbing short video ads.
Offeo Cost and Pricing Plans
Starting Price: $19 per month
Annual Price: $149 (per month $12.42)
---
If you are looking for a reliable alternative to InVideo, Vidnami has to be your favorite option. This video animation software is infused with the technology of artificial intelligence that analyses the provided text and helps you with the selection of relevant images and video clips automatically.
So, you will be able to create excellent videos without any technical knowledge. It will make it easy for you to boost your brandings.
Vidnami Key features
Artificial Intelligence
Full HD Quality & Different Video Sizes
Multiple Video Templates
Vidnami Advantages
This video animation software has a high level of engagement and shareability,
The tool helps you have a video that conveys messages faster and better.
Vidnami Cost and Pricing Plans
Monthly subscription: $47
Yearly subscription: $397
---
When it comes to VideoReel, it is acknowledged as one of the best explainer video software. This whiteboard animation software makes it easy for users to create animated videos for social media purposes and ads.
The best part about this doodle video creation software is that you will have a wide range of video templates, music, images, and various other design elements. This shows how this explainer video software makes our life so much easier.
VideoReel Key features
High-Converting Templates
Multi-Languages Text-to-Speech Tools
Huge Library of Contents
VideoReel Advantages
It will help you with a huge collection of contents
With the help of this whiteboard animation software, you can fully customize the templates
VideoReel Cost and Pricing Plans
Personal: $57 One time
Commercial: $67 One time
---
Still, if you looking for more option… here is two bonus 2D & 3D video animation software for Desktop that you can try.
If you are looking for a reliable online video creation platform for your branding purpose then you can always consider going with CreateStudio. It is an animation video editing software that will help with customized animation, motion presets, and also video templates.
It is the perfect software to help you with short video solutions and give your business the boost it needs.
---
It is surely one of the best online video creation platforms that can be taken into consideration by marketers if they are looking for whiteboard animation software, explainer video software, doodle video creation software, or a tool that helps in the development of 2D and 3D videos.
It is surely a complete package that helps in developing effortless and amazing designs with ease. This is why it is acknowledged as one of the best video software for social media marketers.
Conclusion
Hopefully, now you are clear with the best video software for marketing agencies and graphic designers.
You can choose according to your specific needs and requirements and enhance the chances of increasing your business reach and engagement. Get one now!
Top 5 Alternatives to InVideo Online Video Editor for Marketer
Also Read