Categories
Affiliate Marketing
I cannot explain how excited I was when I got the first affiliate commission from Amazon after working hard for months.
Guess what? You can also earn these commissions when you are asleep. Yes, you heard me right!
You don't need any college degree or job experience for earning such passive income.
If you are unaware of earning money online, don't worry. In this blog, I will provide a step-by-step guide to start a blog and affiliate marketing in 2020 and beyond.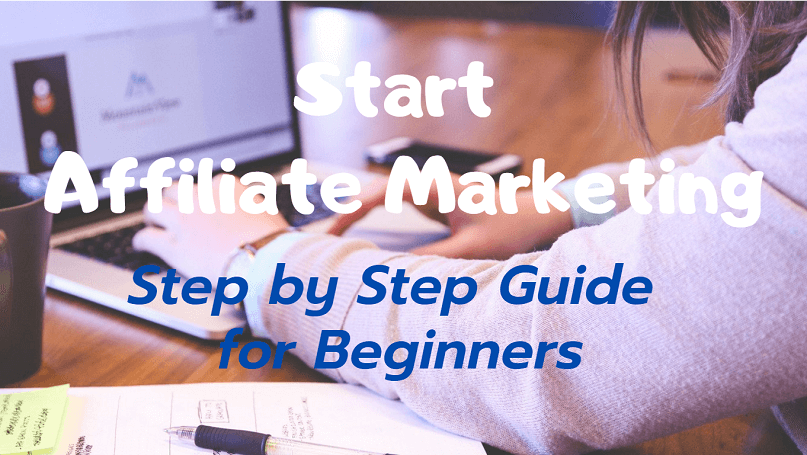 So, let me start by discussing the basics of affiliate marketing!
What is Affiliate Marketing?
Affiliate marketing is one of the best ways to promote another person or company's services or products in exchange for a commission on the ultimate sale. To do such marketing, you can find renowned affiliate products for promoting, join affiliate programs, and share those items with audiences.
In short, it gives you a commission on a sale. If you have been listening to me for long, you have known that bloggers make money online by establishing an audience that relies on them, and then providing services or products that will help that audience genuinely.
Affiliate marketing is a fast way to provide such services or products without building your own services or products. According to your niche, you can find a service or product that you prefer, promote it to your readers, and earn the profit part of every sale you make.
Why Do You Need to Start Affiliate Marketing?
1. Promising full-time passive income
As I have already mentioned before, affiliate marketing brings you a potential passive income. You can get paid again and again even when you travel or sleep. This concept is different from your 9 to 5 job where you get paid for your work time and performance. This way of earning will give you full financial freedom, unlike the traditional system.
2. Flexible working agenda
You can work either full-time or part-time as per your convenience. If you get yourself on the right track, you can leave your full-time job and plan your own working agenda. Here you will be your own BOSS and you can work anywhere or anytime you want.
3. No face-to-face business
Face-to-face business is not for everybody. And the good news is it won't happen in affiliate marketing. Your website will do business for you round-the-clock.
4. No experience required
You don't have to be experienced in programming, coding or selling for growing a profitable affiliate marketing business.
How Do Affiliate Marketing and Its Commission Models Work?
First, you need to find a product or organization for promoting. Choose an item or service that you find suitable and useful for your blog topic and readers. The product or organization you select is known as a Merchant.
Then, you need to team up with the organization and join their partner program. This is how you become their Affiliate. Once you join their Affiliate Program, you get an affiliate ID. You will have to use it in every affiliate link you add to your site for product promotion.
You can send email newsletters, display banner ads, add detailed product reviews, recommend it in your blogs, and more for promoting the product. The traffic you send to the merchant site using your ID will be tracked.
When a user buys something, you will get a commission. This payment is generally issued when your earning reaches a specific point basically 45 to 60 days.
Affiliate Marketing Commission Models
Here are 3 major affiliate marketing commission models I came across:
1. PPC (Pay per Click) – The affiliate gets paid for every click or all traffic created, irrespective of whether visitors convert to clients.
2. PPL (Pay Per Lead) – The affiliate gets paid for all leads produced: free demo registrations, online form submissions, every pre-purchase or trial creation.
3. PPS (Pay Per Sale) – The affiliate gets paid for all sales he/she produces. This is the most common commission model as the affiliate is responsible for everything.
Maximum affiliate programmers utilize the PPS model, which implies that you will get your commission when the referral traffic purchases the service or product you are promoting.
How to Choose an Affiliate Program
If you have been looking for the list of best affiliate programs, you are doing it wrong. There is no list of best affiliate programs because the program must suit you and your audience. Here's how I selected my best affiliate program to pay my blog's expenses:
1. Affiliate Resources
How much does the program help you get conversions? Does it provide email leads, coupons, promotions, links, banners, etc? Or is it only a link that you have to promote with no analytics and statistics?
2. Commission Amount
I guess this one is very important to consider. How many leads can you create for earning a handsome payment? It's better if it pays more, but also keep in mind that selling a high-priced item is tougher than selling a cost-effective one.
3. Payment Schedule
Do you get paid every month? Do you require a bank account or can you get paid through PayPal? Can you get a check? What if somebody asks for a refund?
4. Cookie Duration
Usually, an affiliate program tracks your conversions with cookies. So when a user clicks your link, a cookie is stored into his/her browser. Then, if you successfully make the sale, you get a commission. But what is the duration of the cookie's validity? What if the client purchases another product from a similar affiliate although it wasn't the same being promoted by you? You must know these things.
5. Refunds
If somebody purchases an item via your link and after sometime asks for a refund, what will happen with your commission? What if the customer was using a credit card and he gets the refund many months after the sale?
6. Promotion
What will they do if you refer your audience to their site? Will they grab their attention using a video or just a landing page? Will they send emails or again is it only the page? What can they provide to make the sale after you did your job?
7. Product/Service
Are you promoting a high-quality service or product? Or is it a cheap product that the buyer won't like after some time? Maybe you made the sale for a low-budget item, but nobody later will rely on you. If you sell a service, ensure to provide a good enough after-sales service.
8. Terms & Conditions
Can you provide your own discount or do you require following a price? What about season offers and coupons? Can you make its promotion on social platforms and review it even if your ideas and outcomes are not as per the brand's expectation?
9. Competition
Are you using this program for the first time and already many people are promoting it using their affiliate websites? Then ensure to use a good brand having high sales amount. Or change the program.
10. Super Affiliate Programs
So you get 10 USD for every product you sell. But what if you sell over 30 products? Will they pay you the same or you get a bonus for that accomplishment? What happens if you maximize the amount to 100? Are you getting me?
11. Conversion Rate
Will you choose a program that offers 100 USD commission but has only a 0.01% conversion rate? Or do you choose a program that pays only 15 USD commission but has a 25% conversion rate?
12. Niche
Is the service or product appropriate for your audience? Or are you selling it just for high commissions? Have you examined it or you are just relying on the brand? Your audience is an essential part of your blog. Remember, no audience means no sale and no commission!
These are the factors I usually consider and recommend you if you want to register for an affiliate program.
Best Affiliate Marketing Programs for Bloggers
Here are some of the best affiliate marketing programs for bloggers that work as a middleman between you and merchants:
1. Amazon Associates – Amazon is the largest online store in the world having millions of products. You can register for their affiliate program and earn by sending visitors to their online shopping site.
2. FlexOffers – FlexOffers is a renowned affiliate marketing network that offers detailed solutions to both publishers and advertisers. Join their affiliate marketing program to get access to millions of products and services.
3. ShareASale – One of the largest affiliate marketing networks having high-paying affiliate items for nearly all categories. WPEngine, the famous WordPress hosting agency, uses ShareASale for handling their affiliates.
4. CJ Affiliate – Another renowned affiliate network having a massive number of merchants and items easily searchable and organized neatly in categories. Organizations like Expedia, GoDaddy, and many others utilize CJ Affiliate.
How to Start Affiliate Marketing – Step by Step Guide for Beginners
I am sure you can't resist passive income as the lure of affiliate marketing is not deniable. But you have to work out for making that passive income happen. I have broken down the procedure into 6 steps for beginners to succeed in affiliate marketing. Following this guide will help you earn your first commission instantly.
1. Choose Your Niche or Industry
Before you start developing your first website, you will have to determine which niche or industry you will target. If you don't know what the website is about or whom you will target using it, you cannot develop a website around it. Here are a few key questions to ask yourself while deciding your niche:
Will I earn money in this niche?
What are my favorite topics?
Is an affiliate program available in this niche?
Can I make money and compete with already established marketers in this niche?
Can I draw enough interest or response from my audience for products in this niche?
Which topic is easy to read and enough convincing?
2. Shortlist Various Affiliate Programs In Your Industry
After deciding on a niche or industry, you should find out the best affiliate programs. You should do a little study for this. Selecting an affiliate program is a tedious and time-consuming task, but don't worry! This is where your money will come from. The selection of the right program will be worthwhile for you. Remember these basic points while choosing an affiliate program:
What kinds of merchants utilize the affiliate network or program?
How much commission will you possibly earn from the products?
Do you wish to relate to the services and products?
What type of assistance does the program offer?
3. Create Your Blog or website
I discussed studying and finding out the most possible and profitable things in the aforesaid two points. Now you have to put yourself into action. If you still have no blog or website, this one is a necessitous step for you. However, developing a blog or website is not a difficult task. If you are a beginner and are unaware of developing websites, you can use WordPress for building a site. The WordPress CMS is extremely easy to use and you don't need to be a tech expert for building your website.
You have to follow the below-mentioned steps for building and running your website:
Purchase a domain. Some good options are NameCheap and GoDaddy.
Choose a reliable hosting provider. I recommend BlueHost, HostGator, and GoDaddy.
Now install WordPress on your website.
Install a WordPress theme. I recommend you use something easy and simple to customize.
4. Create Evergreen Content
After setting up your website and joining an affiliate program, you should go for building interesting and engaging content. This is the most important and rewarding, but time-consuming task in your affiliate business.
I would recommend you to build high-quality, unique content. You can create many types of content pieces, such as product reviews, blog posts, keyword-rich evergreen content, product description, eBooks, etc.
5. Build Your Audience
Once you start building unique content, you should start building your audience also. Your promising audience will not just drive traffic to your site but also continuous sales. Let me share some ideas for you to build an audience for your website:
Make a content promotion on social platforms like Facebook, Pinterest, Instagram, Twitter, etc.
Submit guest posts on high-traffic blog sites.
Create an email list.
Utilize some key SEO methods and drive search engine traffic to your website.
Go for paid advertising to produce more traffic to your site and make more sales.
6. Promote Affiliate Offers
This is the ultimate step I suggest you follow. You should add promoting products that are helpful for your audience after you have set up your site and create the audience. You can make promotions in numerous ways.
According to your website type, you can promote genuine product reviews (your audience can buy something if they get interested after reading the review), put up banner ads, insert in-text content links, opt for email promotions, and promote alluring discounts or giveaways to your website visitors.
My Favorite Affiliate Programs
In case you have a site associated with an online business, digital marketing, or blogging, luckily there are many great affiliate programs for various services. Here I want to share some of my favorites so that you can understand what an affiliate program involves and what might work on your website.
1. SiteGround – If you want high commissions with short withholding period and weekly payouts, SiteGround is the best program. They have a withholding period of 30 days only. You can easily refer to clients and earn commissions.
2. StudioPress Themes – This is the one-stop destination for design, SEO, security, performance, support to help you develop a beautiful WordPress site. You can earn industry-best commissions by referring the best handled hosting on this WP Engine's managed WordPress hosting affiliate program platform.
3. Thrive Themes – I use Thrive Themes to make my client website convert more visitors into clients, customers, and subscribers. They provide excellent banner ads for your products and services. In fact, they offer 35% of every sale to their affiliates.
4. Elementor – Elementor affiliate program has an excellent conversion rate. They have more than 3000 5-star reviews on WordPress, 15 major WordPress plugins, and more than 40 lakhs active installs. As an affiliate partner, you will get half of the income, i.e. 50% of every sale you make.
5. SE Ranking – You don't require any extra skill to become a SE Ranking affiliate for earning passive income. You can use your blog site, send visitors to their site for buying a paid subscription, and they will pay you a 30% commission of the sale you make. You can select your preferred payment option and earn for a lifetime.
6. Tailwind Scheduling Tool – If you share a tool of your choice, you can get paid for it also with Tailwind Scheduling Tool. Tailwind provides a 15% recurring commission.
7. OptinMonster – Making money with OptinMonster is really easy. They pay a 20% commission on each sale you create using your referral link. You just need to recommend OptinMonster utilizing your affiliate link on your blog or website.
8. Grammarly – By promoting Grammarly, you can earn a huge commission. Register with Grammarly, put a banner and write a post, and get a $25 bonus. It has a high conversion rate of 20-30%.
Bonus Tips
1. Collect Emails from Your Visitors
You need to collect emails from your website visitors so that you can connect with your target audience every time you want and do not need to wait for them to see your content.
2. Do SEO to Boost Traffic
You must pay a lot of heed to SEO. Ensure to optimize for the suitable keywords, add links to your content, and keep running WordPress fast to get a continuous traffic flow from the search engine browser.
3. Share Your Content on Different Social Media
Your social media platforms are vital channels to promote your affiliate content. You can either do it organically or go for paid ads. You do not need to increase affiliate sales directly, rather, you have to increase the number of visitors getting involved with your content.
4. Start Guest posting
You can create backlinks to your website by doing guest posts with other sites in the niche that will help your blog rank more proficiently in its niche.
5. Learn Affiliate Marketing – Free Email Course
For years, I have been spending a lot of time learning affiliate marketing. And I recommend the same to you. To become a successful affiliate marketer, you can join a user-friendly, free email course.
Invest your time in the course if you are serious. Blogging Cage and The She Approach are my two best recommendations to do a free email and video course.
FAQs
How much money do you need to start affiliate marketing?
Here I will say It depends. Because generally to start an affiliate marketing blog will cost 7K – 10K ($100 – $400) for a year. Also, these are some monthly expenses required. Let me break it down.
A) Domain Price
B) Hosting Price
C) Content Writing Price (It could be done by you but to generate more content you can hire some professional content writer)
D) Email Marketing Tools (Recommended)
E) Video Making Tool (you can start with free later upgrade it to pro)
F) Facebook Ads (Optional)
G) Google Ads (Optional)
By the way, you can start affiliate marketing without a blog. Now you will say HOW?
Let me tell you the secret, do proper research, and join those affiliate programs that allow you to promote their product or search on social media as well as on YouTube.
But you know what? To be successful in affiliate marketing you have to spend time as well as some money.
It's Your Turn – Act Now!
The dream you have had regarding passive income is not a fantasy. It's a totally achievable reality. You can easily turn it into an online business with a little knowledge and consistent patience.
Keep in mind that the key to affiliate marketing success is getting the best products for promoting within your niche.
And you can do it by researching the best keywords for every product and service you will promote so you can build amazing content and pull in the right audience.
Ensure to bookmark this blog as a resource to return again and again and take a look at my other posts on making money online through blogging.
I hope this guide will help you learn affiliate marketing and jumpstart your affiliate marketing programs.
Please share this post on your social accounts!